Resume / online CV / Portfolio / Professional vCard / personal curriculum vitae website is an awesome tool to impress the employers or recruiters remarkably. If you are here in search of professional online resume templates to be ahead of the job competition, you need look no further. In this roundup, I've created a handpicked collection of best free HTML & Bootstrap resume templates.
The free responsive portfolio website templates come packed with simple, intuitive, element, enchanting, mindblowing, SEO friendly, lightweight, fast loading, and ships packed with extraordinary design interface which helps you convince your interviews and give you an opportunity be get unbeaten priority in the applicant shortlist.
These are the best for fit as photographer resume template, designer resume template, software engineer resume template, website developer resume template, website designer resume template, car mechanic resume template, IT professional resume template, child care resume template, musician resume template, filmmaker resume template, video editor resume template, digital marketer resume template, creative artist resume template and a lot more.
Key Features of Free Bootstrap HTML Online Resume Templates
As resume represent you, it should be streamlined, highly articulate, and professional which can describe your essential and required details as applicated perfectly. Free HTML5 Bootstrap templates for professional resume websites come with each detail that is asked for as requirements. So, I am going to include key features that every smart resumes ship included.
Career Object
Career object is one of the crucial parts of an online resume. It indicates you deep of thinking, personality and capability to take the company to the forward. So, when you head to select an HTML5 personal resume website template, you should prioritize the one which offers beautiful space to express insight details for your career objective.
Professional Experience
Professional experience section is another highly prioritized and the most crucial part of a resume; It should make it simple for employers to understand your capability to work them. So, when you are going to download HTML resume templates, make sure your desired piece include a section to combine all working experience engagingly.
Skills and Proficiency
The section represents your educational background, should come with the sequential placement of your each educational degree, passing years, and intuitional details. Such website sections should be concise and straightforward.
Education Experience
The section represents your educational background, should come with the sequential placement of your each educational degree, passing years, and intuitional details. Such website sections should be concise and straightforward.
Technical Feature
When your digital resume website template offers perfectly adaptability with your key contents that are essential for submitting a resume as an applicant, you should focus on checking website specific technical features. It should be readily responsive and mobile friendly; it means whatever devices your recruiters use, it can be visible all where.
Brower compatibility is another key technical feature of responsive HTML online resume template; it keeps your resume website shining throughout the all modern browsers including Google Chrome, Mozilla Firefox, Opera, Apple Safari and more.
To provide optimize performance throughout viewing devices and modern browsers, Bootstrap HTML5 resume template website template should be lightweight and fast loading so that it can render your resume website by all mean.
When your goal is to get employers to find you online and contact you with their project, it's time to select SEO friendly professional resume HTML template.
I bet, now you get a clear idea of best resume website template, now get to the list one by one and download your desired theme for your CV website.
Orbit – Free Bootstrap HTML Resume/CV Template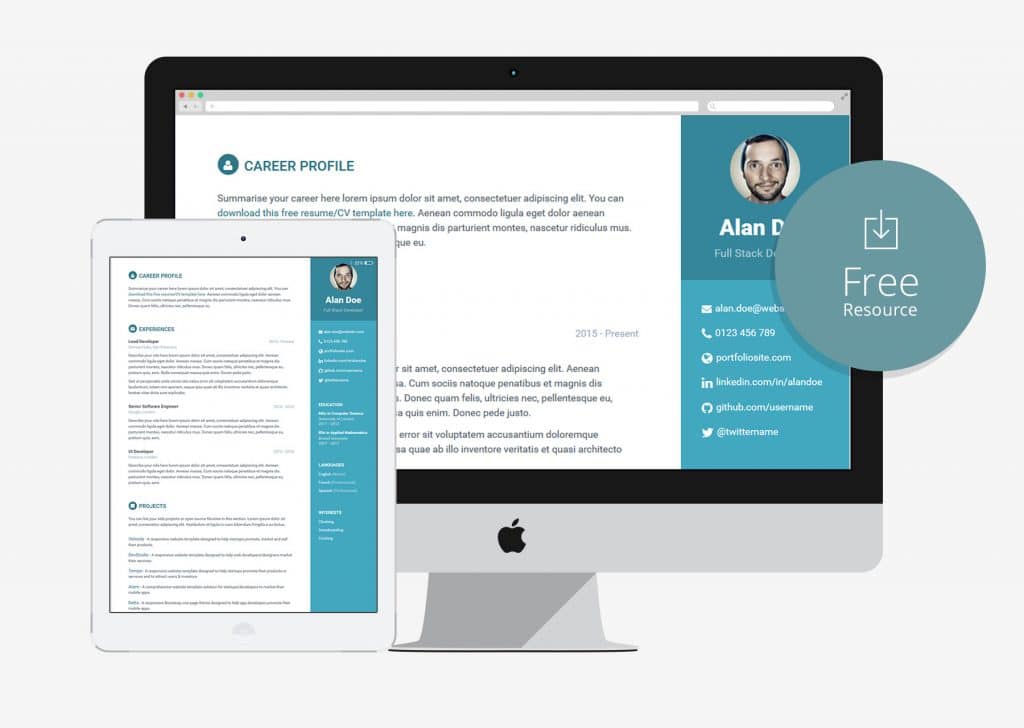 C'thulhu – Responsive Online Single Page Resume Template
Iamx – Professional Personal Resume Website Template
Resumer – Single Page Flat Responsive vCard HTML template
CVstrap – Free Minimal CV HTML5 Bootstrap Template
Resume – Attractive Portfolio HTML5 Bootstrap Template
One – Free Simple One Page Resume HTML CSS Template
My Resume – Online Curriculum Vitae Bootstrap template
Kelvin – Modern resume Bootstrap 3 HTML5 Template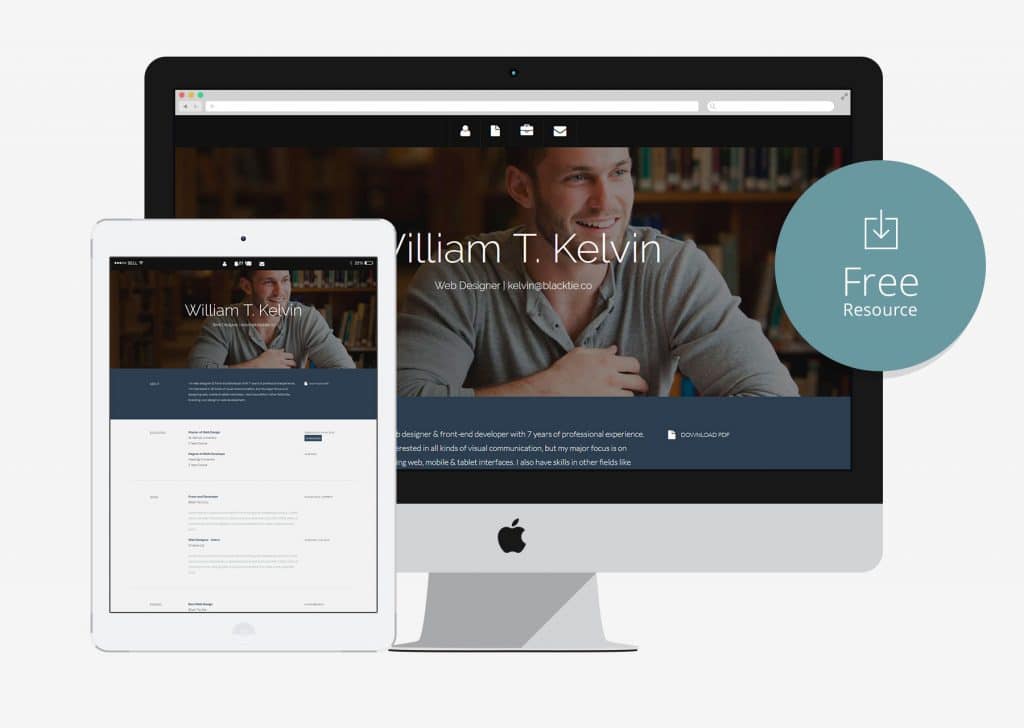 Egrappler Resume – Best Online CV HTML Template
Premium Professional Online CV / Resume Templates
If you have a budget and want to make more impressive your online resume website, It's better to go with the premium solution. Premium resume HTML5 Bootstrap template comes revolutionary options like multiple layouts, retina ready layouts, amazing CSS3 effects/animations, filterable portfolio, well-documentation, browser compatibility and a lot more. Here are some paid HTML5 Bootstrap templates for online resume / CV website.
Premium Layers – Responsive HTML vCard & Resume Template
Material CV – Resume & vCard HTML5 Bootstrap Template
Material – Responsive CV/Resume HTML5 CSS3 Template
CV / Portfolio – Responsive Resume HTML5 Bootstrap Theme
MyProfile – Personal Bootstrap Resume / CV Website Template
Bottom Line
I've put together both free and premium HTML CSS online resume templates. I believe, from this website CV template list, you can find your desired one. If you find this article helpful, don't forget to add:
Which template have you downloaded and what feature convinced you?