Input boxes are the most commonly used element in any website or application. When we need to find a thing, we go for a search input box. To narrow down the huge list of data we go for the filter input boxes. Some input boxes are just a common text box but some input boxes required an extra layer of security to protect the input data. No matter what input box you are looking for, there is a CSS input box design for all your needs in this list.
Based on the place you use the characteristic of the input box varies. For example, in the search box, you can give a search suggestion to save people's time. When designing such a versatile element, it must have the flexibility to accept whatever feature you add to it. The CSS input boxes in this collection are designed with a simple code structure for easier customization. These CSS input boxes use the latest design trends to make it attractive and effective for modern users. Without further due, let's get into the list of CSS input box designs.
Login Form 20
If you have space restrictions, using single line input text fields is an effective solution. The login form 20 is one such single line input text field design. From the name itself you can infer that this design is primarily made for login forms. But you can use this design for other text input areas as well. Fluid animation effects help you to effectively manage the space. Another advantage with this input text fields is it supports form field validation. A gradient color scheme is used for the call to action button. The input boxes in this form are designed using the latest CSS3 script, hence you have plenty of customization options in this design.
Login Form 18
As smartphone users have grown a lot, animation effects have to perform better on both mobile and desktop devices. The creator of this form has used color flashing animation when a field is selected. As most of the selection function on mobile devices is tapping, it works better on mobile devices as well. The color flashing effect is kept bold so that the user will clearly know, which field they are inputting their details. Apart from the color flashing animation you also get smooth tag transition effect. Another user-friendly feature in this input design is, the error message is shown clearly with what type of data should be given in that field. By keeping this as a base you can create your own custom input box.
Colorlib Reg Form v4
In this registration form, you get all types of CSS input box designs. Right from dropdown boxes to simple text input box, everything is included in this form. Since it is a registration for you also get calendar CSS input box and radio buttons. The creator has used the latest HTML5, CSS3, and Bootstrap 4 framework to make this form. Hence, you can easily edit and utilize this design on your website and form designs. The given calendar input design is simple and clean. If you are looking for more intuitive and creative calendar designs, take a look at our Bootstrap Datepicker design collection.
Colorlib Reg Form v6
In this registration form design, we get only the basic text input box design. But what makes this form unique is the animation effects used for the CSS input box. Primarily this form is designed for job application, so the creator has used a simple and professional design. A small floating effect is used to show the selected input box. Shadow effects are also used smartly to give a realistic touch to the animation effect. If you are making a professional website, CSS input box designs like this will help you make an interactive design without disturbing the overall look of your website or form.
Login Form 13
Login Form 13 is a fully functional professional registration form. The input field supports both simple text input fields and sensitive information hiding input boxes. Swift animation effects are used on the form-field lines to indicate the selected input field. Throughout the design, the designer has followed a pink color scheme, but you can customize it to the color scheme you follow. The developer has used the latest HTML5 and CSS3 script, hence it supports all modern colors and animation effects. You can even use this form as such in your website since all the features are working form the front-end, all you have to do is to take care of the backend integration.
Login Form 11
Login Form 11 is a mobile application version of the login form 13 mentioned above. Neat icons and texts are used for the form field tags to elegantly indicate what detail has to be given in the input box. In this form, the designer has used a flat style design. All the form fields are made to fit perfectly within the given space. The given animation effects are simple and neat which doesn't take much screen space and time to load. Just like all other login forms, the password field is protected hence the user can't see the input details.
Login Form 7
In the previous input box design for passwords, the characters are hidden. Some users prefer to see the password characters before they confirm, for that cases you can use the toggle input box design like given in this form. This form allows users to see the characters if they want. For security reasons, if you are restricting the number of login attempts, giving an option to see the input characters will help the user to double check their details. Design-wise this form follows a neat design with rounded edges. Subtle animation and hover effects are used to make the form interactive.
Contact Form v18
In the Contact Form v18 along with the normal text input fields, the creator has also given a drop-down input field option. Using a drop-down menu option will help the user to save their time. Drop-down input options are better for pre-determined constant options. For example, in medical websites, you can give the option to choose a department the user wants to connect with. Giving options like this will help you organize the request and respond to them on time. Here the creator has given you a complete contact form in a fully working condition from the front-end. All you have to do is to take care of the backend integration part. Since this template is designed using the latest web development frameworks, it can be easily integrated into any modern tools or application.
Contact Form v17
Contact Form v17 is a sensible design contact form. You can use this contact form in any professional business websites. In this split screen design, you have an ample amount of space to add the form element and contact details. Important input boxes are marked with asterisks symbol. Form field labels are smartly used to show what detail has to be given in that particular input box. Apart from the regular text input boxes, you also get small animation effects to give a better user experience to the user. In the download file, you get all the necessary code scripts and assets organized in proper folders. Hence, working with this template will be an easy job for the developers.
Contact Form v16
Contact Form v16 is an example of a popup input box design. On a one-page website template or a landing page template, elements like this will help you save more space for important web elements. All the input boxes in the contact form support form field validation. When a user misses a detail or made a mistake, it is highlighted using bright red text boxes. Neat vector icons are used to indicate the type of information given in that input box. If you are looking for a pop form or input box, this template is the best example. By keeping this as a base, you can create your own design or form.
Contact Form v4
Contact Form v4 is a colorful modern contact form design for both websites and mobile applications. Throughout the template, the designer has used a trendy gradient color scheme. Since it is designed using CSS3 framework, all the colors look natural. Plus, you also get the option to add any modern color scheme to this form design. Another useful feature in this form template is it gets the drop-down input boxes. For the drop-down box highlighter also the designer has used a gradient color scheme. The call to action button at the bottom has an attractive color shifting hover effect.
Contact Form v10
Contact Form v10 has animated input boxes. Rather than giving a simple static input box, you can use a little bit of animation to spice up your design. In this form, the creator has used a simple yet attractive animation effect. The selected input box slightly expands on selecting it so that the user will know which field they have selected. A very minimal approach is followed in this form design, hence you can easily use this form in any website. The default font used in this form design is bigger and bolder, which gives better readability. Customizing this form will be an easy job because the developer has followed the industry code standard followed by professional developers.
Nice Compliant CSS Input Box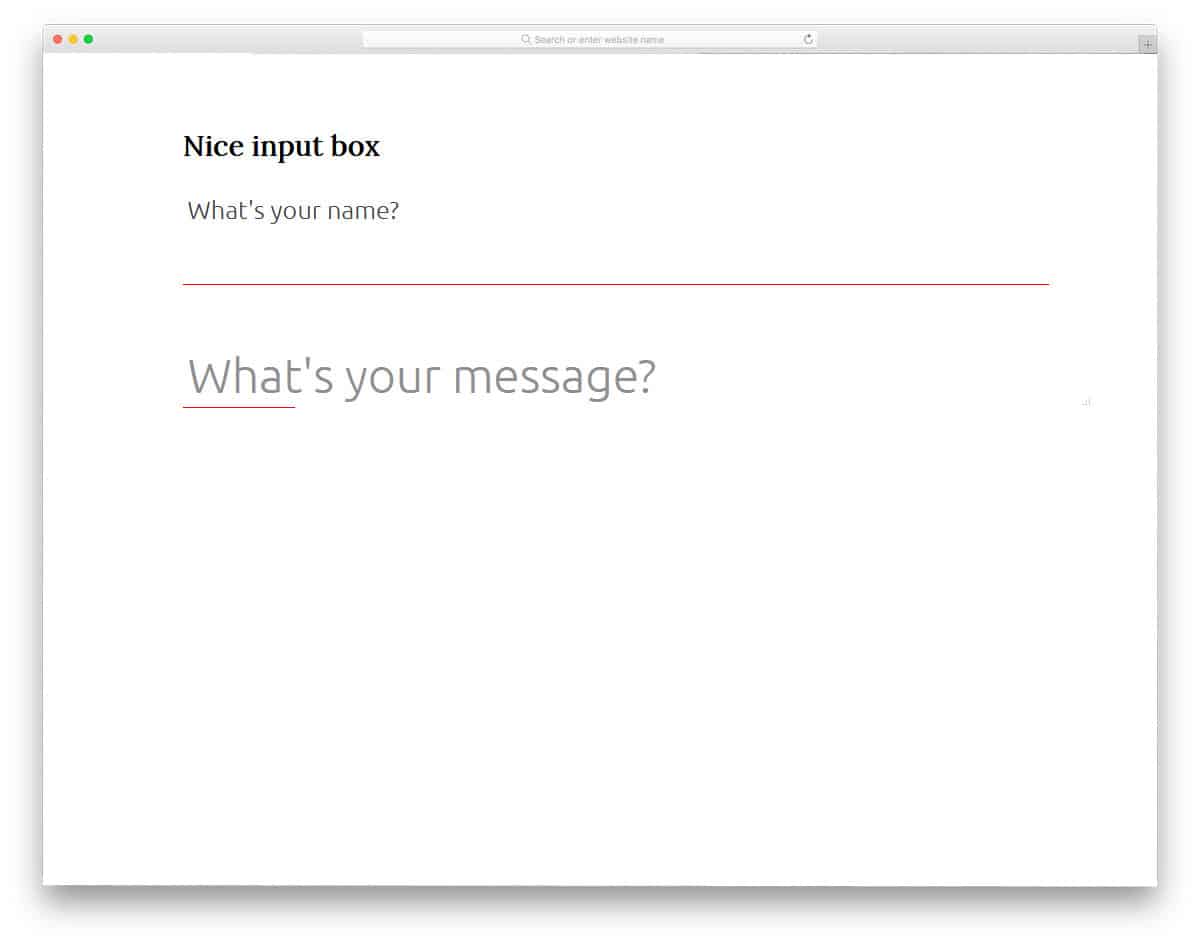 This is another animated CSS input box design example. The advantage of this design is it is made purely using CSS3 and HTML5 script. Hence you can easily utilize this code even in your existing website or form design. The zoom in and zoom out effects are sleek and smooth so the user doesn't have to wait too long to enter the data in the input box. The font used in this design is bigger and easier to read. But if you are planning to use any other trendy fonts, this design can handle it easily.
Google Material Design CSS Input Box
As the name implies, this design uses Google material design. The form field label smoothly moves to the top of the input box to indicate what information the user has to enter in that field. Swift animation effects and smooth transition effects, make this CSS input box perform easily on both desktop and mobile devices. Because of this simple design, you can easily use this input box design on any part of the website and form. The entire code script is shared with you on the CodePen editor, hence you can edit and visualize the results on the editor itself.
Input Field Gradient Border Focus Fun
In this CSS input box design, the creator has used border animation. The glow effect neatly highlights the selected input field. Plus, the animation effect happens only on the input box border so your users can clearly see the content they are adding in the input box. The creator has mostly used the CSS3 script to make this CSS input box design. Hence, you can easily utilize the code even in your existing website or form. If you are interested in border animation, take a look at our CSS border animation collection.
Placeholder Typing Text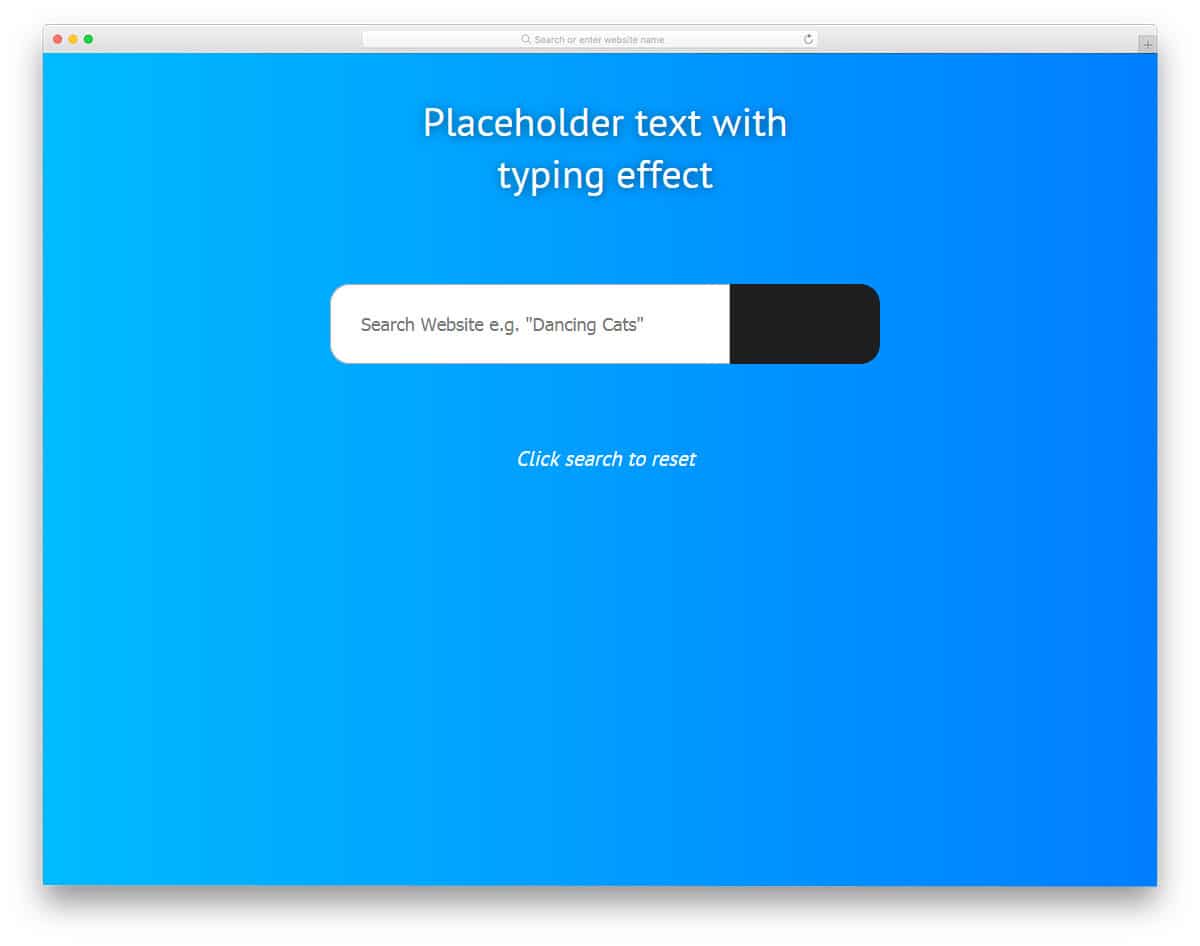 Placeholder Typing Text is a normal input box with a cool animation effect. As the name implies, this input box has a typing text effect. The developer has made this input box as a search box, but you can use this effect for other types of input fields as well. Rounded edges will make this input box easily fit inside any part of the website. For the typing animation effect, the developer has CSS3 and Javascript. Since the typing effect is there in the CSS3 script, you can trim the code if you want. The developer has shared the entire code structure used to create this search box so that you can easily work with this element. For more creative text effect, take a look at our CSS text effects collection.
Suggested Query
Suggested Query is also an input box design for a search box. In this design, suggested words will be prompted as the user types in the query word. Since it is a demo concept, this input box supports only one word now. But you can work on it to make it a perfect query suggesting input box. If you want to be more user-friendly and have the resources you can use artificial intelligence for the word suggestion. For example, the Google search bar and now the Gmail gives you word suggestion based on your word usage. To create an accurate word suggesting feature like Goole might be a tough job, but you can create it for a small search bar.
Fuzzy Search Example
Fuzzy Search Example is another input box design for search boxes. In this also you get search suggestion just like in the previous Suggested Query design mentioned above. But this one gives a more organized result than the previous one. The developer has created it based on the directory websites and the eCommerce websites, where you have to deal with tons of contents. Giving filter option is always the best option, but if you are making a small directory website, elements like this will very handy. Since it is a demo, it supports only a few words. You have to manually work on your word suggestions.
Search Interaction / Border animation
This interactive CSS input box design is for search boxes. As the name implies, the creator has used border animations to give an engaging user experience. This animated search input box design is simple and doesn't take much screen space. Hence, you can easily fit this input box design in any part of your website. By making a few changes to the design, you can use this design for other types of input designs as well. The code script used to make this design is shared with you on the CodePen editor tool to let you easily edit and utilize the code in your design.
Input Text Interaction Animation
This one is also an animated text input box design. The smooth animation and material design-based design make it a perfect fit for all types of modern websites and applications. Like the Search box interaction design above, this one also has a simple and neat animation effect. Hence, you can fit this design even on the forms. Animation effects are calibrated and timed perfectly in the default design itself. All you have to do is to edit and fine-tune the design as per your needs. Though this design is designed mostly using the SCSS script, a few lines of javascript is used to make the animation buttery smooth.
Border Animation Text Box
Letting the users know on which input box they are entering the data is a must. In this example, the creator has used subtle yet attention-grabbing border animation to draw user attention. Apart from the border animation, it is a normal input box. Users can simply enter the texts and carry on with the next step. Because of the simple and swift nature of this border animation, users won't get annoyed and loves to use your forms. The latest CSS script is used in this design, so you can use any modern colors and gradients as per your needs.
Input Text Eater

This example is a fun and interesting input box concept. Since it is a concept model, you have to tune the design for proper ergonomics. When you hit the submit button after entering the text in the box, the texts fly and store on a floppy disk that appears on the left-side screen. The animations are fluid, but still, the default design can't be used as such. Imagine if the user has a long email address and all the letters fly to floppy disk; it would look clumsy. If you are interested in fancy concepts, this design might intrigue you.
Payment Card Interactive UI
This input box design is designed based on the credit card design. While you are getting your user's card detail, designs like this will help them easily identify what detail they are giving. Right from the card number to the CVV number all the places are considered in this design. As the user fills in the detail on the text fields, the details are shown on the corresponding place of the card. Since it is a dynamic functionality, the developer has used HTML5, CSS3, and Javascript. If you are looking for a unique text box design, this input box design might impress you.
Payment Form
Payment Form, as the name implies, you get input fields designed for payment forms. This one is almost similar to the Payment Card Interactive UI, but this done doesn't have the fancy card animation design. Input boxes like this will be very useful on many online service and product selling websites. Take a look at our fashion website template collection which has all the necessary features like this pre-designed for you. To give a proper payment form, the developer has used HTML5, CSS3, and Javascript. By making a few customizations, you can use this form design in your existing website or application.
Simple To-Do List
Simple To-Do List gives you the option to add an input field. Since it is a todo list, you also get the checkboxes. Apart from the input field addition, you also have the option to delete the entries. To make this dynamic functions the developer has used HTML, CSS3, and Javascript. Since it is a demo concept, the design is kept very simple, but you can change the look based on your nee. You can use designs like this in a dashboard template to help the user to stay organized. To spice up your design, you can use different checkboxes with cool animation effects. Take a look at our CSS checkbox collection, for more creative checkbox designs.
Add Dynamic Input Box
Add Dynamic Input box is almost similar to the Simple To-Do list mentioned above. But, this one is not based on to-do list based design. Two input boxes are given in a row, if you want more rows, you can add one by clicking the plus icon. Elements like this will be useful in the order submitting forms, request forms, and not taking forms. The developer has given you a basic design idea, you can add your own features and make it a perfect fit for your needs. To make this dynamic input box design, the developer has used HTML, CSS, and Javascript.
Animated Search Bar
Animated Search Bar, as the name implies, it is just an animated bar. On clicking the search icon, the input box appears. If you have only a few screen space, elements like this will help you give proper features without any excuses. Plus, this design is made purely using CSS3 and HTML script. Hence it will be easy to add to your existing project or website. You can even combine this design with the query suggestion design mentioned above to give a better user experience. The developer has kept the code structure really simple for easy and quick customizations.
Popup Message Form
Popup Message form is almost similar to the Contact form V16 mentioned above. On clicking the button, the form is bright in front of the users. This ergonomically functional design fits in all types of websites and landing pages. Subtle animation effects are used for the input box's labels. The transition and animation effects are fluid so the user will experience a buttery smooth experience. If you make a few optimizations, you can get the same fluid experience on mobile devices as well. The developer has shared the entire code structure used to create this simple yet effective input box design.
Input Interactions
Input Interactions is a material style simple form. The simple design of the input field makes it blend in easily in any environment. Since the developer has followed the material style design, you get a material color scheme. Shadow and depth effects are used to make the call to action button unique from the rest of the elements. Though the design and the effects are simple, the developer has used Javascript and CSS3 script. Hence you have the option to make this design even better based on your requirement.