Kids school website templates can't just simply showcase the classes and schedules hereafter. Online education is on the rise. Especially after the COVID-19 pandemic, many schools are adapting to re online education. Hence, we've picked feature-packed kids school website templates in this list. Students can easily interact with the teachers and can access study materials easily. Some of the templates offer LMS features right out of the box.
WordPress kids school website templates are picked in this list to give you more flexibility. You can add or remove features easily with just a few clicks of a button. Therefore you can scale your website as per your demand grows.
All types of school website templates are covered in this list. For example, you get primary school website templates, preschool website templates, playschool website templates, kindergarten website templates. Even a few templates have website designs for universities. So take your time and find the best kids school website templates for your sites.
Best HTML Kids School Website Template
Nurture
Nurture is a colorful and fun-to-use HTML kids school website template.
The creator has handled the funky color schemes and colorful icons smartly to make a kids-friendly website. At the same time, professional look and user experience are not compromised in this template, making it a proper fit for Kids school and educational institution websites. All basic pages and web elements are included in this HTML template to make the developer's job simple. Therefore, developers can concentrate on the customization part and adding custom pages as per the site requirements.
Academia
Academia is a unique kids school website template. What makes it unique is it uses the latest Bootstrap 5 framework.
A clean, professional look and pleasant design make this template an appealing option for all types of audiences and users. The creator has made use of the extra-large grid space in the Bootstrap 5 framework to make a cleaner-looking website. Plus, responsive fonts and well-optimized mobile responsiveness make this template deliver flawless performance on both small and big screen devices.
Kiddos
Schools that are planning to take their classes online will love this kids school website template. Though it is an HTML5 website template, it has all the pages and elements you need to take your school online. The well-optimized Bootstrap 4 and HTML5 frameworks give you a solid base for creating a powerful online courses website. Plus, integrating the latest learning management system (LMS) and other tools will be easier for the developer. The creator has included all images, icons, and code files in the download file. Therefore, the developers can work smoothly with this template.
Best Kids School Website Templates
Skole
Skole is a fun and engaging website template. Funky fonts add a childish character to this template, which most children will love. Web elements are also designed with care so that users will be intrigued and also can easily interact with them. Balancing visual appearance and user interface is difficult, but this template's creators have done a phenomenal job.
Though this template has only two demo variations, it is perfect. You can use the demo design as such for your website. Even if you need to make some tweaks, you can do it easily using the Elementor page builder. Design-wise, it is one of the best kids school website templates. Once you have installed the plugins and add the functionalities you want, you can launch your website.
Ed School
Ed School is a feature-rich practical school website template. This WordPress theme's creators had tried to give most of the basic features as built-in options. Hence, you get not only a snappier website but also a complete website so that you no need to look around for different options. You can simply install the theme and launch your website straightaway. For example, teachers widget, process widget, and a lot are given to make the interactions easier.
Another useful feature in this template is it supports the Sensei LMS tool out of the box. Therefore you can run online classes and maintain courses easily on this website. Since the Sensei is from the creators of WordPress, you can expect a seamless working experience. If you want kids school website templates with useful functionalities, you must shortlist Ed School.
Smarty
Smarty is a multipurpose education website template. Right from the kindergarten website designs to the university website designs, everything is there in this pack. All you have to do is to pick the design you like and make your dream website. The creator has made the demos unique to meet its specific needs. For example, kindergarten kids school website templates will have a colorful design. Whereas the university website demos will have a more mature design. Hence, you can easily set up a proper website in no time using this template. Basic features are pre-integrated into the template. And the flexible code structure will help you add the custom features quickly into your website.
Kindero
For starters, this is the most colorful and engaging WordPress template in this kids school website templates. The creator has used modern web elements and precisely calibrated animation effects to give an immersive user experience. Even new users will find this template extremely easy to use because of this template's simple layout and direct design language.
If you are revamping your existing website or making your first website, the Kindero will be a good choice. This template's refreshing design will attract the present-day audience for sure. Plus, your website will have the upper hand over your competitors' boring old-school web designs. Design-wise, the creator has got your back and has also given a rock-solid codebase to let you add custom features easily into your website. Overall, Kindero is a friendly website template for both developers and users.
Tabula
Tabula is a special school website template. Unlike other academic-focused kids school website templates, this one concentrates on the right-brained kids. That's right; if you are running arts and creative school, the Tabula is the best template for you. You can find demos for dance schools, art schools, and kids acting school. The default kids acting school website template will help you make a colorful and attractive kids school website. Since this template uses the latest CSS script, colors look vibrant, and animation effects look more natural. The friendly Bold Builder's customization options let you change colors easily with just a click. You can add custom animations by tweaking the CSS code as well. Take a look at our CSS animation examples collection for fresh inspirations.
Baby Kids
Baby Kids is a perfect website template for preschool websites and playschool websites. Flat-style designs and logically arranged homepage designs make the website friendlier for all types of audiences. Parents can easily see your services and book an appointment from your website itself. Though this template doesn't have an appointment booking option right out of the box, you can add one by simply installing a related plugin.
The creator has given you fully customizable working forms in this template with the Gravity forms' help. Forms are handled smartly throughout the template to make the interactions easier. If you wish to directly engage with your audience, try using some chat tools. Since it is a WordPress theme, there will be lots of high-quality extensions to help you. Speaking of forms, take a look at our HTML forms collection for user-friendly form designs.
IvyPrep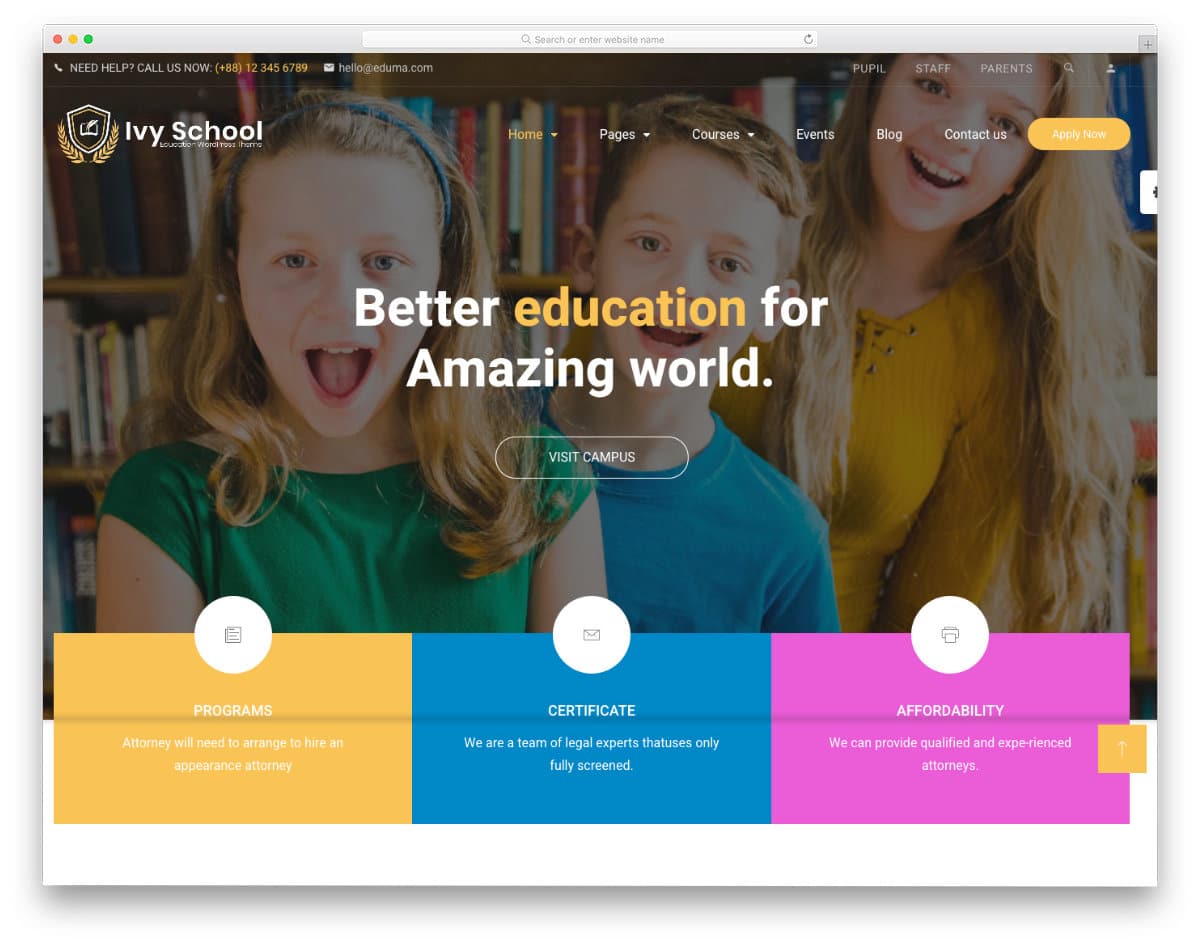 IvyPrep is more than a kids school website template. The creator has covered all types of school websites in this theme pack. For example, even driving school and art school website designs are there in this pack, making this template unique from other kids school website templates in this list.
Another unique feature in this template is it uses its own LMS plugin instead of relying on third-party tools. Therefore, you can expect a more seamless and synchronized experience in this template. You can manage courses, handle events, and update the LMS functionalities easily in this template. If you are planning to run a serious online education website, WordPress themes like IvyPrep will be of great use to you.
Enfant
Enfant is another kindergarten and primary school website template. This template uses a more professional design. Though this one doesn't have funky interactive designs like the Skole template mentioned above, it is still engaging to use. Text content and images are balanced throughout the template; therefore, users can easily read and understand your services. High-quality premium icons in this template give an upmarket look to the website and help you deliver the message clearly to the audience. All design files and assets are included in the download file to make your job simple.
School Time
School Time is the best website template for middle schools and higher secondary school websites. Lots of space is given for text content so that you can explain your services clearly to the audience. Card elements are used effectively to present the bite-sized content that is easy to consume. Since this template uses the latest bootstrap framework, the responsive design of this template is fluid. Therefore, mobile & tablet users will find this template extremely easy to use. Speaking of mobiles, take a look at our iPhone mockups collection to create photorealistic images for your websites and banners.
Skilled
Skilled is a fully-equipped education WordPress template. This template has designs for both online schools and online tutors. There are nearly ten demo variations in this pack, and all of them are designed from a commercial point of view. Hence, you get plenty of elements to promote your services. If you are new in the business, templates like this will help you easily highlight your special features and attract more new customers. Plus, the LMS ready code structure will come in handy for you to do online courses. Overall, it is a future proof education website template that will impress schools interested in online education.
Educator
Educator is a sensibly designed WordPress theme for educational institutions. Whether you need a fun-to-use preschool website template or a sophisticated university website template, this template has a design for you. Each demo is designed sensibly to meet that website's purpose and audiences' needs. All demo variations are properly equipped with the WPBakery page builder. Hence, you can pick any layout you want and can make your dream website. Other pre-bundled plugins like the bbPress will help you easily manage your online users. And WooCommerce will help you sell products and services easily via your website. Like most kids school website templates with WooCommerce options, this one also lets you receive payments through your website without any hassle.
Superwise
The Superwise template has ready-made demos for preschools, kindergartens, high schools, and college websites. What makes this template unique from other kids school website templates is it supports Google Classroom service out of the box. Plus, it has Google pre-integrated into the theme. If you are already using Google's G-suite for your office purposes, the pre-bundled Google services will make your workflow even simpler and easier. The Event Calendar plugin is also given along with the Google Calendar for more complex functionalities. Take a look at our HTML calendar collection for more attractive and user-friendly calendar designs.
Edubin
Edubin is another feature-packed education website template. This template has designs for both educational institutions and tutors. If you are a tutor and looking for a fully equipped education website template, this is the best option for you. The creator has added Zoom video conference tool support in the recent update, which some users will find extremely useful.
eLearning features are a part of this template and are integrated right from the core. Hence, you can sell courses and manage study materials easily from your dashboard itself. The creator says that this template supports three famous eLearning tools like the — Tutor LMS, LearnPress, and LearnDash. Overall, Edubin gives good value for your money.
Kingster
Kingster is a sensibly designed education website template. The creator has separate designs for university websites and kids school website templates. Hence, you can expect a perfect design that meets your audience's needs. WordPress features are utilized fully in this template to make the site owner's job a lot simpler. For example, you get courses post type options in this theme, which you can use to easily manage your courses and its materials. If you are solely maintaining your website, well-planned website templates like this will make your job simple and easier.
Fable
Fable is a colorful and easy-to-use kindergarten website template. This template has four homepage variations and one single-page template. All demos have almost the same design with slight variations. So you can pick any demo and start working on it. Plus, this template uses its own drag and drop page builder. Custom elements and content blocks are given in the page builder to make the customizations easier. Another feature made by the inhouse team is the custom icons. The given icons look crisp and sharp even on the retina devices. Plus, the responsive design makes sure your website delivers the same level of experience across all types of devices.
BeTheme
For those who are looking for infinite customizations in a kids school website template, there is no other better theme than the BeTheme. Not only the customization options make this template special but also the wide range of readymade demos available in this pack. This template has more than 500 demos and has covered almost all website categories. You get more than three demos under the kids school website templates category itself. Just pick the demo you like and start building your custom website with the features you want. As said before, infinite customization is the core character of this template; hence, you can do hardcore code-level customization without any hitch.
Bridge
Bridge is also a best-selling WordPress theme with a wide range of readymade demos like the BeTheme mentioned above. But, this template has a more creative touch to its designs. For the school websites also, the creator has used contemporary-style design to attract present-day users. Based on the type of website you pick, website designs change. For example, the kindergarten website demo has a more simple design. In contrast, the high school and university website demos have more sophisticated demos. No matter which demo you pick, there are WPBakery and Elementor page builders in this template to help you customize the website looks.
LMS
From the name itself you can infer that this WordPress theme for online education websites. The learning management system is integrated into this template right from the core. Therefore you can experience seamless performance and the synchronized environment in this theme. Plus, it is a WordPress theme, so you can add custom features and extend functionalities by installing related plugins. Default columns and tables let you neatly organize the content. For more interactive table designs, take a look at our CSS tables design collection. Since this template uses the latest web development frameworks, it can easily handle all modern designs and effects.
Avada
Avada is one of the best WordPress themes that have a separate fan following. This template gets more and more mature in each update. The theme creators develop most of this theme's features. Therefore you can manage the plugins and features easily. Plus, getting support is a lot easier. You can get solutions from the theme creators itself. This theme gives you a solid base template, instead of giving a plethora of pre-made demos. You can customize the given template to your heart's content and make your dream website in no time.
Phlox Pro
Phlox Pro is a multipurpose website template for professionals and business websites. All demos in this template have a radical design that present-day audiences will love. Spaces and elements are used effectively to deliver a visually stunning look. And also to make the interactions easier. The default school website template is made for language schools. Hence, you can see many elements related to the language theme. Placing the course search options on the homepage header section is a wise move — it will keep your audience engaged. If you like to make the search bars even more effective with advanced filter options, take a look at our bootstrap search bar design collection.