It would be nice if someone there to take care of the mundane tasks so that we can concentrate on the important things. Using a virtual assistant will be of great use under heavy workload condition. Another benefit of using virtual assistant is you don't need to worry about your workspace. Unless you need to meet them in person, the virtual assistant can simply work from their place and get your job done. Hiring a virtual assistant can be done in two ways. You can either approach a virtual assistant services company or can hire a freelancer directly. Whether you are a virtual assistant services company or a freelancer providing virtual assistant, these virtual assistant website templates will help make a professional-looking website.
In these virtual assistant website templates, you get the option to showcase your services, let the user book an appointment, and neat pricing tables. From your website itself the user can get a clear idea on the services you provide. The website goal is different for everyone. Some use their website to simply showcase their works. While some treat their website as a virtual office to manage all the business and supports. In the modern age, even chat supports are provided to help their customers. To meet the needs of all types of customers we have included both WordPress and HTML templates in this list. If you are looking for a feature-rich virtual website templates, you can go for the WordPress themes. If you want a simple website or a template with complete freedom to add your custom features, you can go for the HTML virtual assistant website templates.
Revirta
Revirta is a clean and fresh looking virtual assistant WordPress theme. Five homepage versions are given in this theme package; in that, we get dedicated themes for Virtual HR services and bookkeeping services. All five demos are clean and can be used for any professional websites. The long homepage design lets you explain all your services and pricing in one place. Neat and premium looking icons are used in this theme which adds richness to the overall design. Other useful features you get in this theme are the Revolution Slider, Essential Grid, and Booked appointments. WPBakery page builder is used for minor customizations, hence the users can easily drag and drop the elements in the place they want.
Inston
Modern web elements are used smartly in the Inston WordPress theme to present the contents engagingly to the audience. This theme offers four demo variations and each of them has a different layout. You can either choose a theme that pushes your services at first or can use a demo that clearly explains your services first. On the clean white layout, the orange color elements look attractive and also clearly highlights the important elements. Small detailings in this theme makes it as one of the best virtual assistant website templates. For example, you get a small highlighter above the pricing plan to show the discounts and offers.
The Inston is also a well-equipped theme, you get useful plugins like the Revolution Slider, iLightBox, and MailChimp email marketing tool. If you are into email marketing, take a look at our MailChimp email templates collections to cerate attractive emails in minutes. Another unique feature in this theme is it supports WooCommerce store plugin out of the box.
Exatual (HTML)
With the flat style simple design, this virtual assistant website template has a traditional business website look. The creator of the template is has used the full-width design effectively to present the contents engagingly to the audience. Visual effects and animation effects are also kept subtle in the design to give it a proper professional look. This template is made using the latest HTML5 and CSS3 framework, hence you can add custom animation effects to make the website lively. For animation inspirations, take a look at our CSS animation example collections. Only one homepage variation is given in this template, which is quite less when compared with other virtual assistant website templates in this list. But, you get all the basic inner pages pre-designed for you.
Consulting Finance
If you are offering virtual assistants for financial related services, this theme is the best option for you. Though this theme is designed for consultancy websites, you can use it for virtual assistant websites as well. With the clean white layout and professional blue color scheme, this theme will definitely impress modern business people. Both images and texts are balanced well in this theme so you can explain your services and expertise clearly to the audience. Another useful feature in this theme is you get designs for both VA service providing agencies and freelancers.
This theme is equipped with a plethora of useful plugins which will make your life a lot easier. Custom made icons are used in this theme package, which will give a unique and exclusiveness to your website. The Beaver page builder is used in this theme, hence you can easily customize the sections and contents with this theme.
Avantage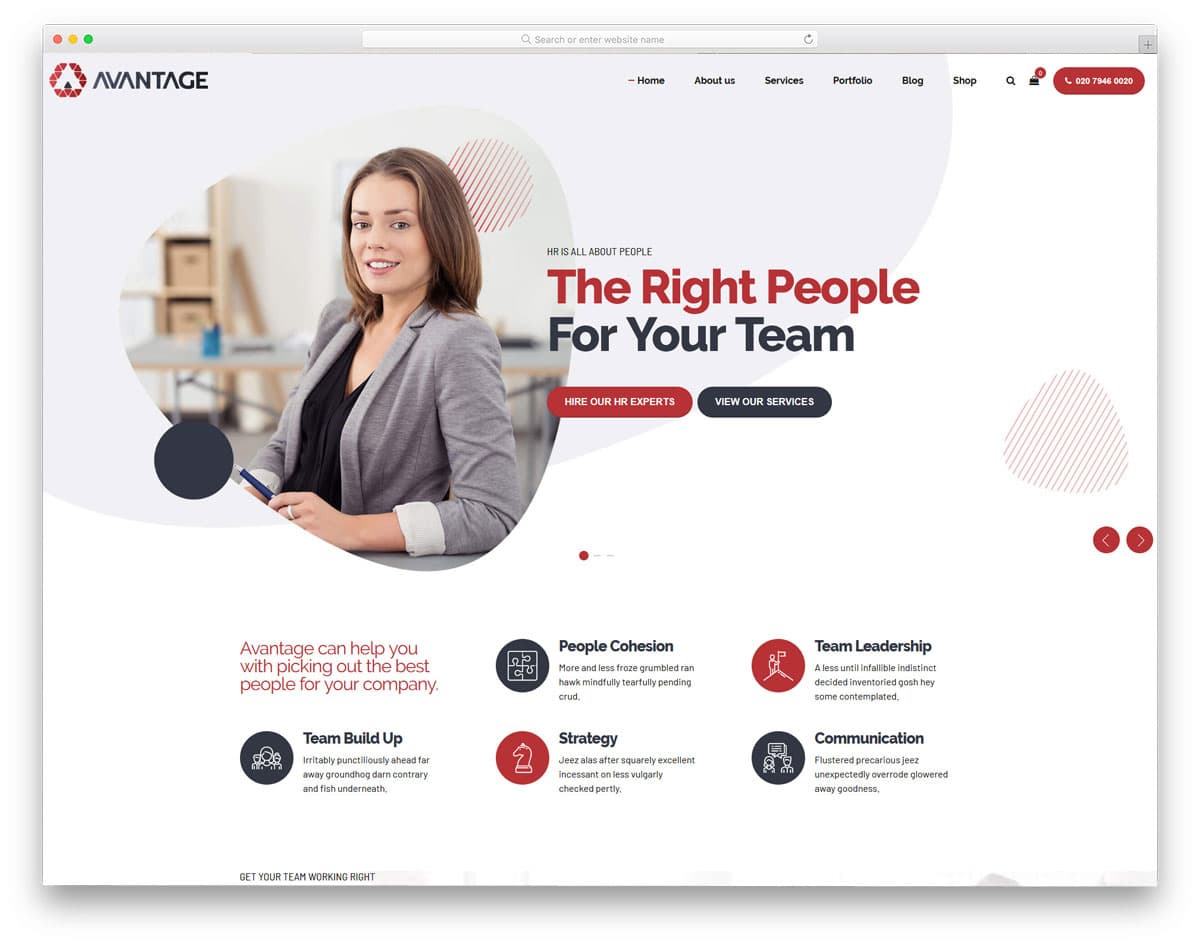 Avantage is also a good WordPress virtual assistant website template for virtual assistant agencies. You get a dedicated demo for marketing, human resource, finance, and tax management services. All the demos in this theme package follows a modern design. Hence, your website will meet all present-day users needs. Bootstrap scroll animations are used smartly to present the contents engagingly to the audience.
Apart from the demo variations you also get nine different header style variations. You can either choose the functionality or choose clear branding from the given header designs. This theme even has a Cost calculator plugin to let the users easily calculate the plans. There are so many useful features like the cost calculator tools to make the user experience a breeze on your website. Though it is a consultancy WordPress theme by default, all the useful features, and easy customization options will make this as one of the best WordPress virtual assistant website templates.
Consulting
Consulting WordPress theme is a perfect option for both Virtual assistant agencies and freelancers. Since it is a multipurpose WordPress theme for business and finance related websites, all 34 demos have a professional design. Apart from the layout design variations, you also get 12 header designs. Since we are talking about virtual assistant website templates in this list, the Toronto demo will be a perfect option. You get a parallax header section with big texts and call to action buttons. Logically arranged sections will help you clearly explain your services to the users. All the demos in this package are multi-page demos. If you want you can use them as a one-page website. This theme uses the famous WPBakery page builder, hence you can easily do all basic customizations. Like the Revirta theme, this one also uses Booked plugins to easily manage appointments.
Miller
Miller is a personal assistant and administrative service provider WordPress theme. If you are a freelancer, this theme will be a good option. The homepage sections are treated as a vertical carousel and the page indicator on the left sidebar has made navigation lot easier. Since each section is treated as a slide, all the related information can be seen in one place. The full-width layout is used effectively to show contents clearly to the audience. Basic inner pages like about, pricing, and contact pages are pre-designed for you. The creator has used a different header style for the homepage and for the inner page. Because of these different header styles, you can achieve branding and can make navigation easier.
Jupiter
Jupiter is one of the famous multipurpose WordPress themes. With over eleven hundred thousand downloads, this theme has powered lots of websites. Nearly 200 pre-made website templates are included in this theme package. Literally, you can make any website using this theme. But we do get a dedicated website design for virtual call center business; which we can use to make a virtual assistant website. The virtual call center template follows a clean modern design with a trendy color scheme. If you are making a website for a new startup, this template will give a refreshing and positive look to the website. The Elementor Page builder is used in this theme to make the minor customizations easier for the users.
Consultix
Consultix is a multipurpose WordPress theme for business and consultancy websites. Because of the easy customization options and useful features, this theme will help you make a proper virtual assistant service website. Twenty-two unique demos are included in this theme and each has different elements. If you are concentrating more on the website contents, this theme is a good choice for you. Throughout the template, you have plenty of elements to easily manage the contents. Texts of different sizes are used to properly highlight the important contents from the others. The WPBakery page builder is integrated well into the theme so you can use custom made elements easily on any part of the website. Along with the regular business pages, you also get shopping pages on this site. The online store is powered by the WooCommerce plugin, so you can easily sell your services on your website.
BeTheme
BeTheme is one of the best selling multipurpose WordPress themes. With more than 450 unique demos, this theme has designs for almost all major website categories. Since this theme is designed for various genres, you get plenty of pre-made elements. Even if you don't find a dedicated theme for your website, you can easily customize the design as per your needs. There are plenty of business website templates in this theme and you can use any of them to make your virtual assistant website. This theme is bundled with useful plugins like the Event Calendar, MailChimp, and Revolutionary slider. From the developer point of view, this theme uses the latest web development framework and it is updated periodically to make your customization job easier.
Phlox Pro
If you are interested in trendy business website design, the Phlox Pro will definitely impress you. The creator of the theme has handled the design and the features smartly. As a result, you get an interactive website without compromising on any features. You can choose any business website in this theme and can use for your virtual assistant service website. Visual effects are used handled with care so that they don't overshadow the contents of the website. This theme offers both the Elementor and the WPBakery page builder. Based on the workflow you prefer, you can choose one and start working on it.
Polo (HTML)
With over 200 HTML templates, the Polo has website designs for all websites. If you are a web developer or a digital agency, templates like this are a one-stop destination for all your needs. All the basic optimizations are done properly and you get tons of pre-made web elements. With the wide array of designs, the Polo has both classic looking and modern looking virtual assistant website template designs. Visual effects are used smartly on the required elements to keep the users engaged. With regular updates, the template is running on the latest web development frameworks like HTML5, CSS3, and Bootstrap 4. From simple accordions to complex charts, this template collection has everything for you.
Porto (HTML)
Porto is also a multipurpose HTML website templates for business and eCommerce websites. The creator of this template has included 60+ demo variations in this package. Each demo version is unique and has slightly different elements. However, the animation effects are almost the same. If you want to try something different with the animations, take a look at our Bootstrap animation example collection. For minor customizations like color switching and button styles, the creator has given Style Switcher tools. If you love making simple and elegant looking business websites, this Porto template will help you make a proper website.
Stack (HTML)
Stack is a collection of modern website templates for business and personal websites. Nearly 40 demos are included in this package. What makes this template unique from the other virtual assistant website templates in this list is you get a front-end page builder in this one. Only a few HTML templates will provide page builder out of the box to make the customization easier. Because of this option, this template becomes the best option for both developers and general users. 240+ modular interface blocks are pre-designed for you, hence you can easily place the element where you want. The coding structure is also made flexible enough for hardcore customizations. Though you don't get a dedicated virtual assistant website templates in this list, all these customization features will help you make one easily.
Quadra (HTML)
Quadra template has modern website designs for business and creative professionals. With different layout styles and header styles, this template will help you make an interactive website. All the given templates in this pack are light and easy to use. Since these templates are made using the HTML5 and CSS3 script, it supports multimedia contents as well. The creator of the template has balanced the text and image contents elegantly throughout the template. Hence, you can clearly explain your services. Another unique feature in this template is the sticky quick navigation menu. The user can easily jump to a different section on the page using this sticky quick navigation menu.
Consultplus (HTML)
As the name implies, this template is for consultancy business websites. As said before, the consultancy website shares a lot in common with the virtual assistant service website. Hence, the Consultplus will also act as a virtual assistant website templates. Five demos are given in this package, but they almost have the same layout. You can find only a slight difference in the sections and the elements. Properly organized files and professionally handled code structure will make the customization job easier. Since all the basic optimizations are don in this template you can even use these templates as such for your website.
Turing (HTML)
If you like to make a modern website with properly trimmed elements, this template is the one for you. This template doesn't offer different demos, instead, you get three different color schemes. All the elements and the texts are scaled properly so that they look beautiful on both desktop and mobile devices. You even have the option to add video in the header section. Since it is an HTML5 template, it supports video contents easily. At the top, you can find the login button and a support forum link. But, you don't get the login page design in this template. Take a look at our free login page template to find the perfect design for this template. And if you are planning to make a knowledge base for your product or service, you will find our WordPress wiki themes list useful.
RedBiz (HTML)
RedBiz is a bold and straightforward multipurpose business website template. The flat simple design gives a classic look to the template. And the default bloody red color scheme amplifies the classic look. The developer has given us six color schemes to easily change the color of the website elements. If you want to make a regular business website that you have seen on many websites, this template is worth a look. With periodic updates, this template is now running on the latest Bootstrap 4 and HTML5 framework. Hence, you can easily incorporate any modern design elements in this template.