Baseball is one of the famous games in America. In the time of 1950s, you can hear the baseball commentary running on every store's radio. Now due to technological development, we can see the match update from the smartwatches itself. Based on your location, Google cards will show the related match results. In this technological world, having a modern baseball website will help your club's hardcore fans to stay updated about your matches. These Baseball WordPress themes are equipped with features you need to meet the present-day audience expectations.
Some Baseball WordPress themes even allow you to easily manage your teams and player stats from the dashboard itself. If you are an agency, Baseball WordPress themes with such a high level of integration will save lots of your time and also help you give a better product to your audience. Dedicated table plugins are used in some themes to let the user easily sort and compare two teams or two players. To help your audience express their love and support for your club, you can sell merchandise on the store. There are Baseball WordPress themes in this list, which has online store features. All you have to do is to set up your website and start connecting with your audience.
Splash WP
Splash WP is a multipurpose sports website WordPress theme. You get a dedicated web design for the baseball team. Even if you like other sports website theme design, you can choose and customize it. The creator of this theme has used WPBakery page builder, hence you can easily place the elements and sections by simply dragging and dropping them on the place you want. To help you show your team performance, this theme offers you league statistics and standing elements. Dedicated tables are given for you to show the fixtures. You also get dedicated widgets to compare favorite teams and players stats. This theme comes with WooCommerce, hence you can set up your online merchandise store easily. Overall it is one of the best thoughtfully designed hardcore baseball WordPress themes.
Real Soccer
Real Soccer is another best selling sports club WordPress theme. Though this theme is designed for Soccer game, it also fits for baseball websites as well. Just like in the Splash WP theme, you get comparison tables to show fixtures and results. Smartly designed homepage helps you to easily show live results then and there. In the default design itself, you have space for video players. If you are live streaming the game, this video player option will come in handy for you. Plenty of shortcodes are given in this theme to help you easily place the element where you want. This theme also supports WooCommerce, hence you can sell tickets and merchandises easily with this theme.
Team
Team is a modern and clean looking sports website WordPress theme. This theme is bundled with soccer, hockey, basketball, and baseball WordPress themes. All the themes are feature rich and have the same clean modern layout. If you want all the options in the Splash and Real Soccer theme with present-day web design, the Team is the one for you. Carousels and sliders are used effectively to organize the contents. Smartly designed sections let the user see all the related contents in one place without scrolling a lot. This theme uses the famous WPBakery page builder and has integrated it well with the theme options. You get plenty of useful custom options and widgets for particular sports. All you have to do is to pick the type you want and use it on your website.
Oxigeno
Oxigeno is a multipurpose sports WordPress theme. This theme is designed for sports like baseball, soccer, basketball, swimming, and American football. Hence, you get plenty of elements in this theme. As your demand grows, you can use the elements you want. The developer has given us plenty of shortcodes to place the custom elements and sections easily in the place we want. With the help of pre-integrated Bold PageBuilder, you can customize the theme easily by dragging and dropping the elements. This theme uses custom made premium looking icons which will distinguish your site from the other. WPML and WooCommerce also come along in this bundle so you can set up a translation ready site and an online store easily with this theme.
BeTheme
BeTheme is a multipurpose WordPress theme with multiple demos for different types of websites. There are plenty of sports-related website templates in this pack, you can pick one and start working on it to fit your needs. The Football2 demo version will be a perfect option for your baseball website. Though it is a football website demo, it has all the elements and features you want in a baseball website. For example, you can show your team players, scores, and live matches. Since this theme is running on the latest WordPress version it can handle videos and other multimedia contents easily. All you have to do is to add your content and launch the website.
FC United
FC United is primarily a soccer website theme. In this package, you get a dedicated demo for clubs, news, and league matches. All the necessary features, that you normally expect in a baseball website it given in this theme. So making a baseball website with this theme will be an easy job and your customization job is also less with this theme. The creator of this theme has used the Elementor page builder to make the customization job simple. Plus, you get the Even Calendar plugin to easily manage your match schedules. Since you get a dedicated plugin to manage schedule, the user can see your upcoming matches in an easy to understand calendar format or in a straightforward list format. Overall the FC United is a feature-rich WordPress theme with a potential to make a proper baseball website.
Soccer Club
Soccer Club is a fully-equipped proper modern sports club WordPress theme. From the name itself you can understand that this theme is originally designed for Soccer clubs. Because of the drag and drop page builder and easy customization options, you can easily make a baseball club website with this theme. On the homepage header section, you have a countdown timer for the upcoming matches. If you are selling tickets online, this countdown timer will help the user know the remaining days and to purchase the ticket. This theme is equipped with the WooCommerce store, hence selling tickets online is easy with this theme. Lots of tables are given in this theme to show the fixtures and stats. Hover effects are used smartly to present the contents engagingly to the users.
Trophy
If you are planning to make an interactive website with lots of multimedia contents for your baseball club, this is the theme for you. Five homepage variations are given in this theme and you also get a landing page in this theme. Image carousels and video content spaces are used in this theme to let the users relive the moment of victory. Useful elements like pricing tables, schedules, sponsor list, and plenty of other elements are given in this theme. You can make a professional looking baseball club website within minutes using this theme. Shopping pages are also given in this theme. With the help of the WooCommerce store, you can easily sell tickets and merchandises on your website.
Khelo
Khelo is also a soccer club WordPress theme with full of lively and powerful elements. Animation effects are used effectively on the image slider to present the content engagingly to the users. Since this theme uses the premium version of Revolution Slider, you can create custom animation effects for your images. Gradient colors and images are used properly to highlight the important content blocks and sections. After making a few optimizations and adjustments to the theme, you can sue this theme of your main website. Plenty of sports niche related inner pages are pre-designed for you to easily set up a website.
Soccer
Soccer is an interactive and easy to use WordPress theme. With lots of customization options and flexible code structure, this theme will help you make a good baseball club website. Right form points table to player stats table, everything is given in this theme to let the users stay updated about their favorite theme. Since this is a common theme for all types of sports clubs, you don't get any specific functions. But you have the solid base to add your own features and options. Necessary options like page builder and WooCommerce is given in this theme. Overall the Soccer theme gives you a good base to create your own custom website.
Sports Club
Sports Club is the best WordPress theme for your Baseball team website. From the website, users can get the latest news about their favorite team and the players in it. Leader boards and upcoming event table are given in this theme to keep your fans updated about your team performance. Plus, the creator has used the Event Calendar tool to easily manage events and ticket sales. For the online ticket selling option, you get the WooCommerce tool. As you can see all the basic optimizations and integrations are done in this theme. All you have to do is to make the customizations you want and add the missing features.
SPORTY
Sporty WordPress theme stands unique from the rest of the baseball WordPress themes in this list by having forum support. Since this theme uses the bbPress plugin, you can easily set up a proper forum for your sports club or team. The boxed width layout of this theme keeps everything properly arranged and easy to interact with the elements on both small and big screen devices. This theme uses Siteorigin Drag and Drop builder by default. In the download file, you get the entire code script used to make this design. Hence you can customize the look of the theme with a high-level of precision. Ecwid online store tool is used in this theme to help you sell products easily on your website.
SPORTIX
SPORTIX is a full-width and straightforward sports club WordPress theme. In the homepage header section, you have a big space to add your sports club banner and it remains there in all the other pages as well. This banner space increases the branding on your website and also increases its visibility. Right below the banner, you have the navigation bar with indicators to show on which page you are currently viewing. Flat style design uses the space properly and presents the content clearly to the audience. At the top and in the footer, you have an option for user login. Since this theme comes with bbPress, you can manage your forum easily with this theme.
Sport Club
Sport Club WordPress theme gives you a solid foundation to create a custom baseball WordPress website. It has all the basic pages and optimizations done properly, hence, you can concentrate on the customization part. Features are less when compared to the other baseball WordPress themes in this list. But you get a clean and easy to use design in this theme. The WP Club Manager plugin is used in this theme to help you easily manage your club. You can easily manage the player data, sponsors, league table, match statistics and much more with this WP Club Manager Plugin. The solid code base gives you the freedom to customize the theme and add the features you want.
SportAK
If you are planning to make multimedia and image-rich website for your baseball team, this is the theme for you. The default design itself gives you plenty of space for images and video contents. Visual Composer tool is used for editing the theme. Plus, you get front-end design tool to change the colors, backgrounds, and fonts on the page. Powerful admin panel will make your job easier to customize and update the theme. The builtin shop page is powered by the WooCoomerce plugin. Basic optimizations are done in this theme, all you have to do is to take care of the integrations and customization part.
Rockline
Rockline is a new entry in the baseball WordPress themes category. Since it is a new entry you get the latest and greatest web development frameworks used in this theme. The creator of this theme has designed it for sports news and sports club websites. Hence, you get characteristics of both and elements related to news and club websites. The Elementor page builder is used in this theme, which will make the customization part lot simpler. Though it uses the latest CSS3 and Bootstrap framework, the creator has kept the animation effects subtle. The entire code structure used to create this theme is shared with you in the download file. You can edit the code as per your requirements to give a personal touch to your website.
Ultimate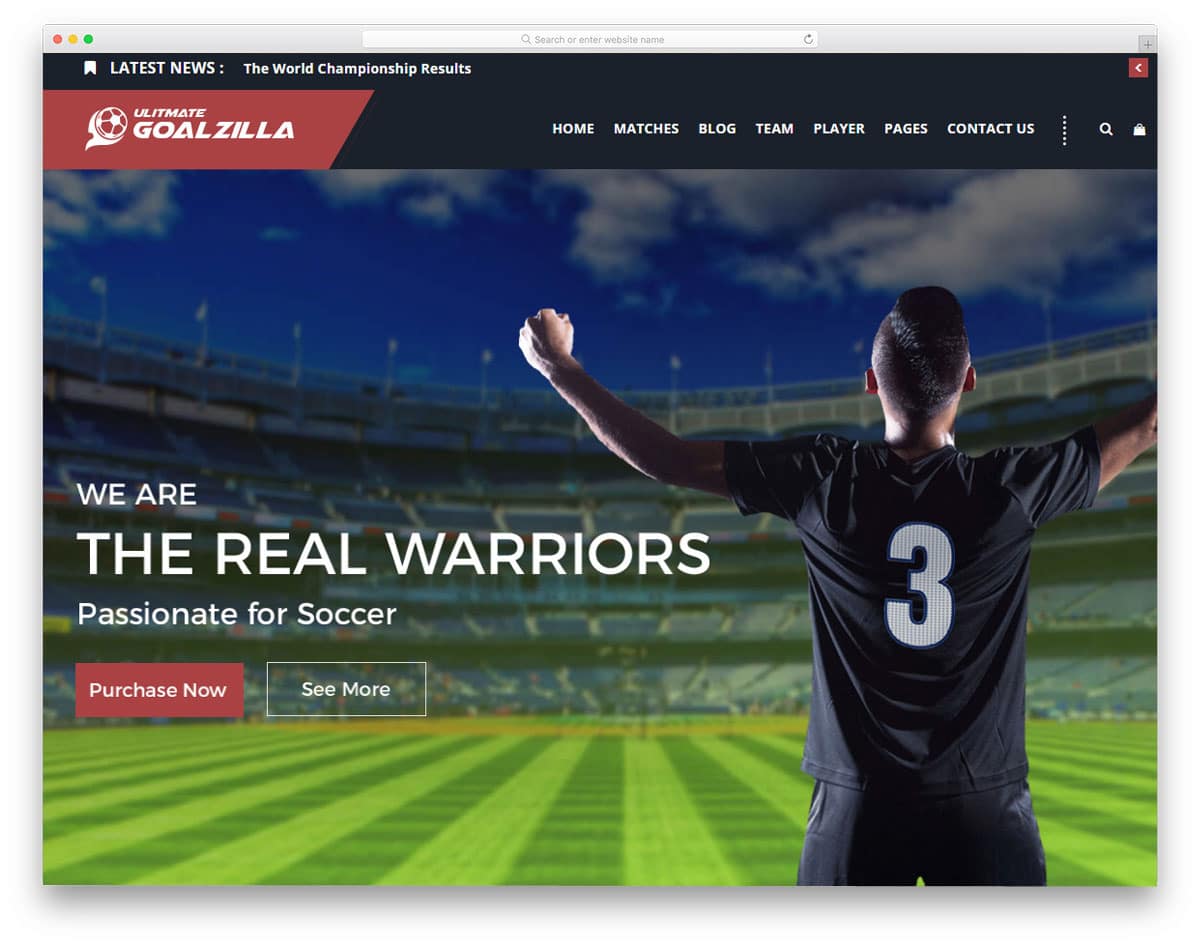 Ultimate is a sports news and sports club WordPress theme for multiple sports. On the homepage header, you have an image slider to show the latest game news. Right below the image slider, you have upcoming matches schedule. Since it is a sports news website theme, you don't get options for team management and player data management. But the flexible code structure gives you the freedom to customize and add the features you want. Plugins like WP Club manager will might your job simple for managing fixtures, tables, and team data. If your requirements are less and planning to share only the news about your baseball theme, then you can use this theme as such.
Club Sports
Club Sports is a classy looking boxed width WordPress theme. Even though it is a boxed width theme, the designer has handled the space effectively to present the contents neatly to the users. Sidebars are used to show the schedules and points. Plus, you also get a small gallery widget on the sidebar. Another unique element in this theme is the top bar, which is used to show the live score and upcoming matches. If you are planning to make your baseball club website a one-stop destination for all your fans to show the latest news, this is the theme for you. MailChimp email marketing tool is also pre-integrated in this theme to make your email marketing effort simple. Speaking of email marketing, take a look at our MailChimp email templates to make impressive email for your audience.
Goal Club
Goal Club is again a Soccer WordPress theme by default, but it has all the options and features to make a proper baseball website. Sensibly designed homepage neatly shows the fixtures, upcoming matches, and team standings. Not only the homepage but the admin dashboard is also designed smartly to help you manage the contents easily. You can easily add and remove the players, change the team details and a lot from your dashboard itself. Plus, you get an integrated WooCommerce store to sell your merchandises on your website. With these advanced features and useful plugins, you can easily manage your website in the long run.
Gameday
Gameday is another Sports news and media WordPress theme. If you are planning to run a dedicated sports news site for baseball, this theme is the best option for you. Right from the fixtures tables to the live score scroller, everything is given in this theme. The chunky borders and closely packed content blocks may leave you claustrophobic. If you are looking for a simple and easy to maintain news site, you can have this theme in your list. The bbPress plugin is integrated into this theme out of the box, hence you can allow the user to create an account and can easily manage the users.
Sport
Sport is a simple WordPress theme for sports clubs. Though this theme uses an American Football club in the demo, you can use this theme for other types of sports clubs as well. Three homepage variations are given in this theme and each has different sections in them. The creator has given us easy to use drag and drop page builders in this theme, so customization isn't a problem with this theme. As a package, this theme gives you use plugins like WPML, WooCommerce, bbPress, the event calendar, and BuddyPress pre-installed for you. All you have to do is to take care of the configuration part. The theme offers you three different time table viewing options; all three variations are good and easy to use.