Though static websites are easy to maintain, they are becoming rare nowadays. Simply showcasing your products on the website and asking the user to call and book order is a cavemen style now. Not only the product based websites but even business websites and blogs must need to be dynamic to meet present-day user needs. PHP and MySQL plays a significant role in the user-friendly dynamic website design. When you hear PHP and MySQL websites, the first thing that might strike in your mind is WordPress. Yes, the world-famous CMS platform helps you make dynamic websites effortlessly. We have mostly listed WordPress dynamic website templates because of the familiarity and ease of use.
Some users might need advanced dynamic features. Data should be shown dynamically to the users without even loading the pages — for example, cart updates on online store websites, user interaction on forums, and a lot more. To satisfy advanced user needs, we have also included some AngularJS and React JS website templates. Professionally handled code structure will make your customization easier than you expect. You can pick any theme from these dynamic website templates and can create your website. Without further ado, let's get into the list.
Essentials
Essentials has all the essential dynamic website templates pre-designed for you. The creator has covered all major website categories in its 34+ ready-made demo collection. Another unique feature in this theme is all demo versions are available in both WPBakery and Elementor page builder versions. You can pick a demo with the page builder tool you prefer and can start making a website in no time. Along with the general elements, the creator has also added their own custom elements as a pact to the page builder so that users can make unique-looking web pages without breaking a sweat.
Reobiz
Reobiz has dynamic business website templates in its pack. Dynamic elements and functions feel more evident in this template's clean layout. Plus, some demo versions are available in the one-page version, which will help small business owners easily maintain their website. All demo versions are compatible with the latest Elementor drag & drop page builder. Users/Developers can easily add their custom elements into the page builder and use them later. Overall, the Reobiz is not only a dynamic website template but also a friendlier website template.
Ceris
Ceris WordPress website template will help you make dynamic blogs and magazine websites. Having a premium blog or magazine look will help your readers easily interact with your website. Plus, you can take your blog to the next level. Lots of factors indulge in making a successful blog/magazine website. This template's creator has taken care of all the design factors and given you more time to strategize your content. All major blog/magazine categories like food, health, beauty, and tech are covered in this pack. You can simply pick the demo in your category and start making your website.
Pearl
Pearl has dynamic website templates for modern corporate and business websites. This template has different designs for various niches. So you can create a business website for almost all major business website categories using this template. All demos are fully functional and are ready to use. You can simply install the demo you like and start customizing. WPBakery page builder makes the Minor customizations easier. Since it is a multipurpose website template, lots of elements and sections are pre-designed for you. All the pre-designed elements are added into the WPBakery page builder, so you can simply drag and drop them in the place you want. This template is made GDPR ready to meet today's web standards,
Apart from the PHP and SQL functions, this template also supports Angular JS. Hence, you get more dynamic functions to show realtime information neatly to the users. Properly handled code structure will help you do both simple and complex tasks easily.
REHub
Making a listing website and comparison site includes lots of dynamic functions. The REHub creators carefully engineered the code to make all the dynamic functions easy to use. Your users can easily comment and interact with other audiences without even loading the pages frequently. This dynamic directory website template has12+ demo variations. You get website designs for directory websites and online stores. Since this template is fully ready from the backend side, you can concentrate on the custom features. Apart from the optimized code scripts, this template has useful plugins to make the day to day tasks easier. For example, you get the Buddy Press plugin to handle the users easily. Easy Digital Downloads and WooCommerce are given to make online shopping tasks easier.
Trydo (HTML)
Trydo is a dynamic HTML template for agencies and portfolio websites. The creator has used the React JS to deliver a dynamic user experience. This template has nearly 18 demo versions, and related inner pages are also given to make your job simple. Each demo is unique and is designed to elevate your business & brand image. Both personal website templates and business website templates are there in this pack. Since it is an HTML5 website template pack, you can easily work with this template and can convert it into any platform you like.
PickBazar (HTML)
PickBazar is a React-based dynamic eCommerce website template. The creator has used the modern web development frameworks smartly in this template pack. Users can dynamically see product information and cart details without loading the page. Another unique feature in this pack is it has design both store-front designs and dashboard designs. If you are running a marketplace and want to manage all vendors and also want to manage customer orders, the given ReactJS dashboards will come in handy for you. Speaking of the marketplace, take a look at our Shopify marketplace apps collection if you are into the Shopify platform.
Ewebot
Ewebot is a contemporary-style dynamic website template for SEO agencies. The lively design gives a futuristic look to all seven demo variations. So you can pick any demo and can convert into a business website without any issues. Plus, it is a WordPress theme; you don't have to worry about the dynamic functionalities. All you have to do is to import the demo you like and start building your website. Tons of customization options are there in this template; therefore, site owners can maintain their website easily without even touching the code.
WPLMS
From the name itself you can understand that this is a learning management system website template. The creator has combined the power of WordPress and LMS in this template. As a result, you get a dynamic website template with user-friendly features. This feature-packed educational website template has fifteen dynamic website templates. Each demo has a different layout and a different style, so you get a wide range of varieties in this template pack. Whether you need a classy looking website design or a modern creative website design, this template will have a perfect option for you. Because this template has built-in LMS functionalities, you can easily manage courses and materials. With periodic updates, this template is running on the latest web development framework versions. Hence, you can easily install and work with this template.
Newspaper
When you share realtime stories with your audience, having a dynamic website is a must. Audiences are no longer interested in the old boring clumsy-looking content websites. One of the major reason is the smartphone usage. Having a clean layout will help your audience easily find and read the news they want. Plus, mobile users can also easily interact with your website. If you are making a news or magazine website for present-day users, dynamic website templates like this will come in handy for you. The dynamic character of this template will help you serve hot news as they happen. Since it is a WordPress website template, managing content won't be a tough job. This reader-friendly website template has nearly 80 demo variations. Just pick the one that meets your needs and start working on it.
Impreza
Impreza is one of the best selling WordPress website templates. Simple design and easy to use features make this template a good option for both developers and general audiences. Design-wise, the creator has kept it simple and straightforward. Hence, you can easily adapt this template for all types of business websites. Carousels and images effectively manage the contents and present them elegantly to the audience. Texts are made bigger and bolder so that the users can easily read your content even on small screen devices. Like all premium WordPress website templates, this also one uses WPBakery page builder. Another useful plugin in this template is the Event Calendar plugin to manage appointments.
Kalium
Kalium website template is made for creative professionals. The simple elegant design help you easily manage the website. All the elements are placed perfectly in an easily accessible spot. Since it is a mobile responsive website, interactions will be easier on mobile devices as well. Custom post types are also given in this WordPress template to give you more flexibility. Managing dynamic website templates like this will be an easy job in the long run. Since all the optimizations are already taken care of by the developers, lots of your time will be saved. Along with different homepage variations, the creator has also given different layouts for portfolios. The Kalium is loaded with tons of useful add-ons, so you no need to install each and every plugin separately.
Cortex
Cortex is an interactive website template for creative agencies. Modern color schemes are used effectively with stylish fonts to give a striking look. Plus, smooth animation effects liven up the creative design. Since this is an agency website template, portfolios are designed with care. This creative agency website template totally has seventeen homepage variations. Each and every template is designed with extreme care so that you get a unique looking artistic website templates. Drag and drop page builders will make the customization job easier. What makes this website template unique is it uses the same artistic design for eCommerce websites as well. Overall, if you need both dynamic functionalities and dynamic design, this is the best option for you.
SetSail
SetSail is an inspiring website template made for travel agencies. The clean layout and big imageries will help the user easily find the places they desired to visit. Though this template has a handful of nine homepage variations, all of them are unique and attractive. Modern web elements and animation effects give a relaxed experience. You can keep your users engaged right from the moment they step into your website. Each homepage is designed differently for different purposes. Some homepages are designed to increase the conversion, while some others are designed to give an interactive user experience. Based on your needs, you can easily create your own custom website using this template.
Since it is a travel agency website template, map widgets are designed smartly. Users can pin their destination and see the travel package features on the map widget; smart, isn't it? Reducing the input effort for the users will help the user to spend more time on your website. For example, Facebook uses Ajax and React codes to show information dynamically to the user without loading the page. If you are into React JS, take a look at our react website template collection.
Startit
Startit is also a creative and engaging website template like the SetSail website template because both of them are from the same creator. But this one is made for corporate websites. You can expect the same level of pixel-perfect design and developer-friendly coded script in this template. This fresh website template has 20+ demo variations. Each demo has a different layout and different design styles. In all the demo variations, the creator has smartly balanced the creative design and the professional look. Just like the homepage, the inner pages are also designed neatly to help you explain your business clearly to the audience. All the features and options are integrated well into the dashboard. So almost all functions can be controlled from the admin dashboard itself.
Consulting
From the name itself you can understand that this template is made for consulting businesses. The creator has made modern businesslike website templates in this pack. This professional-looking website template has nearly 50+ demo variations and two RTL demo versions. All the basic features and elements are designed thoughtfully so that your custom works will be greatly reduced when you use this template. Customizations are made easier by not only making the code script simple but also by giving a page builder tool. All the minor customizations can be done easily via the page builder tool itself. Hence, general users can easily customize their website without even touching the code. A unique tool in this template is the working cost calculator. Being a consulting business website, the cost calculator will help your audience easily pick the plan they want before they reach you.
Roneous
The Roneous template is out there in the market for quite some years now. Still, it manages to sell in high volume because of its user-friendly website templates. Simple clean layouts not only help the user to interact with your website easily but also help you manage the data. Using dynamic website templates like this will help you keep you manage the website easily in the long run. This template has designs for both personal and corporate websites. This template supports custom post types to make the job even simpler. Hence, developers can easily make custom unique page features and integrate them into your website. With periodic updates, this template is running on the latest web development frameworks and the WordPress engine. Hence you can expect all the latest and greatest features that WordPress has to offer.
Konte
If you are minimalist love, the Konte theme will impress you. All ten homepage variations have a simple and elegant look. The creator has handled the minimal design smartly so that your website feels roomy even on small screen devices. Plus, it is a mobile responsive website template like most other dynamic website templates in this list. The buttons and other elements are designed using the code script. Hence, you get high-resolution elements that look beautiful on retina devices. Hover effects and smooth animations are used to liven up the design. Since it is a minimal design, hover effects are also used to save space and show the corresponding options when the user hovers over an element.
Curly
Curly is a beautiful website template for spas and salons. Images play a major role in this template. Big imageries and background image spaces are given to show your works. Six homepage variations are given in this pack. All demo versions are designed thoughtfully so that the users can easily pick the service they want and book an appointment. Using dynamic website templates like this will help you take most of your service online. Customers can also book an appointment or request home services from your website's service page. Inner pages also have a stylish look like the homepage. Hence, you get a consistent design throughout the website. If the creator has included an appointment booking plugin, it would be very helpful for the users. But still, you can easily install the plugin you want.
Büro
Büro is another ingenious website template for creative professionals. The unorthodox design makes this template stand apart from other templates. This creative website template has fifteen homepage variations. All homepage designs focus on your portfolio. If you are some who takes pride in your work and templates like this will highlight your work elegantly. Right from the menu option to the fonts used, everything is chosen carefully to give a better user experience. Unlike other creative website templates, this one doesn't hinder user experience in the name of creative design. Users can easily interact with your website on both big and small screen devices. Overall, the Büro is the best template for those who want their reputation precedes them.
Barista
From the name itself you can get an idea that this template is for coffee bars. The creator has maintained the rich-classy look to give an authentic coffeeshop aura. There are some creative designs along with regular designs for those who are bored by the usual designs. The creator has pre-integrated WooCommerce into this template. Hence, you can seel your products easily on your website. If you are planning to give an online ordering feature for your customers, this template has a perfect base for you. Of course, you have to add one or two features based on your needs. But still, this template has the basic features to make your job simple. Places for videos are also given in this template to give an engaging user experience.
Avas
Avas is an Elementor page builder based multipurpose website template. This template has a wide range of layouts and designs. The creator has given you designs for almost all major business websites. Nearly 100+ inner pages are also pre-designed for you. Setting up a proper website will be an easy job with dynamic website templates like this. Elements and animation effects are kept as simple as possible because this template is designed for all types of audiences. If you are looking for an easy to use website template with familiar controls and options, this template will impress you.
Wyzi
Wyzi is a listing website template like the REHub template mentioned above. This template is particularly designed for listing local businesses and services. Hence, map widgets are used effectively to let the user easily locate business places. Since it is a WordPress website template, all the features and options are in perfect working condition. All you have to do is to take care of the business listing. This template uses powerful search tools with filter options to easily narrow down the results. Take a look at our bootstrap search box examples for more userfriendly search tool designs. The simple and flexible code script will make your customization part easier.
Marketo
Marketo is an eCommerce and marketplace website template. It is always better to go for a fully functional eCommerce website template if you don't have a developer team. The Marketo is a WooCommerce powered website template. Since WooCommerce is one of the famous online store platforms, there will be ready-made solutions for all your needs. Sensibly designed homepages help you easily list your products in one place. Neat sectionings and grouping will help you neatly organize the contents. If you are not into WooCommerce but want the Marketplace features, Shopify will be the next good option. Take a look at our Shopify Marketplace apps that could help you if you already own a Shopify store.
Loveus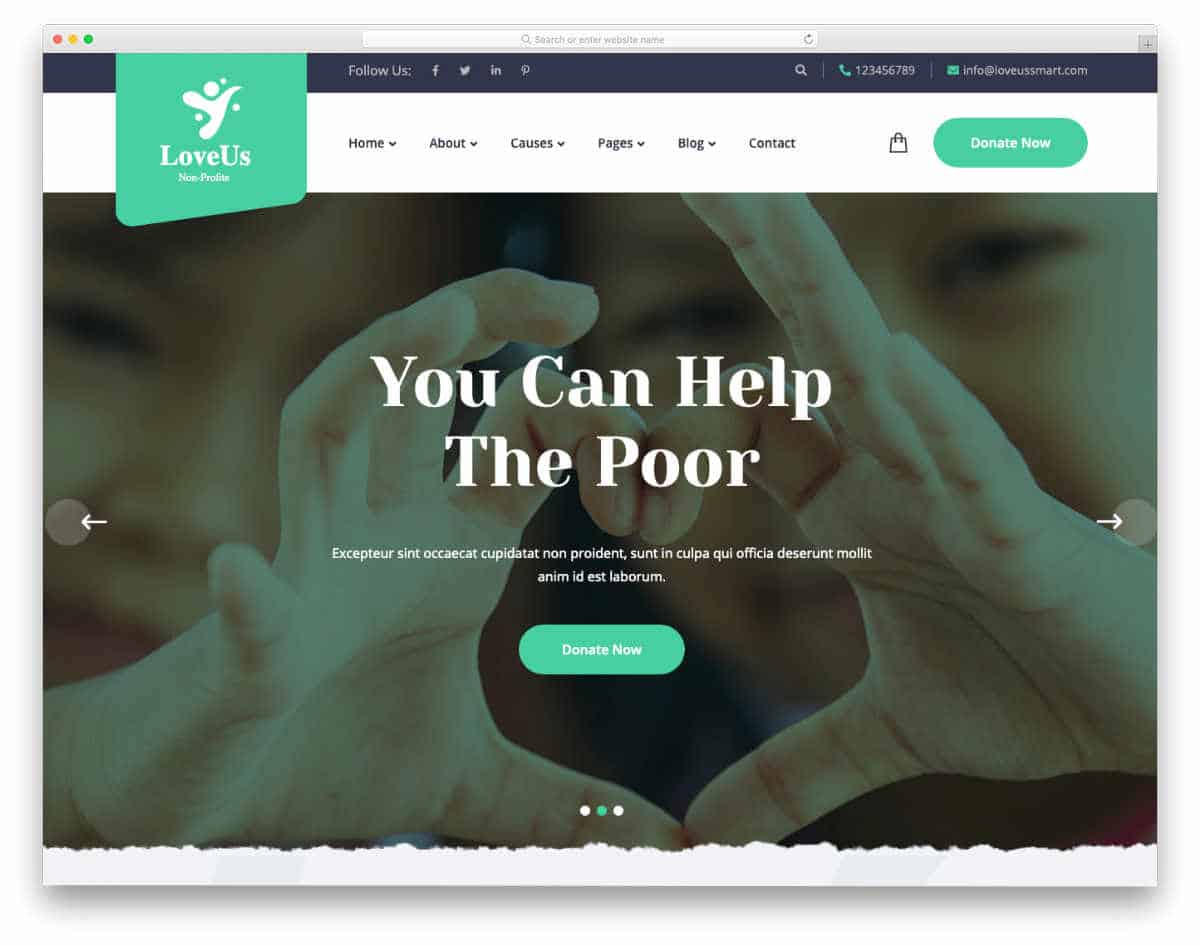 Loveus is a feature-packed non-profit website template. The appealing design of this template lets you clearly explain your purpose. Animated progress bars clearly show how you are progressing towards your goal. You can accept payment, let the users enroll in a program, and lot more in this template. Since it is a WordPress website template, there are numerous plugins out there to solve your issues. Premium plugins like Events calendar are given in this template to help you save some money. This non-profit website template has eight homepage variations. All demo versions use a full-width design to help you make a visually striking website.
HomePress
HomePress is a fully equipped real estate website template. One of the biggest challenges in making a real estate website is making it attractive and also to manage all the listings. The creator has balanced both design and user interface smartly in this template. Map widgets are well-integrated into this template. Hence, the user can easily locate the property. To give you more flexibility, you get Google Maps and MapBox. You can go for the MapBox if you have any custom map requirements. Or else you will be fine with the Google Maps itself. If you are looking for user-friendly dynamic website templates for your real estate website, this one will be a good choice.