Industrial and construction company website templates are the key tools to create an incredible platform to represent the construction business itself. With these free HTML5 bootstrap templates, you don't need to think about your construction site design and content flow, because, these are available with all possible content elements that can easily fit with your business concept.
If you're here to download construction business HTML5 template for your personal business or client website, you're in the right place. The bootstrap html5 templates are easy to use, highly customizable, most popular, lightweight, responsive, cross-browser compatible, and load inside any of platform swiftly.

The best of these free themes are — high adaptability, can use these free construction company website templates as plumber/plumbing website template, general contractor website template, electrician website template, electrical contractor website template, oil and gas website template, building construction website template, and plumber website template,
Furthermore, you can also tailor with website as engineering website template, general contractor website template, home builder website template, powerpoint engineering template, roadworks construction website template, Civil Engineering website template, Heavy Equipment HTML template, Painter HTML website template, Worker HTML website template, Heavy Machine web template, Heavy Cranes web template, HandyMan CSS website template, Renovations HTML website template, Manufacturing website template and a lot more.
Key Feature of Free Responsive HTML5 Construction Company Website Templates
Before taking to each template individually, I recommend you to gather some experience and get familiar with the key aspects of free Bootstrap themes for industrial and construction company. For your convenience, I've put together all the key features for your consideration, get through them deliberately before downloading free construction company website template for your industrial business.
Construction Industry Oriented Design
Either you're going to a website for handyman, heavy equipment, electrical construction or building construction, manufacturing, roadworks, and petroleum firm, your design should make your visitors understanding about your business niches perfectly.
Industry Specific Content Flow: After adding revolutionary design, it comes to following the logical content flow. Content flow should be followed according to your website goal. Suppose, your construction company offers welding service or sell heavy cranes, your website content should be convincing so that customers can get impressed instantly and take your offers with making any significant delay.
Equipped With Modern Technology: Free industrial bootstrap html5 templates come with all possible arrangement of your industry-specific contents, but you seldom find website theme that gets fit your need perfectly. So, it needs customization. When it comes combined with technologies like Bootstrap 3 framework, HTML5, CSS3, responsive slider, and other essential tools, you can customize those template according to your requirement and be away from devices and browser compatibility hassle.
Search Engine Optimized / SEO Friendly: Free business html5 templates for construction company should be W3C validated and coded efficiently following the best practice of semantic markup. It makes website perfectly visible for modern search engines and helps you rank your competitive keyword high easily.
Mobile Friendly / Readily Responsive: Free Responsive bootstrap html5 templates for construction company comes packed with high adaptability for viewing devices. So, it should be responsive and mobile friendly, can tailor with iPhone, iPad, Tablet, Windows Phone, Smartphone, Android Phone, BlackBerry Phone, and another resizing point of high-resolution devices.
Cross-browser compatibility: As a frontend developer, I find it elusive to ensure top-notch browser support for each free construction HTML template. The process becomes more challenging when it comes to supporting Internet Explorer browser versions. But when you have access to these free Business Bootstrap website templates for a construction company, you don't need to worry about providing support for IE, Microsoft Edge, Google Chrome, Safari, Mozilla Firefox and more.
Though there are many of checklists like social sharing, well-documentation, clean typography, color combination lightweight and blazing fast loading speed, W3C validation, timely version update and more, I've only shown the prime features that are considered must-have features. Without keeping you waiting, let's get into the themes.
Construction
This is the latest and greatest free construction company website template made by Colorlib which is known for its stunning looking templates and clean code base unmatched in the market.
Arcade
Architect
Construct
TOPBuilder
Celt
Metallix – Construction Company HTML5 Bootstrap Template
Fontanero – Responsive Plumbing Construction & Repair HTML5 Website Template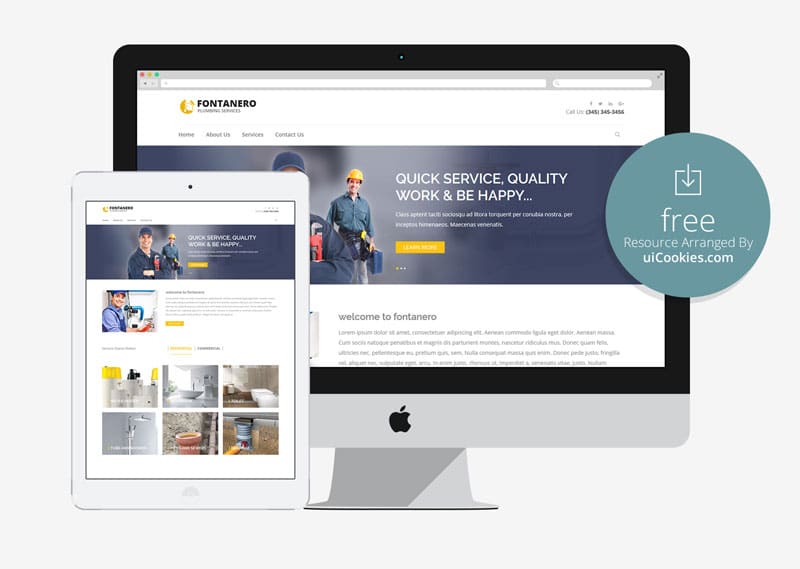 Automation – Industrial Flat Bootstrap Responsive Web Template
Technical – Industrial Company Flat Bootstrap Responsive Web Template
Power Grid – Construction Industry Flat HTML5 Bootstrap Template
Welding – Industrial Portfolio Flat Bootstrap HTML Website Template
The Factory- Industrial Manufacturing HTML5 Bootstrap Template
Oil and Gas – Free HTML5 Bootstrap Template for Construction Company
Capital – Construction Business HTML5 Bootstrap Template
Premium Bootstrap HTML5 Construction Company Website Templates
Premium HTML 5 Bootstrap template for the industrial company come with an extra opportunity that is seldom found in free solutions. These are well-documented, efficiently coded, frequently updated and ultra cross-browser compatible, SEO friendly and readily responsive to mobile devices. The fun part of this best selling responsive construction HTML CSS template is its highly aesthetic look and a pack of modern equipment.
If you want be rest assured with future limitation go with the paid solution. Premium business html5 templates are lightweight, fast loading, and offers everything you need to make your website high converting and professional.
BuildPress – Construction Business HTML5 Bootstrap template
StructurePress – HTML5 Bootstrap Template for Building Construction
Renew – Renovation, Repair & Construction HTML5 Bootstrap Template
Plumberx – HTML5 Bootstrap Template for Plumber and Construction
Builder – Responsive Building Construction HTML5 Bootstrap Template
Bottom Line
I've tried to include only best responsive construction company website templates. If you find that I've missed the name of amazing industrial website theme, a suggestion the template you like. I'll add them in this review list.