Having an old clunkier website not only makes it boring but also increases customer support cost and cost of bringing new customers. In this digital age, the information should be easier to find. Being in the financial and service domain, insurance websites must be user-centric. When a customer gets on your site, they must be able to easily find new plans and compare them with the old. And finally, the user must be able to purchase the plan from the website itself. The insurance website templates in this list use the modern user-centric design to deliver an impeccable user experience.
The key things you have to keep in mind If you are revamping your existing insurance website are —
Responsive design – The website must be friendlier to use on both computers and mobile devices.
Cleverly planned information architecture – the user can find all related information in one place.
Categorize users – If you are providing insurance policies for a wide group of people, try to group them—for example, categorize users as senior citizens, students, etc.. like that.
Let users easily connect with you – keep all the forms in an easily accessible area. If possible, provide chat support.
Easy to navigate menu design – make sure that users can find what they want without getting lost on your website.
The insurance website templates in this list already have responsive designs and user-friendly interfaces. Therefore the burden on you is reduced, and you can concentrate on your website strategy.
Insurance agency websites must be properly tuned for the local SEO. Since most searches are location specific, linking your website to Google My Business profile will improve the site traffic. Some of the contact forms in these insurance website templates have a fully functional Google map widget to let the users easily find your office.
Instive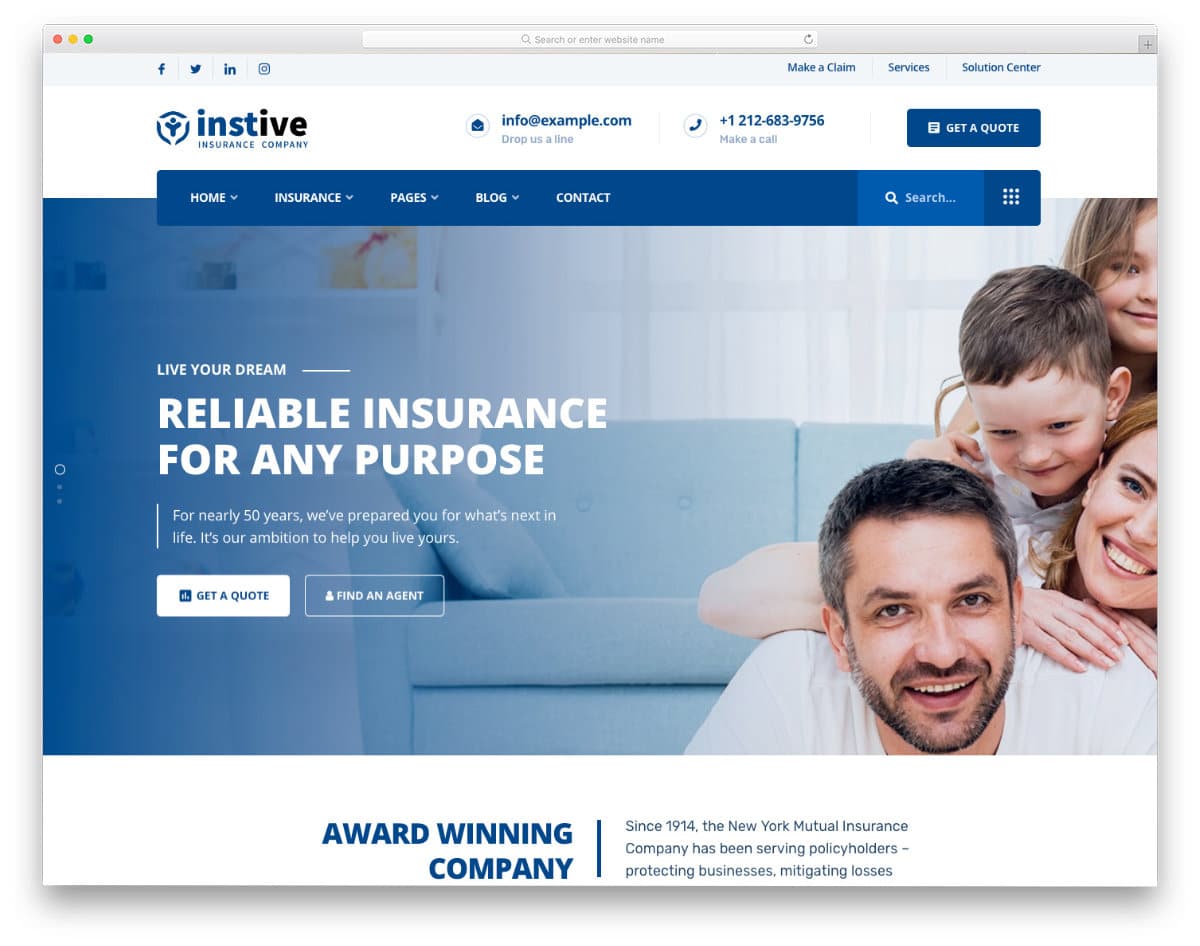 For those who are bored by the insurance websites with chunkier borders and call to action buttons from the '90s, this template will impress you. The creator has used modern design elements elegantly in this template that perfectly balances the professional appearance and fresh look. Just like most financial website templates, this one also uses a blue color scheme. You can use your own brand colors without even touching the code. This template is equipped with the Elementor page builder; therefore, most minor cosmetic customizations can be done easily. This theme pack has six insurance website templates. Each template is unique, and you even get one-page demo versions. If you are into one-page website templates, take a look at our one-page website templates collection for templates that are easy to maintain.
Loan
Loan is a multipurpose HTML finance and insurance website template with a crisp design.
Developers who are looking for a flexible HTML template with a solid base to make their custom website quickly will love this template. The creator has used the latest HTML5, CSS3, and Bootstrap frameworks to make this beautiful template. Therefore, you can create any modern custom elements and integrate third-party tools without breaking a sweat. This template's clean and content-focused layout lets the site owners clearly explain the insurance plans to the audience.
Saifway
Saifway is a content-rich website template with a straightforward design. This template's creators have used the full-width layout effectively to present the content engagingly to the user. You get a call to action button to book an agent on the navigation bar, which is a smart design. Users can read all your insurance policies and can book an agent quickly without leaving the page. Like all other insurance website templates, this one is also a multipage website template. Hence, you can explain your plans clearly to the audience. Being a modern website template, this one does have space for videos in the default design itself. Giving a short and crisp video about your plans saves users' time a lot. Plus, the conversion rate might improve.
Alico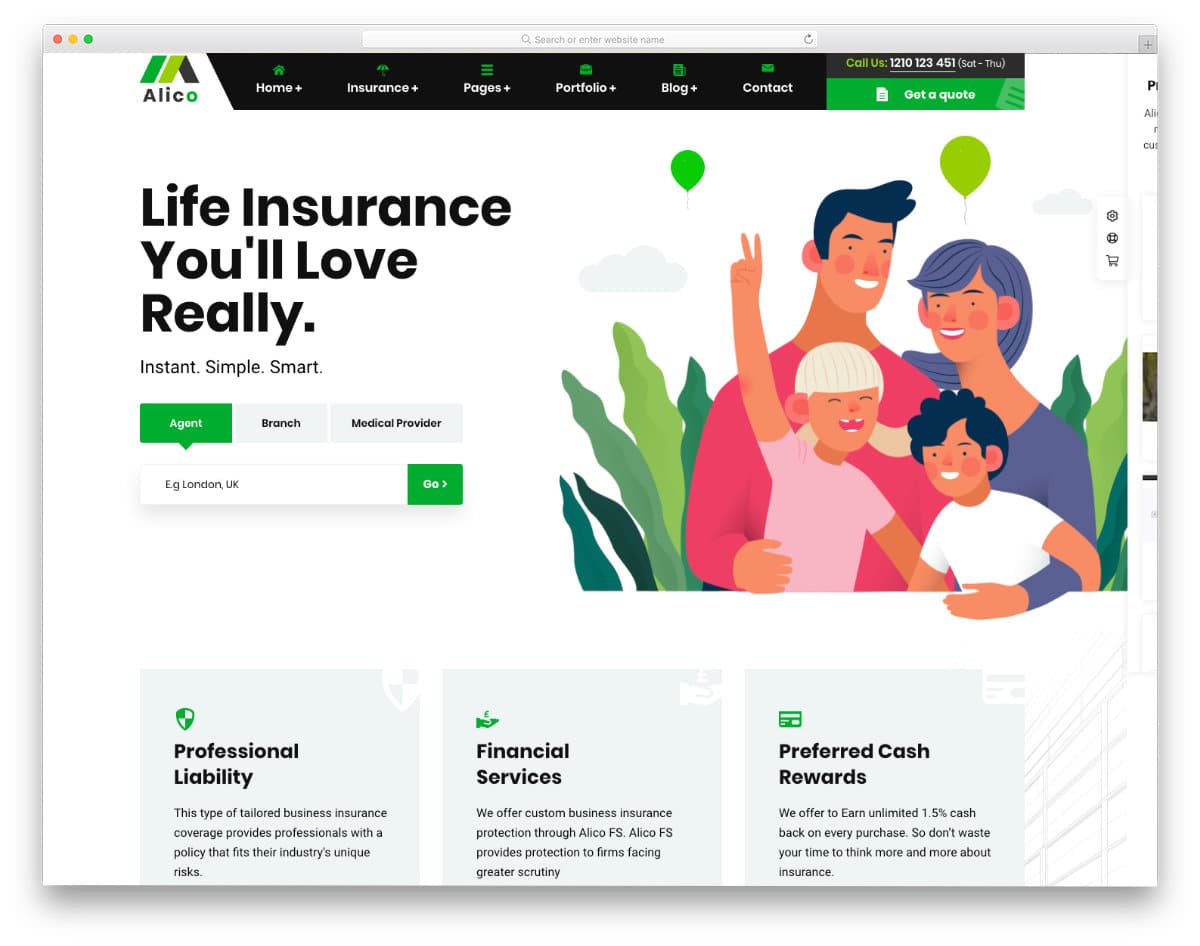 With the help of modern web development codes, developers can make the website more expressive. Creators of the Alico template has handled the animation effects and modern web elements to give you a livelier website. Once the user gets into your website, they will feel a positive vibe. Each and every element is designed carefully so that your customers will get an impeccable user-experience. This pack has six pre-made insurance website templates. The main demo looks futuristic and will make your website stand out from your competitors' site. If you have the resource, you can add subtle micro-interactions to the vectors and elements to make it even more engaging. The creator has thoughtfully included the PSD files in the download file to make your customization works a lot easier.
BiziPress
BiziPress is a finance and insurance website template with a proper business-like look.
Under the insurance website templates category, there are nine ready-made homepage variations. Each variation has different elements and different section arrangements to achieve the primary goal of the website. A green color scheme is used for the insurance website template to differentiate them from the finance website demos. But, you can use your own color scheme to match your brand. Some of the friendly tools pre-bundled in this pack are Event calendar, Monster Insight, and website management tools.
Topika
Topika is a clean and professional-looking insurance website template.
Interactive animations and modern web elements take the user experience to the next level. This theme pack has three homepage variations and one RTL version. All demo versions use the card elements effectively to present important information in an easily digestible format. Customizing this template will be easier for both developers and website owners. The flexible code structure makes the core customization easier, and the Elementor page builder helps to do minor customizations without touching the code.
Consultix
As the name implies, Consultix is a consultancy business website template. A consultancy website template has everything that you would expect in a proper insurance website. Sensible design web pages let you clearly explain your policies. Quick search options and detailed policy pages will help the audience easily pick the policy that meets their needs. Like all typical insurance website templates, this one also has lots of text spaces in its design. Modern web elements like the cards and carousels are used effectively to organize the content and present them neatly to the audience. If you like to spice up the design, take a look at our CSS cards design collection for more interactive design ideas.
Avante
Avante is one of the best selling consultancy, agency, and insurance website templates in the market. The youthful design and the friendly code structure makes this template a favorite option for both developers and site owners. Smooth animations not only makes this template livelier but also a breeze to use. Contents and web page sections are shown elegantly when the users scroll through the pages. And the best part is all the elements and effects can be controlled using the Elementor page builder. Site owners can manage their sites and can make minor tweaks by themselves. bbPress plugin and Facebook integration will help you manage your customer easily. Overall, the Avante is a well-thought-out modern consultancy website template that a present-day site owner will love.
Reobiz
With more than 50+ pre-made web elements, this template will help you make a dream website in no time. Reobiz is a proper business website template with a professional look. This template ticks all the boxes of a modern business website — it shows you credibility, services, and quick online solutions. The creator has provided both single and multipage website versions for all five insurance website templates in this pack. You can either go for a multipage version for a fully equipped website or a one-page version that is easy-to-maintain. More than enough space is given for texts and images so that you can deliver the message clearly to the audience. If you want a website template that you install once and forget about it till the next major overhaul, this might be a good option.
Financity
Financity is a multipurpose finance website template. Since the insurance company websites share the DNA with finance companies, you can use this template for insurance company websites as well. This template is very professional. Each and every page is designed carefully to genuinely promote your policies/plans. This template even has separate case study pages, which will come in handy for many upcoming insurance companies and agencies. If you expect your insurance website templates to have a properly optimized design, this one is the best option for you. This template's creators have taken care of the basic optimizations. Therefore your developers can concentrate on the custom features without any worries.
Consultancy
Consultancy website template is purely made for financial and other related websites. Whether you want to make a creative website or a simple website that is familiar to use, this template has a perfect design for you. All demo versions are properly optimized for SEO. Therefore you get a better search result once you optimize your site's content for your niche keywords. Most premium WordPress insurance website templates won't include the images used in the demo. But this template's creator has included the images to set up a website easily. Tons of customizations are given along with the beaver page builder. Hence, you can make your dream website in no time using this template.
Consulting
Companies are embracing many latest online tools after the 2020 pandemic. The creator of this quintessential template has made it even more perfect by adding more useful tools. For example, you get the Zoom meeting and webinar integration right-out of the box. Even though you are not a fan of the Zoom tool, you can use other online meeting tools on this template. Since this is a WordPress theme, there are plenty of useful tools out there to help you. This template has separate demos for the WPBakery page builders and the Elementor page builders. You can pick the demo with the page builder you prefer and start working on it. Overall, Consulting is one of the best modern insurance website templates with tons of useful features.
Finacia
Being a finance website template, this one covers all major finance-related business website designs in this pack. This theme has ten demo variations, and each one is unique. Fresh icons and swift animations make the interaction lot easier. Each section is made bigger so that the user can easily read the content on their website. The biggest advantage of having bigger sections and elements is mobile users can use your website without any issues. If most of your website traffic is from mobile devices, insurance website templates like this will come in handy for you.
Along with different homepage and inner page layouts, this one also has different header designs. All these custom designs are neatly integrated into the WPBakery page builder. Therefore customizing this template will be a breeze for the site owners.
Finance and Business
Finance and Business is a classic website template with a flat design layout. Flat style designs and full-width layouts are always a good combination — you extract spaces from each and every inch on the page. As a result, you get a beautiful looking website where the user can easily search and find the information they want. If you are into tried and tested classic designs, this template would be a good choice. There are five demo variations in this pack. Each demo has different homepage sections and different arrangements. All you have to do is to install the demo you like and start customizing it using the WPBakery page builder.
Avantage
The value for money proportion is high in this template. This template was a success from the moment it launched. Periodic updates and the addition of new features keep this template in the top-selling spot. An equal amount of care and importance is given for all the pages in this template. Right from the homepage to the contact page, each section is designed carefully to give a better user experience. Not only the design but the right tools are also included in this template to make the site owners' life a lot easier.
For example, you get a premium Timeline tool to clearly explain your service and policies. Insurance websites must be able to clearly explain the policy tenure timeline — in that case, the premium timeline tool bundled in this pack will come in handy for you. If you like to make your own timeline design for your website, take a look at our CSS timeline design collection for design inspirations.
Broker
If you are running an insurance brokerage firm or an agency, there is no other better template for you than this one. The simple layout with lots of white spaces creates a roomy feeling. Fonts with thin strokes and precisely designed elements give a professional look to the template. Not only the looks but the page features are also designed with care. Hence, you can explain your policy features and their benefits clearly to the audience. Even if you explain the policy in person, having a detailed policy page on your website will come in handy for you during the client presentation. The Layer Slider, a premium plugin is used for the image slider. You can create stunning animated image sliders within minutes using the image slider plugin.
Zippco
Zippco is a multipurpose financial consultancy website template. This template has six demo variations. The creator has given you homepages of all sizes — short & sweet homepage or a long homepage that gives a complete overview of your services; this template has everything. An RTL version is also there in this template, which will come in handy for agencies with customers worldwide. Custom effects like the parallax effect, video background, and lot more are neatly integrated into the WPBakery page builder. Hence, you can customize any page on this template without even touching the code. Code-level customizations can also be done easily on this template. The creators have kept the template's code script as simple as possible.
Finoptis
The Finoptis is the best option if you expect more pre-made demos and more premium plugin bundles in a theme pack. This template has thirteen demo variations. Being a multipurpose theme, it covers all major business website categories. We do get a dedicated demo for finance and insurance websites. Though it is a multi-niche focused template, the creator has given proper attention for each and every demo. Therefore you get truly professional website design in this template. No matter how carefully a creator makes a theme, users will always have a custom need. Hence, this template's creator has given you plenty of customization options.
BeTheme
With more than 500+ demo variations, BeTheme is an ultimate WordPress theme. Name any niche, and this theme will have a readymade demo version for you. This huge theme pack has three demo versions under the insurance website category. All three demos are mature and modern. Therefore the default design appeals to all types of audiences. Based on the design you prefer, you can pick one and install it on your WordPress website. Like most sensibly designed WordPress themes, this one also has demo versions that support the WPBakery page builder and the Elementor page builder. Both page builders offer you tons of customization options. If you want infinite customization options and a website template that can help you meet your growing needs, this is the best option for you.
Avada
Avada is another legendary WordPress theme that doesn't need an introduction. With its friendly customization options and flexible code structure, it rules the sales chart for several years in a row. This WordPress theme pack has pre-made demos for almost all website categories. If you want to change the looks, this template's very own page builder will come in handy for you. Since this theme uses its own page builder, you can expect a seamless customization experience. This template has several other in-house developer powerful tools along with the page builder tool — which makes this template a one-stop solution for all your website needs.
TheGem
TheGem will impress people who like an organized and business-like look. With more than 400+ readymade templates, this one has a huge library of website designs. And the best part is all custom elements are neatly integrated into the Pagebuilder tool. The creator has introduced the BLOCK concept in the recent update. The Block plugin gives you tons of pre-made sections & blocks — You can edit, combine, and reuse the blocks. Since the BLOCK is an inhouse developed plugin, it works seamlessly on this template. The creator has given a clear document on the features and options. Take your time and fully explore the feature before settling down with this template. Other than the Block plugin, you can expect this to be a normal WordPress theme that is easy-to-use.