In the present era where the websites have taken over the mainstream of advertising and marketing your business, not having a good one can cost you a lot. In fact, not owning a proper website that represents your business can in many ways stagnate the growth of your business. Why? Because people today heavily rely on the internet and the websites to get to you and trust your services. The website is one of the main sources of information for your potential customers through which you can tell them about your business, projects, and services and more. So save you and your business from facing the bitter loss of investment and the potential clients, we have come up with a handful of best free responsive business website template options.
These free responsive business website templates are excellent, clean, efficiently crafted, smartly coded and distributed to help the enthusiast developer of the community. If you are a frontend developer looking corporate agency website theme to amaze your clients. You need to look no further. You can scan each template and their codes one by one and take your decision with ultimate relaxation. The part of this extensive listing is its modern technology and unique design. It means most of the corporate templates in this collection is minimalist, aesthetic, sleek, versatile, feature-rich, deeply customizable, functionally sophisticated responsive and mobile friendly business website templates. Before taking you through the entire listing, let me highlight some key features of free html5 website templates so that you can take a perfect decision without spending more time.
Salient Feature of Free HTML5 Website Templates
When you have such a unique professional business and corporate website template on this list, I surmise you can now build exclusive and high-end business website with ease. These templates are outstanding and highly appealing, has crafted highly efficiently. Let me now point out the main features all these amazing templates possess.
Trendy and Cutting Edge Design
Readily Responsive and Mobile Friendly
Built With Modern Technology
One Page and Multipage
Secured & SEO Friendly
Fast loading & Lightweight
Feature Rich & Element Dense
Easy To Use & Highly Customizable
Efficiently coded & well-documented
Widely Popular and Downloaded
HumanResources
On the top of our list of the best free business website templates is HumanResources. Clean, professional and advanced design accompanied with stunning range of useful features, this template is definitely a great start. Impressive with the visuals, everything here is completely responsive, retina-ready as well as pixel perfect. It is ideal for human resource agencies as the name pretty much implies. Great for luring in more clients, this template is great for promoting your online presence as well. The template comes with tons of different elements like animated statistics, creative pre-loader, smooth running effects and hover effects to keep things interesting.
This whole template is based off the advanced Bootstrap framework, and offers a secure and reliable experience. It also features stunning multi-level drop down menu that allows your users to browse through the site. The professional contact forms, alongside the newsletter subscription, social icons and more, it is super efficient when it comes to establishing your online presence. Kick-start your online business with minimal effort only with HumanResources.
---
Laundry
Next in line, we have another business based website template Laundry. And as the name pretty much implies, this theme is dedicated towards the niche of laundromats and laundry services. Packed to the brim with amazing features alongside professional visuals, this theme is definitely one that fits the niche of our list today. When it comes to the flexibility, it is reliable and secure as it relies fully on the advanced Bootstrap framework. It is also completely responsive, retina-ready as well as pixel perfect which means that anything you add onto the site is amazing to say the least.
The theme is complete with all the elements that allows one to start a functional site to start. Whether you want to start a online business, create an informative blog, showcase all your services , this theme is pretty great. It features pre-built home and inner pages you can personalize further to your own preference. Designed for an excellent experience as a whole, it is also completely cross-browser compatible as well as fast loading. Mentionable feature here incudes stunning image banner, sliders, carousels and even intuitive icons and creative fonts. All in all, a definitive option for those who are looking, this template is one-of-a-kind.
---
Hepta
Hepta is a free business website template that is aimed towards the niche of travel and tourism. Clean, attractive and minimal with the design, this template is also designed to be completely responsive. Not only this, but the visuals are impeccable considering the retina-ready, and pixel perfect graphics. It is fluid and mobile ready making sure that the template is accessible throughout all of the devices out there. Complete with everything one needs to get started, this template is definitely one ideal for our list today. Here, you will also find plenty of pre-built pages for home, service, gallery and more. Not to mention the various front and inner layouts you can choose to use. You will also find an integrated testimonials, and you can even add in creative CTA buttons as well as functional contact forms.
Talking about variations, you get plenty of fonts, icons as well as color schemes to work with. All of these are easy to work with and makes it ideal for even beginners to work with as well. This template is also complete with various animations and effects that are implemented throughout the site for that creative flair. Not to mention the cross-browser compatibility as well as RTL friendly experience you get overall. Aiming towards the niche of travel and tourism, you get all the space you need to promote the places and your services efficiently. It is also super fast loading and ensures that you get the wholesome experience you are looking for.
Services
Yet another free website template by Colorlib, Services is a versatile and flexible website template that is another perfect addition here. It is great for plenty of niches of business, startups and agencies and is definitely multipurpose. And the great thing here is that this template is super user-friendly which makes it easier for those who are just starting out. Not to mention the visual impact it has on your users with the creative visuals, vibrant color schemes, professional layout and more. It is completely responsive, retina-ready and pixel perfect. This ensures that your website looks absolutely flawless no matter which device it is on. It stands out with the unique concept and overall styling. Based off the advanced Bootstrap framework, this template is pretty flexible to say the least.
Getting more into the details, this template is cross-browser compatible, fast loading and features plenty of creative elements. From stunning gallery, CTA buttons, icons, sliders, and more, you get it all with this package. Another great thing is that it also offers pre-built pages dedicated to blog, service, testimonials, contact, service and more. All of these go hand in hand with the overall design and is great for anyone looking to start a business site. It also features plenty of awesome customizing options like creative fonts, icons, color schemes, layout styles and more.
Snipp
Snipp is a free responsive business website template that is ideal for creative agencies and personals. Creative and unique with the design, the template overall opts for a modern and stylish appeal to it. It is completely responsive, retina-ready and offers and overall HD imagery so that everything is crystal clear. For the extra appeal, the background makes use of the stunning effects and animations.As it relies on the professional Bootstrap framework, the template is pretty flexible to say the least. Not to mention the awesome range of user-friendly personalizing options that makes it easy to customize the site. The use of creative fonts and color patterns further enhances the looks for others to see. It is also cross-browser compatible loading effortlessly throughout all of the web-browsers.
Apart from the stunner of a Home Page, you also get access to a huge range of inner pages. Everything from gallery, case studies, contact, service, portfolio, about, and more is at your disposal. To further boost your online presence, it also includes functional contact forms, newsletter subscription as well as the social media icons. In addition to this, as it relies on the secure and clean CSS and HTML codes, all of the structure is as reliable as it can get. Various of the elements designed with these makes for a pretty unique look, and feel to it. To mention a few, creative animations, graphics as well as the gallery style are all contributed with it. The great thing is that it is also fast loading and ensures that your users get nothing but the best of online experience.
---
Banker
Banker is another great free responsive business website template that is aimed for those involved in the banking and accounting niche. The name itself pretty much clarifies the purpose and is ideal for banks, accounting firms, finances,and similar businesses. Professionally designed, the template offers an organized and clean feel to it. Every element here is purpose-oriented and is aimed to aid to your professional requirements. From the design to the overall interface, all of these features an HD imagery with retina-ready and pixel perfect graphics. In addition to this, the template is also ultra-responsive, loading effortlessly throughout all of the device screen size. It is also a One-Page based template which means that your users can enjoy the whole of your contents distraction free.
Effortlessly build a functional site upto your preference only with Banker. The full-screen banner slider is a great way to highlight your featured service or offers. Not only this, but you can also utilize the elements like text sliders and filterable portfolio sections for an engaging effect. The menu atop can also be made sticky to make the navigation process easier. Not to mention the inclusion of various personalizing options to help you get that custom feel to the site. Overall, a pretty great way to jumpstart your online business, we definitely recommend the use of Banker.
---
Grunt
If you are looking for something simple, purpose oriented and engaging at the same time, then we definitely think Grunt is the one for you. A professional free responsive business website template, this is ideal for multiple different niches of creative agencies and portfolios. Enticing with the simplistic nature, the creators have made sure to focus majorly on the contents you wish to add. This ensures that your users are engaged with all the right reasons on your site. It is visually impressive to say the least as the graphics are all retina-ready and pixel perfect. And like we have mentioned before, it is modern, responsive and loads effortlessly throughout all of the web-browsers.
The full-screen split screen slider is the stunner here and is sure to make the best of your highlighted content. To further the visual effect, it relies on the CSS and HTML codes, giving access to numerous styling elements. This includes plenty of animated and graphically enhanced components implemented throughout the site. Not to mention the use of creative fonts, icons and the color palette that compliments the minimal style. It is also designed to be SEO friendly and aims to rank higher. In addition to this, the basics like cross-browser compatibility, fast loading and secure codes are all tried and tested.
---
Umeet
Umeet is a trendy looking website template for events. The neat professional design of this template makes it a perfect option for both party and event websites. The logically designed homepage itself will give a brief overview of the event and the ticket pricing. Modern colors are used in this template to meet the expectations of the present-day audience. If your target audience is from the age group of 20 to 35, this template will work perfectly. Call to action buttons are placed at the most accessible places so that the user can easily book tickets and get other features.
---
Listed2
Listed2 is a directory website for hotels and restaurants. If you are helping the users to compare and choose the best plans for them, this is the best template for you. Of course, it is a free template, you get only the front-end work. You have to work manually for the backend integrations. The developer of this template has used the code structure properly so working with this template will be an easy job. Visual effects and color schemes are used smartly in this template to present the contents engagingly to the users. Filter options with range sliders are also given in this template to help the user easily filter and find the place within their budget.
---
Yogalax
Yogalax website template gives a relaxing feel as soon as the user gets into your site. The light color scheme and the smooth animation effect give a soothing experience to the user. Lots of white space is given in this template so that the mobile device users can easily interact with your website. A colorful premium looking calendar design is given in this template to neatly show your schedules. The sad part is the calendar is not fully functional, these are some tradeoff you have to make while choosing a free template. But fear not, the code structure is flexible enough for further customization, you can manually work with the code to make the calendar fully functional.
---
Traveland
Traveland, from the name itself you can understand that this template is made for travel websites. Travel websites are the one which gets lots of mobile traffics. As soon as an idea for a trip comes in their mind, the user takes his/her mobile to start planning their trip. Hence making your travel website mobile responsive is a must. This template has lots of interactive elements like search widgets and star rating elements. The designer has smartly handled them in these interactive widgets in the mobile view so that the user can easily interact with them. Texts are made bolder so that user can easily read the contents even on their small devices.
---
Sensive
If you are making a magazine website, then you must check the Sensive website template. Properly organized website elements and sections will help the user easily search and find the contents they like. Since this template is made for blogs and magazines, readability is given importance in this design. No matter on which device the user is seeing your contents, they can easily read and interact with it.
---
Steakshop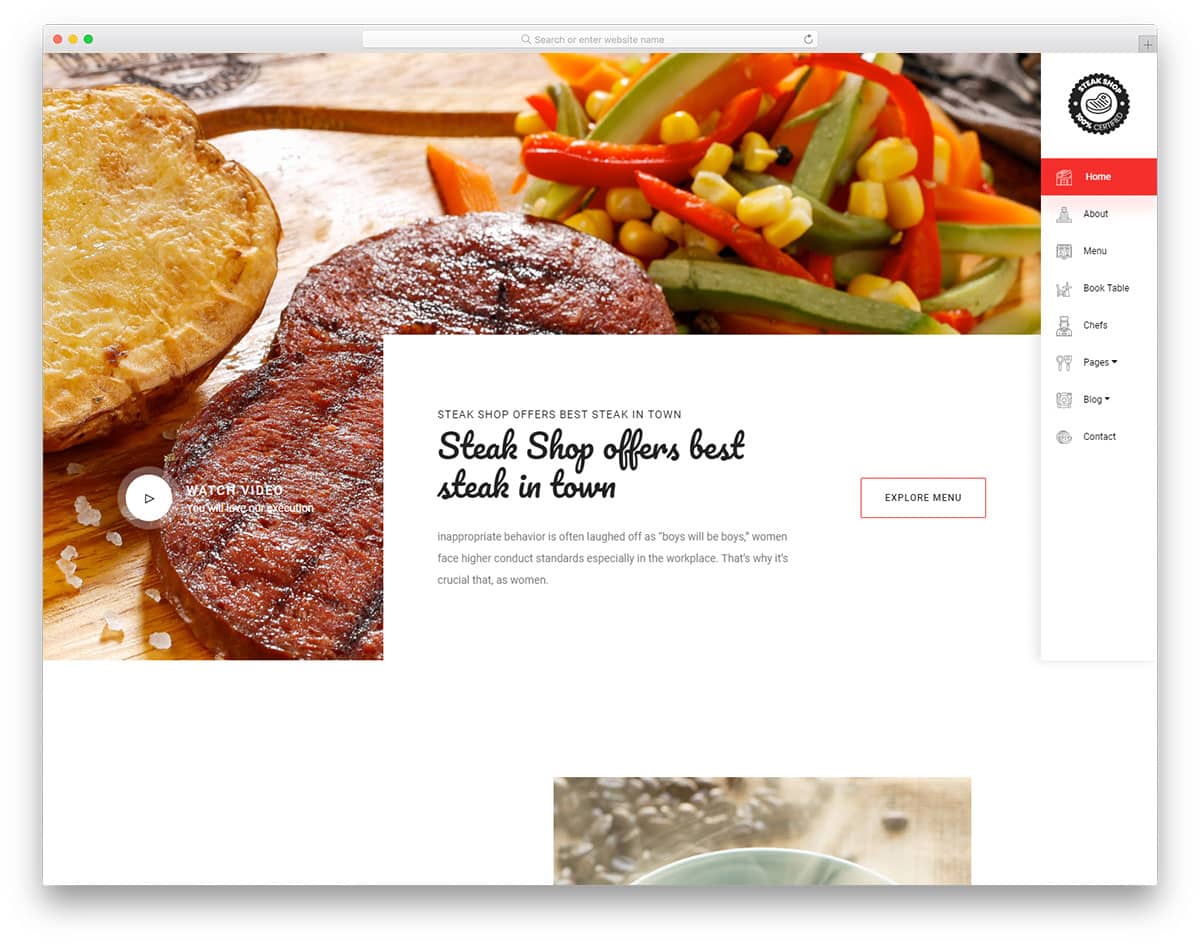 Steakshop is a responsive business website template for restaurants. Having a mobile responsive website is a must for current businesses. As the number of voice searches has increased in the past couple of years, having your restaurant listed in Google businesses alone is not enough. Having a proper mobile website helps the digital assistants to know your restaurants better and convey it to the users. If you are looking for such search friendly business website, the Steakshop is the best template for you.
With the help of the modern frameworks, the creator of this template has created an attractive website. Shadows and depth effects are used smartly to highlight the important content from the rest of the elements. All the navigation options are given on the side navigation bar. The best part is you get a pre-designed reservation form in this template. All you have to do is to add your content and launch your website.
---
Royalestate
Real estate is another competitive business which always adopts modern techniques to serve customers better. Having a mobile-friendly website will help the user to see your properties on the go. As now we have the option to send web push notifications to our customers, you can trigger a notification when a new property is listed. Royalestate is a well-developed website template. The creator of the template has used modern frameworks with industry code standards, so you can easily integrate this template with other platform or applications.
With the smart layout of this template, you can list all your properties neatly in this website. A search widget with lots of filter options is given in this template to let the user easily find the property they are interested in. Beautiful line icons to explain your business and also to show the details of the property.
---
Casahotel
Casahotel, as the name implies this template is designed for hotel businesses. The sensible design of this template let the user easily find what they are looking for. Neat animation effects are used to present the contents elegantly to the users. With the pristine clean design, this template gives a pleasant environment for the users to spend on your websites. If you are making a website for luxury hotels known for a relaxed holiday spot, this template is the best option for you. The code structure of the template is made is completely flexible so that other developer can customize it easily as per their requirements.
A bright orange color scheme is followed for the web elements and call to action buttons. The color scheme looks attractive on the clean white background. All the navigation options are placed behind the hamburger menu icon. Visual effects are used effectively throughout the template and are also used properly to meet the business website standards.
---
Primex- Highly Customizable Free Business Website Template

Primex is a simple, intuitive and effective corporate website template that features a professional and responsive interface. Packed with every little useful element to help users boost their website, this template is fit for every business niche. It is built with the frontend Bootstrap framework. Thus, it mellows perfectly with the high-resolution graphics to help the users build the ideal corporate website to represent their business. With Primex, you can showcase the services you offer, promote your business and consequently grow the sales.
The template is built using the modern age technologies like HTML5 and CSS3. Moreover, it is based on the Bootstrap 3 frontend framework. Besides being immensely SEO friendly, this astonishing template also has an impressive loading speed. Primex literally has a galore of amazing features. It incorporates awe-inspiring features includes intuitive animation, full-screen slider, owl carousel, Font Awesome icons and the list goes on and on. In addition to the design elements, it also includes the elements and features to make the website highly functional. It has a working PHP contact form, Google Map integration and is efficiently coded and also W3C validated.
It provides a pool of personalization options. Just give it a little tweak here and there to tailor the template as per your requirement. All in all, this free responsive corporate business agency website template is a complete package of all the elements necessary to create a visually appealing and fully functional business website.
---
Orchid – Free Responsive HTML5 Business Website Template

Orchid, like the name suggests, is truly beautiful and technologically sophisticated. This theme has been delicately designed giving extra attention to every single element that it incorporates. Therefore, it can make any website stand out irrespective of the business niche. The best part about this template is that you do not have to be a coding master. It takes care of all the UI aspects including the conversion rate arrangements.
In addition, it is equipped with Google Fonts, Font Awesome icons, Owl Carousel slider, modernizr, and the smooth scroll. It also incorporated TwitterFetcher that allows you to fetch the twitter post on your website easily. Moreover, the full-screen responsive slider also adds up to the design elements of the website that makes your website look more appealing. It has a secured and efficient codebase that is thoughtfully coded and well organized. Orchid is profoundly optimized for speed. Hence, it displays an excellent speedy performance. Coming to the menu options, it provides Collapsed or the Offcanvas Mobile Menu.
Apart from that, it is efficiently optimized for major browsers like Google, Firefox and Internet Explorer. In addition, it is fully responsive and mobile-ready. so it ensures the stunning appearance of the website on all kind of devices. All things said, this template is one of a kind that is perfect for creating all sorts of business websites like corporate agency portfolio, digital marketing firm, graphic designing firm, law firm, freelancer portfolio and such.
---
X-Corporation – Bootstrap HTML5 Small Business Website Template

X-Corporation is an aesthetically stunning, absolutely simple, extremely lightweight, and meticulously crafted free responsive bootstrap HTML template. This template is best suited for all kinds of business firms and niches. Be it an IT startup, creative studio, or a consultancy firm, X-Corporation has your back. This template has an utterly stylish yet clean interface that is accompanied by modern and cutting-edge technology.
Furthermore, this template is fully SEO as well as search engine optimized. Thus, it will fully assist you in streamlining the website's visibility throughout the modern browsers and popular search engines. Moreover, it is professionally programmed for a blazing fast speed of the website. Additionally, it is built by following the mobile first approach for its perfect appearance on all sort of mobile screens, handheld devices, laptops, notepads, etc.
The appearance of the website contents is also crucial to make the website more visually appealing so as to attract more visitors to the website. Keeping this in mind, this template offers a clean and vibrant set of typography. In addition, it has unlimited customization possibilities to cater the dynamic needs of the developers. Thus, you can use the available features to the fullest to create an amazing website for your business and achieve the desired heights of success you dreamed of!
---
Interbizz – Free Responsive HTML5 Business Website Template

Interbizz is a scrupulously designed, infinitely customizable, simple, minimal and fully responsive business website template. It can perfectly consolidate with corporate agency portfolio, digital marketing firm, law firm, construction company, freelancing firm and other essential corporate agency websites. In fact, this template possibly consists of all the required elements to serve the need of a perfect business website.
Furthermore, it is SEO optimized to give your website that proper online boost to gain more organic traffic through all search engine bots. In addition, it cross-browser compatible. Therefore, it works perfectly well on the major browsers like Google Chrome, Mozilla Firefox, Apple Safari, and Internet Explorer and others. The inclusion of hero area in the website helps in making it more interesting and keeping the users hooked. It has a section to provide the company details, and a brand logo slider to make the website appear as a trustworthy one.
Since it has a secured codebase, it helps tremendously while converting this HTML template into modern CMS like WordPress, Joomla, Drupal and similar other. Moreover, it comes inclusive of the features like parallax background, scroll to top, video background and a signup form to capture leads. Thus, look no further than this template to develop a captivating website for your business.
---
Sweep – Stunning One Page Business Website Template

Sweep is an utterly stunning, super flexible, amazingly versatile, simple yet feature-rich one-page flat business website template. It decently matches all types of business and corporate agency website requirements. If you want to create an eye-catching, jaw-dropping and simply out of this world kind of a website then look no further than Sweep. Whatever your website requires, it will possibly have all the elements at your disposal.
Furthermore, it perfectly blends impressive modern design with the cutting edge technology. Sweep is built using HTML5, CSS3 and is based on Bootstrap 3 framework. Thus, this template makes it a breeze to create a website that perfectly represents your business. All the latest technologies that have been used to craft this template also makes it pretty lightweight. Moreover, it possesses an intuitive user interface. Hence, it easy to use and personalize as per your preference. Its fully responsive nature and mobile first approach allow the website to adapt to any screen sizes on all sort of devices.
Besides, it is optimized for all popular search engines like Google Chrome, Internet Explorer, Mozilla Firefox, Opera and more. Consequently, your website will rank higher on the SERPs of the major search engine bots. With all the outstanding features, you can rest assured that your end product will just be amazing as you wished to have.
---
Marketer – Free HTML CSS Business Website Template
Marketer is a simple yet sophisticated carefully curated, technologically cutting edge, fully responsive free advertising agency website template. It has been professionally designed and developed using the latest equipment like HTML5 and CSS3. Just like the names suggests, this template is perfect for all sort of marketing agency niche. If you have your hand in the advertising business, trust me and look no further than this template.
Despite being a free website template, Marketer has such astonishing features that can be little difficult to believe are of a free template. It' codebase is impressively mobile friendly and is also readily responsive. Thus, it results in the perfect visibility of the website on all kinds of large screens as well as hand-held devices. The dashing and the vibrant color combination makes the temple more impressive. Moreover, this template is super lightweight and the web pages loaded at the lightning speed. Hence, it can also help in decreasing the bounce rates and the exit rates of your website.
Some other impressive and notable features of this template are a conversion friendly sleek header, full-screen slider, logo slider, intuitive sticky header menu, and multiple professionally designed pages. There are tonnes of amazing features that just makes this template so desirable. Once you go through its features, you will just fall in love with this template. The best part is you can have your website up and running in no time that too without any coding skills!
---
Metallix – HTML5 Professional Business Construction Website Template
Metallix is a visually stunning, technically enriched, super flexible free responsive company website template. This template can be the perfect match for all types of construction companies website. It is a decent fit for creating websites for companies providing industrial construction, manufacturing, engineering services. It is also best suited for other heavy equipment and machine-based websites.
In addition, it has a generous serving of magnificent features like Bootstrap Contact Forms, client convincing About pages and a clean typography. Moreover, you do not need to invest extra time in creating a separate layout for your website to adapt to the high-resolution screen, HD monitor and different screen sizes. With this template, it is like one size fits all. So you can just sit back and relax. The unique and impressive part of this template that I personally like the most is its media queries. The availability of such media queries makes it possible to cover all the latest and modern devices with horizontal scroll bars.
The testimonial section along with team member showcase and construction oriented professional pages are just the best way to provide your users with more reasons to trust you. In addition, logo slider, Service List and Details Page aid in keeping your clients satisfied and turn them into the loyal ones. Overall, this free responsive business website templates offers endless customization options to create a website that you can be proud to own!
---
Fontanero – Amazing Plumber, Construction & Repair Website Template
Fontanero is an aesthetically designed, visually alluring and technically sophisticated single responsive website template. It is probably the best match for creating plumbing construction and repair website. However, its versatile nature also makes it suitable for creating a website for other services and handyman. Furthermore, this template is sufficiently equipped with Bootstrap frontend framework and the modern technologies like HTML5.
Additionally, it has an animated slider for providing an engaging look to your website. What could be better than having a separate section to showcase the details of contractor expertise to convince your clients. The inclusion of service showcases, standout service offers, call to action to request a quote, client showcase adds up to its awesomeness. Besides, it offers a spacious and social media optimized footer. Also, it is fully optimized for search engines. So worry no more about the streamlined visibility of your website in the social media.
Best of all it has a very efficient and a robust codebase. Moreover, the codes are very well-organized and efficiently commented. Apart from that, it offers exceptionally well customer support to make your task fuss-free. All these features along with the stunning interface of the template make creating a website a breeze ensuring a superb end result.
---
Transportation – Amazing HTML5 Bus Transport Website Template
If you own a transportation business and looking forward to its worldwide expansion, then you should definitely opt for this template-Transportation. Transportation is a graphically impressive, profoundly designed and efficiently coded simple, intuitive yet immensely powerful logistic website template. This template includes possibly every single element to create and advertise the online business for transportation, logistic, trucking, freight and anything similar to the transportation niche.
Furthermore, it is based on the mobile first coding approach for providing the flawless appearance of your website on every screen size ranging from hand-held, small devices like iPhone, mobile phone, tablets to large screens like laptops and desktop. Not to mention, this template is also cross-browser compatible and extremely SEO-friendly. It offers an Offcanvas Mobile Menu and intuitive Dropdown and Mega menu along with a stunning fixed navigation bar.
It also has multiple professional looking blog layout to offer you. In addition to that, it included impressive sliders for testimonials and brand logo. And when it has so many things to offer, the addition of the responsive Bootstrap slider carousel to its feature's list may not surprise you. Altogether, this template has everything that you would want in a template to create a website create that massive impression on your clients.
---
Unship – Trucking-Transportation & Logistics Business HTML5 Website Template
Unship is a feature-dense, visually aesthetic, sufficiently powerful, responsive, and vibrant website template. It is the perfect match for creating trucking-transportation and logistics website. It can be said rightly so as it is loaded with possible all features required to provide a logistic website that type of look and feel it should have! This template is, indeed, the output of the perfect mixture of cutting-edge technologies and the sophisticated design elements.
In fact, you can be overwhelmed with the deluge of features that this template offers. The most impressive among them is the animated CSS and the magnificent popup that gives your website a pretty interesting look and an engaging feel. Besides that, it has a full-screen responsive header slider that is powered by Owl Carousel. Moreover, it includes a variety of pages such as to cut off your time and effort to create new ones. Just customize them as per your preference and they will look all brand new.
Moreover, it offers unlimited personalization options. Even better, it has the elements to empower you to control the overall website. In other words, you can control the site typography, breadcrumb, page title, headings, blockquote, list style, button, tab, form and various field style as well. Social connection button, multilingual language switcher, Off-canvas menu, bootstrap search bar, drop-down menu are other some notable features of this template.
---
Booster – Free Bootstrap HTML5 Landing Page Template

Booster is yet another website template that has been thoughtfully coded and professionally sketched with an incredibly stunning interface. In addition to being technologically enriched it is also super flexible, versatile, fully responsive and highly customizable. Above all this responsive business website template is immensely feature-dense.
Furthermore, Booster is saturated with latest trends and technologies like HTML5 and CSS3 and is grounded on Bootstrap 3 framework. Additionally, this template is glutted with an excellent dropdown Menu, sleek sticky menu, Off-canvas Mobile Menu, SEO optimized code and responsive Slideshow Carousels. But it doesn't end there. It also features elegant fullwidth hero area accompanied with captivating CTA buttons. Consequently, all of it results in an astounding website with high performance.
Similarly, to enhance the functionality of the created website, it is also profoundly optimized for search engines. That is to say, your website does not have to go through all the struggles to climb up to the highest positions on the SERPs. On top of that, it is has been developed with the mobile first approach in mind. Thus, it ensures the impeccable appearance on each and every modern day devices and screen sizes available.
---
Conference – Free Event Planner Business HTML Website Template

Conference is a clean, modern, aesthetically designed, carefully developed stunning event management website template. This template has been developed following the latest technologies thus is sufficient enough to make you stand out. It is based on HTML 5 and its codebase combines the Bootstrap3 and CSS framework. This template is a definite go for creating websites for conferences, sports events, congresses and other events.
Moreover, it is a major browser compatible template. That means no matter whatever browser your users choose to view your website it will still look good on all. The niche-oriented feature like a fullwidth hero slider makes this template out of the box. Furthermore, it comes along with some impressive as well as striking Call-to-action buttons aids up to making your site an engaging one. Some other impressive elements of this template are Bootstrap sticky navbar, four column engaging speakers section, and responsive Slideshow Carousels.
In addition, it includes event details area, event agenda details, pricing tables. It also has a special section to highlight the logo of the event sponsors, the event partners and venue of the event. All making it easier for the interested event attendees to get all the required details about your event. Best of all, it provides a top-notch technical support to keep you moving on the path of creating a masterpiece in the form of a website!