Today we have a list of an amazing variations of WordPress handyman website template for you. Crafted by professionals to ensure that even novices and beginners get started with ease, these are sure to give the whole process a head start. Complete with a set of unique features and looks, all of these stands out in their own creative way. Whether for professional or promotional purposes, a website is a great way to set your online presence off a right track. And with so much possibilities nowadays, these sites are also an effortless way to manage your business matters online. Some of these also feature premium features like online booking, tickets, and more to help you get more in line with your customers demands.
The great thing here is that amongst the thousands of creative options out there, we here at UiCookies have made sure to only pick the best out of the lot. Ensuring a overall great performance and amazing user-experience, these templates are visually impressive as well as feature-rich. Purpose oriented, these aim to cater to all of the needs and requirements this certain niche asks for. These are great for handymans, constuction workers, renovation engineers, designers and any of the bluecollar workers involved with the niche. If you are looking for something more free to get started with, don't worry, we also have that covered. Check out our list of the best Free Construction website template right here! So without further ado and delay, let's get onto our pick of the best handyman website template for WordPress.
Prohauz
First and foremost on our list is Prohauz. This is an extremely purpose oriente* and niche based option for those looking for handyman website template for WordPress. Creative, modern, stylish and versatile with the interface, it is pretty eye-catching right from the first glance. The theme package consists of 6 uniquely designed demos all dedicated to the home impreovement category of websites. All of these can be installed when required within a matter of seconds. In addition to this, the users get access to plenty of pre-built inner pages as well that you can pretty much get a head start with. A unique feature here is the premium cost calculator plugin that it features for Free. That's right, no need to go ahead and spend extra, the theme accomodates that for you. The theme is readily responsive loading flawlessly throughout all the devices effortlessly as well.
Getting more in-depth, the creators have made sure to give great attention to each and every little details. And you can clearly see that throughout all of the elements implemented. From the niche based icons, bar, graphs, charts and even the placements of all the components. All of it is super strategic to ensure maximum impact. The theme is also completely cross-browser compatible which means that it has no issues no matter which browser you prefer to use. Another great thing is that it is compatible with WooCommerce as well, so that the site supports multiple payment gateways for online transactions. With creative fonts, sections dedicated to blog, galleries, media files, about us and much more, we definitely think this theme deserves a mention here.
Homefix
Homefix is a pretty straightforward WordPress handyman website template that is a perfect addition to our list today. The design itself is great for any individual or agency related to the handyman, renovation, plumbing, construction and similar line of work. Not to mention the use of purpose-oriented elements throughout the site to highlight the purpose here. By that we mean the color scheme to match the niche, to the professional designs and even the overall outlook it features, it all perfectly compliments the purpose it is aimed at. The whole interface is completely responsive and readily adjusts to all the device screen size. It comes with the hassle-free Drag and Drop Page Builder that makes creating a site from scratch effortless. And with pre-built components all set at your disposal, you pretty much get a head start.
In addition to this, you get multiple Home and inner pages variations to choose from as well. You can also personalize the gallery design, fonts, icons and color schemes to your preference. With integration of premium plugins like Layer Slider, Revolution Slider, Visual Composer, Ultimate Addon, Event Calendar and more, everything you need is taken care of. Furthermore, it also supports WooCommerce providing access to online transactions right from the site itself. You also get access to over 150 shortcode elements that adds to the efficiency of the site. The mega menu atop provides easy browsing experience for your users. It is also SEO optimized, and cross-browser compatible. And with the smooth running and secure HTML and CSS codes, it pretty much gurantees a reliable interface.
ServiceMaster
Next on our list of the best handyman website template options is ServiceMaster. A complete package of everything one might need to start a site related to the business niche. The great thing here is the super flexible and customizable interface it offers. And by that we mean access to variations of home pages dedicated to handyman, laundromat, movers, landscaping and more. All of these are unique and comes with it's own set of styling elements and features. And just like with other themes previously, this too offers one-click demo install option. However, if those are not your cup of tea, then you can also start entirely from scratch using the WPBakery Page Builder available. The whole layout is designed in a way to promote and increase your client's list. This means that there are plenty of features to lure in and engage your possible customers.
You can start your very own business site with blog, gallery and service page. In addition to this, with support of WooCommerce, you can also start your online shop. It also includes the professional Mikado Slider plugin that elevates the overall outlook. From access to image zoom, sullcreen slider, video support, and even content entry animations, you get it all. In addition to this, you get plenty of shortcodes at your disposal. Custom widgets for CTA, social icons, latest posts, and more are also there. All of these are designed to be fast loading and smooth running. Not to mention the child theme compatibility which offers the option to review your changes before making it permanent. It is also WPML, Contact form7, and SEO friendly or compatible. Get powerful typographies, creative galleries and even mega menu that all adds to the appeal as well.
Bluecollar
The name Bluecollar in itself clears up the overall purpose of this premium WordPress handyman website template. And it sure delivers what it promises. With a unique sense of style, this template is surely one great way to get started. Gutenberg compatible and GDPR compliant, it follows all of the latest WordPress guidelines. And with retina-ready and pixel perfect graphics, the imagery is pretty much flawless to say the least. Great for all niches of bluecollar professional from handyman, electricians, engineers, renovators, movers and more, it is quite a flexible template. Great thing here is that it is also designed to be translation ready. This opens up avenues to a broader range of audience if you prefer. Another great thing about this, is the ultra-responsiveness it features. This ensures that no matter what device your site is on, it is flawless.
Bluecollar is compatible with Elementor, one of the best way to design and create a site. However, if that is not what you want, then it is also accompanied by the professional WPBakery Page Builder. Packed with plenty of pre-built pages, you can customize each of the sections however you like. There are pages for blog, gallery, services, and even pricings. Not only this, but you will even find ones for FAQs, 404 error and testimonials. You will also get advanced contact forms, creative social icons and newsletter subscription options. Furthermore, the theme is also cross-browser compatible, fast loading as well as SEO ready. The package also includes and supports child theme if you need it. All of the HTML and CSS codes used are also clean, secure and reliable to ensure optimal performance.
Boldman
Boldman is a renovation, construction and handyman website template which is by definition multipurpose. Professional with the design, the creators of this theme has made sure to include everything one needs with this specific niche of sites. A perfect solution for those looking, this theme not only features excellent graphics, but also a ton of unique features. As it is highly customizable, it includes the trendy Drag & Drop Page Builder to help you with it. Not only this, but you also get plenty of premium plugins like Revolution Slider, WPBakery Page Builder, as well as WooCommerce support all for free. Isn't that a great deal? But that's not all, the whole design is also cross-browser compatible, fast loading and pretty easy to work with. So easy that even those with no previous experience of codes can get started with this.
Talking about variations, this theme provides options for plenty. There are over 35 pre-built demo sites available for installation. And that process takes just a few minutes to complete. To preferably match your choice of demo, you can even stylize the header and choose from 4 different ones. You get 4 blog layout, and 4 portfolio layouts you can opt for as well. Not to mention the access to over 30 custom elements like progress bars, team member box, social box ,pricelist box, testimonial box and more all dedicated to the niche. Another great thing here is that you also get shop pages you can use to start selling right off your site with ease. With the use of CSS and HTML, the theme also supports parallax sections, custom backgrounds, unlimited sidebars and so much more. With unlimited possibilities, Boldman definitely seems like a place to start.
Handyman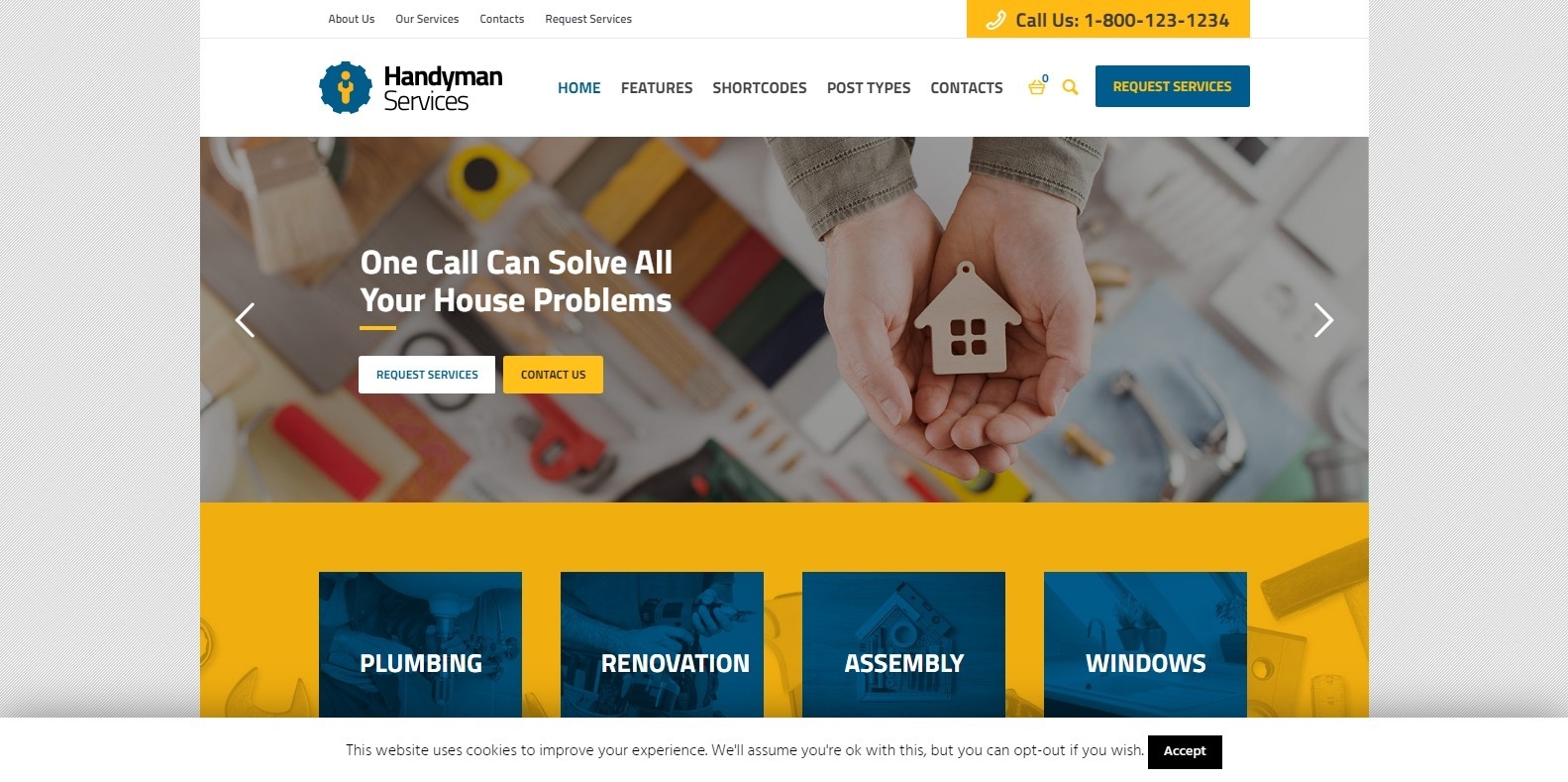 A responsive WordPress handyman theme, this is another great addition to our list today. With a straightforward design, it focuses majorly on promoting and professionally showcasing your busineses in an appealing manner. It is completely responsive, and mobile friendly and effortlessly loads throughout all screens. Easy to use and work with, this theme is designed for even those with zero experience and codes and designs. In addition to this, with Bootstrap as the main framework, this theme offers a flexibility that is great for easy customization. And to aid to this, you get plenty to choose from. Multiple color skins, fonts, icons and more are available for you to implement. Furthermore, it also supports creative elements like effects and animations that elevate the whole outlook of the site. And the best part is that these are based on HTML and CSS providing a secure and reliable performance each time.
It comes with a built in list of professional PHP contact forms and MailChimp newsletter. In addition to this, you will also get stunning social icons you can link your social handles to. These will help your users find you more easily and build a stable client and service provider relationship. The great thing here is that this theme is also built to be SEO friendly which means your site always aims to rank higher on all major SERPs. It also support Google Maps and you can add in your custom location effortlessly. Pages for blog, service, about us, and more are all included with the package. And to save on your time, you will also find error 404 and testimonial pages. All of these are professionally crafted and is also cross-browser compatible. Thus, another great addition here, we definitely recommend this a try!
PlumberPlus
Aimed towards the plumbers, and handyman or anyone involved with the bluecollar niche of business, Plumber Plus is another great option here. Featuring a powerful and impactful interface sure to leave a great first impression, you will also find tons of features that sets this theme apart. The foundation here is based on Unyson and Bootstrap framework, which pretty much provides flexibility. And being ultra-responsive, it readily adjusts according to all the device screen size. The huge image header slider here is the stunner. And to make it more efficient, it implements components like creative title font, effects, transitions and certain CTAs and icons. This comes in handy when you wish to highlight the featured contents or offers you want. You will also find pre-built pages for services, gallery, team, pricing, FAQ, appointment, blogs and more. All of these are well-designed and some also feature multiple variations to choose from.
In addition to this, you also get a powerful page builder that will accompany your personalizing process each step of the way. To aid to this, users also get a range of useful shortcodes, and custom widgets at their disposal. You can choose from a collection of pre-defined color schemes, while there are limitless options for font styles and icons. Another great thing here is that you can opt for either light or dark skin and also for boxed or wide layout style. You can also enable booking for services by using the premium plugin Booked included with the theme. Another useful plugin here is the Team plugin which allows you to showcase your team members in the most interesting and engaging manner. Featuring an excellent loading speed, cross-browser compatibility and overall efficient experience, this theme is surely worth the amount you pay for.
Fixology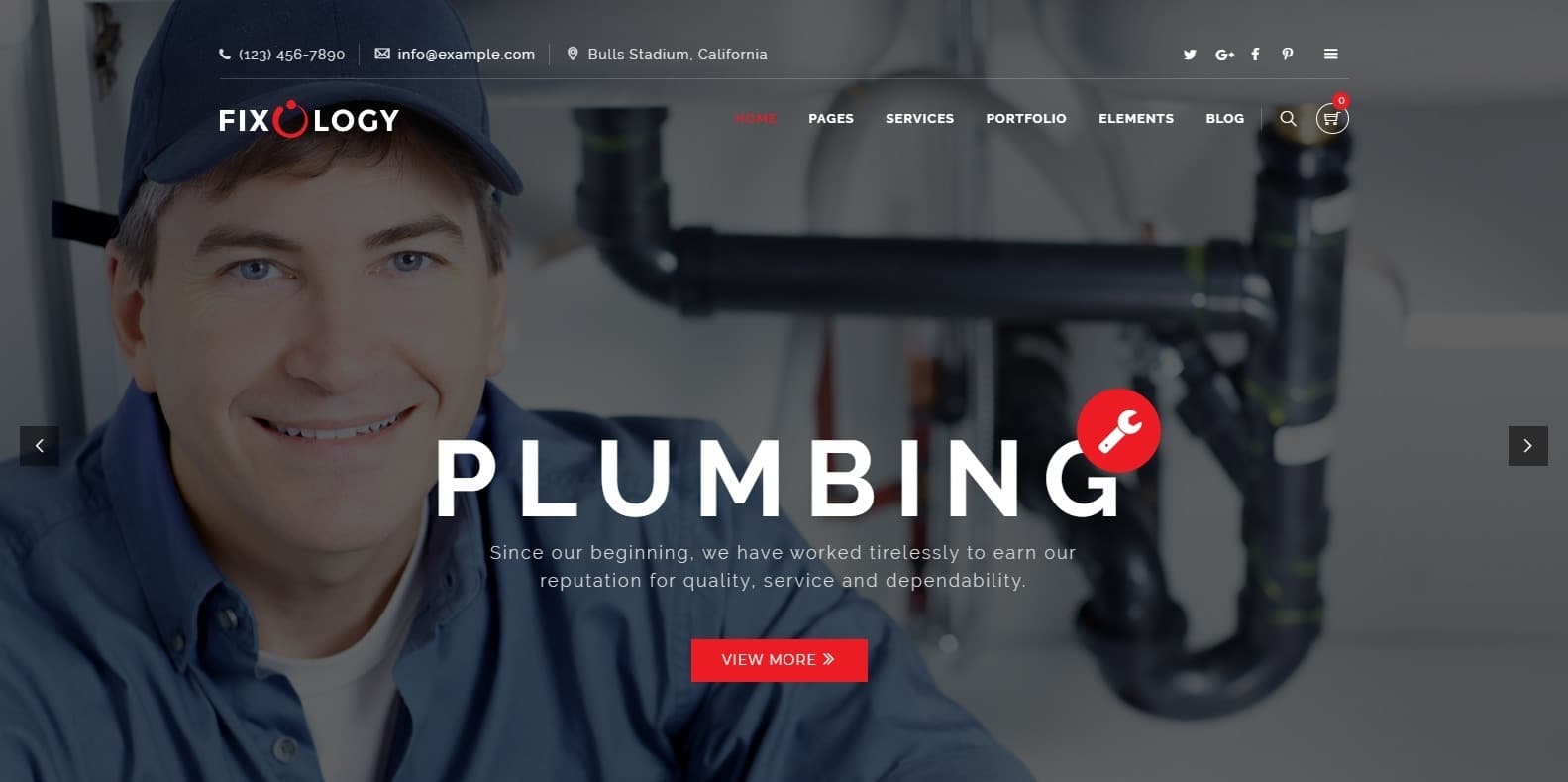 Fixology is a simple, efficient and yet powerful handyman website template for WordPress. A purpose-oriented design that highlights your business and services in the best possible manner. It is engaging, visually impressive and executes a retina-ready and pixel perfect graphics. Great for anyone who want to leave a great impression on those who lands on the site, this theme is complete with everything you need to get a functional site started. It is also fully responsive. This ensures that the width and the layout adjusts to every device screen effortlessly. It features the powerful Visual Composer that comes with it's own set of custom components. You can add, remove and personalize each section to your own preference with ease. Another great thing here is that it also features pre-built demos you can get a head start with if you prefer.
This theme is also SEO optimized, aiming for the highest of ranking on all the major SERPs. And when it comes to variations, you get multiple home and other inner pages variations to choose from. You can also choose from 3 unique header styles, add multiple sidebars and pretty much customize it to your own liking. It features an unlimited access to free fonts and colors as well as over 2500 font icons. Creating a functional online shop is also a breeze as it comes equipped with professional shop pages. And with implementation of WooCommerce, it also supports multiple payment gateways for online transactions. This fresh and clean style also supports creative CSS3 and HTML5 effects, animations and scroll effects. Keep things interesting and engaging with Fixology!
Handylexo
Handlexo is a premium WordPress construction, renocation and handyman website template we absolutely love! Why? Not only is it super appealing and professional looking, but it comes with a range of useful features that will all come in handy. Simple, purpose-oriented and organized with the feel, the styling looks premium and standard for what you pay for. It is complete with ultra-responsiveness and covers the basics like being SEO optimized, and cross-browser compatible. However, the highlight here basically is the awesome flexibility and versatality it offers. Thus, it is ideal for niches like renovation, plumber, carpenter, painter, welder, maintainance worker and pretty much all niche of blurcollar profession. Creative and engaging, tons of useful components packed inside is sure to get your business to the next level.
It is pretty modern and there are 5 Home Page variations you can opt for. Each is designed with a unique sense of style and is perfect for different purposes. Not only this, but you also get pages dedicated to blog, service, testimonials, 404 error, team, and more to get started with. There are a few demos you can install and personalize to your preference if that is what you are looking for. And all of the PSD files showcased in the demos are also included with the package. The great thing is that, these all feature secure, clean and well-documented codes. This further gives access to multiple elements like animations, effects, various fonts, useful widgets and more. The intelligent theme options gives you the freedom for your own end result. Overall a efficient and fast performing theme, HandyLexo is another option you can choose!
Handyman Services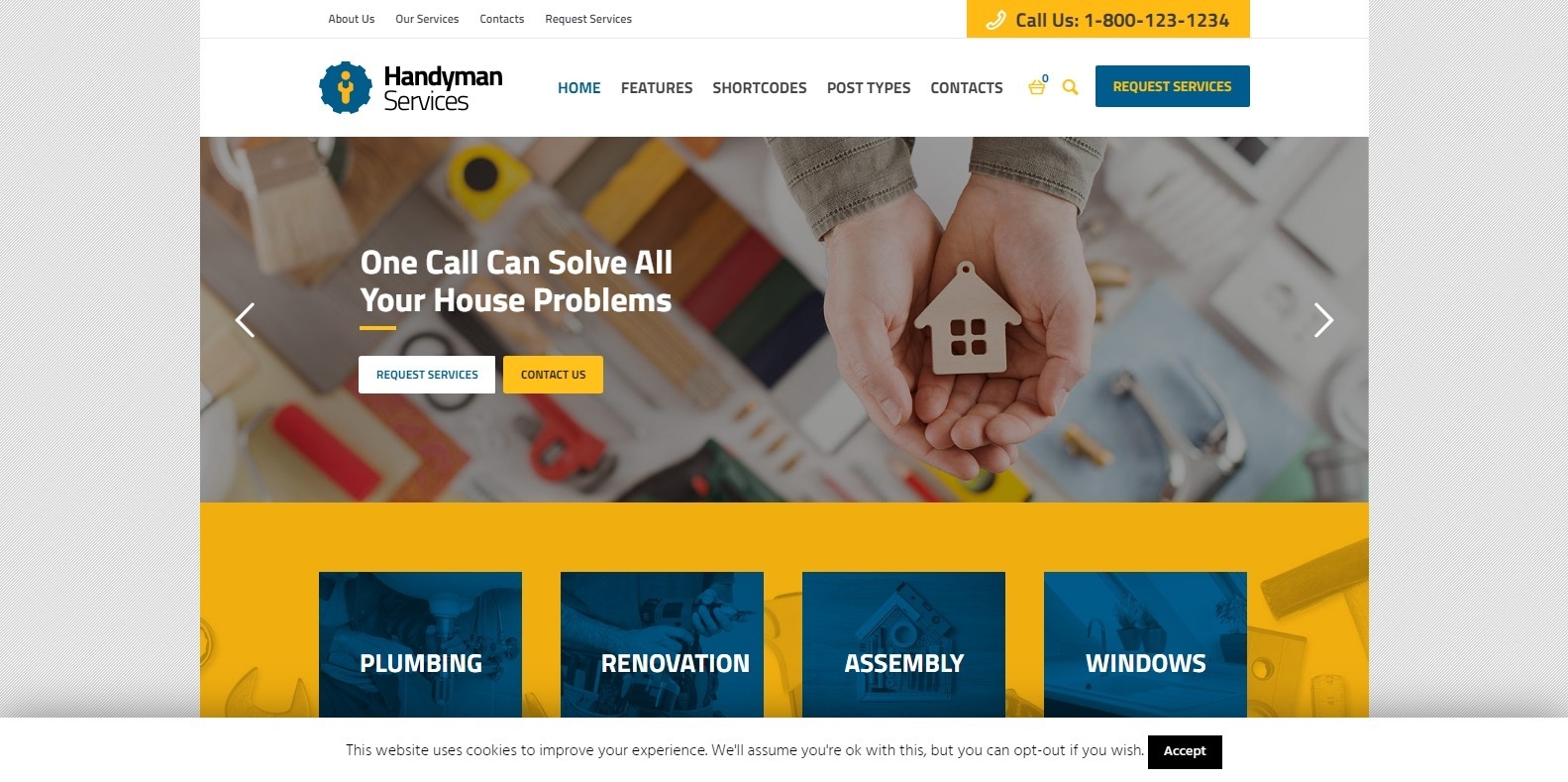 Construction, renovation, welder, maintainance, carpenting, handyman, and more. If you are involved in any of these, then Handyman Services is surely a great choice for you. A handyman website template packed with features that is required to get an efficient, successful site ready. From starting an informative blog, showcasing your services to even starting an online shop, this theme offers options for it all. Great for those with no previous experiences, even novices and beginners, the whole interface is extremely user-friendly. This is further evidenced with the implementation of the Drag and Drop Page Builder. Even the visuals are exceptional and offers tons of personalizing options to get started with. Not to mention the use of the HTML and CSS based elements that makes the whole experience even better.
Getting into the details, you will find multiple home, portfolio and blog layouts to choose from. Not to mention the content composer that is accompanied with 99+ shortcodes at your disposal. You also get to choose from a variation of header style, font options and an unlimited range of color schemes. For professional use, it includes a advanced form builder that allows you to pretty much create advanced survey and contact forms. This theme is also WPML compatible and is translation ready. The custom mega menu is another useful feature here that allows your audience to easily browse through the site. Regularly updated, you are overall assured of a fast loading, responsive and cross-browser compatible interface to work with.
Renovate
Renovate is one of the best construction and handyman website template we have in line for you today. Simple, efficient and organized with the design, this theme is great for anyone who wishes to start a functional site from scratch. Why? Because it comes equipped with everything one might possibly need to get started. And that too with options that are designed for beginners and novices. No need for previous experience or even any coding knowledge to get started here. The interface is pretty much focused on showcasing the services you provide and want to promote. Construct a fully-fletched functional site within a matter of just minutes. It offers a Drag and Drop page builder that aids to the personalizing process. And the best part about it is that it is accomidated with it's own set of custom components you can add, remove and edit.
It is completely responsive, retina-ready and pixel perfect. This ensures an excellent imagery no matter what content you add. It also includes the premium cost-calculator plugin for free which makes the deal even better! Integrated with WooCommerce, it supports multiple payment gateways. Renovate also features smart sticky colums that can be used as columns on long pages. Another great thing is that it features a built-in Isotope gallery and premium sliders to keep things interesting for your users. In total there are over 15 demo contents included with the page builder. This theme is also cross-browser compatible, SEO friendly and features unlimited menus and sidebars. Pretty much every thing you need, you will find, so get started with Renovate right away!
Cornerstone
Last but not the least, we have the premium WordPress handyman website template Cornerstone. A modern solution for all your website creating niche! It is ideal for constrution, renovating, engineers, handyman, and similar category of businesses. Including 9 remarkable and modern looking homepages, this theme is pretty flexible to say the least. Not only this, but you get access to stunning Inner pages dedicated to blog, gallery, service, testimonials, team, and more as well. All of these are fully responsive, mobile friendly and executes flawless imagery. Accompanied with the advanced WPBakery Page Builder, this theme offers plenty of options to get that custom feel you are looking for. In addition to this, you also get a range of useful custom widgets and shortcodes at your disposal. You can use these to add extra functionality effortlessly when needed.
This theme using CSS and HTML as code structure also offers useful components based off this. From parallax zoom animations, content entry animations, fullscreen options, smooth page transitions and more, keep it as refreshing and interesting as you want. You can also choose from 7 amazing font icon sets and tons of Google fonts to implement throughout the site. It even features options for custom sidebars, and 4 unique search bar types. Even the headers are easy to style and you can change the footer options from page to page. It supports multiple post types and media files so that you can add in sliders, videos, galleries, and more. This theme is also integrated with WPML, WooCommerce, Contact Form7 and Google Maps for additional features at your disposal.