An online website is not always limited to a single purpose. And now that more and more people are taking their business online there are possibly thousands of websites out there. It has been a great outlet for creative people to share their work, while some use it as a perfect means to organize and manage their businesses. Some wish to channel their inner artists whether through blogs, arts, music and more to their audiences through their site. And today, we wanted to dwell into something that reaches out both into the business and artistry. Music and event mnagement. Since both of these go hand in hand especially with musicians and artists constantly performing concerts and events, we have a made a list of best HTML Music Website Template that fit both the niche.
These options we have listed out acts as a perfect outlet to showcase ones music albums, playlists, share music and promote their tours and events. In addition to each of these representing their own unique way of presenting the contents inside, all of these also have various personalizing options you can use to add your custom touch. Inner pages for shops, blogs, media and galleries are also there at your disposal. While picking out these options, we have made sure to look at both the visual as well as the efficiency aspect of this theme. And if you are looking for something free to start with, you can refer to our previous post about free artists and music templates.
23 Awesome Music Website Template & WordPress Themes For 2020
Vex
On the top of our list of the best music website templates is Vex; and certainly deserving the top spot. With an amazing visual accompanied with a list of premium features, this theme sure is one of a kind. Great for any niche of producers, musicians, bands and more, this is the ideal way to share your work to the audiences all over the world. It is complete with a responsive interface that adjusts and works according to the device screens. For additional efficiency, this theme is designed in a way that it is cross-browser compatible, retina-ready as well as SEO friendly. First off, you will notice the amazing array of pre-built pages all designed especially for the niche. From options to share your music, to add the details, manage the events, share blogs and even sell tickets and merchandises online, you get it all at your disposal.
And crafted with such careful attention to the details, this theme is sure to take your project to the next level. All the basics are pretty much covered here with access to plenty of creative components and elements. You can personalize each section here with ease and within a matter of minutes; making this theme pretty user-friendly. Add in creative components like image galleries, sliders, album files, and audios, to effectively share and promote your project. The interactive music background here is surely the highlight, playing the playlist of song you choose on a loop while your users browse through the site. All of these packed into one single theme package, is definitely a great deal if you ask us!
Shuffle
Another premium WordPress music theme we have in line for you is Shuffle. Creative, unique and in all ways out of the box, this theme is another great addition to our list here. Professionally designed with each and every little detail in mind, this theme is sure to leave anyone impressed right off the first glance. With an elaborate list of options and features to give your project a jump start, this theme definitely is worth a try. And the best part here is that this theme is amazingly versatile and flexible. Thus, you get plenty of genre specific layouts, pages and designs to opt for. You can further enhance the appearances or design with the help of the components available for you to choose from. From creative fonts, icons, layout styles, color schemes and even placements of various elements, everything here is easy to change.
All of which takes zero experience and knowledge and just about a few minutes. It is integrated with a functional and smooth working Mp3 player which is great way to share your work directly with the audiences. Whether you want to add in the full playlist or just the gist of the upcoming release, this sure comes in handy. Apart from this, this theme is also cross-browser compatible, WooComerce ready as well as SEO optimized. Ensuring an easy payment gateway, this theme is ideal for even online businesses like selling merchandises and tickets. Another great thing here are the creative flair to the site you can achieve by adding sliders, carousels, image galleries, animations and effects. Overall a great end-result is the only outcome, Shuffle aims for; making this another great addition here.
Mozo
Next in line we have Mozo; a creative WordPress based music website template ideal for all the creative individuals and groups involved with the niche. From musical producers to the bands and singers, this theme is surely worth a try. Artistic and stylish with the interface, it sure stands out in an appealing manner. Whether for promotional or professional purpose, there are plenty of options you can get started with. Mozo offers plenty of awesome customizing options as well, so that the end result is always upto you. And the best part is that this process is a breeze and takes minimal effort thanks to the advanced Drag & Drop Page Builder. In addition to this, you also get access to the extensive set up guide that helps you along the way. Basically there are over 20 HD video guides to assist you.
There are also plenty of demo files and pre-built elements available for install and download. Getting more into the details, the whole theme package also includes plenty of premium plugins for free. From Slider Revolution, Cube Portfolio, Premium icons and more, it is pretty efficient. Not only this, but for added functionality, this theme is compatible with plenty of other third-party plugins like Jetpack, WooCommerce, Max Mega Menu, MailChimp and more. The whole structure is designed to be cross-browser compatible, translation ready and fast loading as well. When it comes to engaging your users the right way, you can add in creative components like videos, audio files, image galleries, playlists, blogs and more. Not to mention the impeccable functionality it offers as it follows all of the latest WordPress requirements. All in all, another great theme; we definitely think Mozo is another perfect addition here to our list today.
Musico
To start off our list of music website template, here is the premium WordPress music theme Musico. Vibrant, stunning and creative this theme is everything that one might need to get started. One can get music sites, business sites, manage events and tours, promote business and more. Each and every little detail here is impeccable and stunning to look at. There are tons of creative ready-to-use demo pages dedicated to bands, music and event managements you can install with a click. And with every new updates, the creators keep adding more variations to choose from. Currently there are over 8 discography styles, 20 creative slider layouts, 5 tour layouts, as well as 11 video and gallery layouts.
Other useful pages like blog, shops, about are also there. The stunning Elementor Page Builder is intuitive, creative and super user-friendly. To go along with this there are tons and tons of elements you can drag-and-drop at your disposal. It is fully integrated with WordPress Customizer, as well as other efficient plugins like MailChimp, WooCommerce and Slider Revolution. The theme is cross-browser compatible, fast and reliable. Another standout here is also the gallery and image protection option which includes options for password protect, image dragging protection and watermark. There are series of other stunning features that makes this theme one to try out. To know more, click on the link below.
Music Club
Just as the name suggests that this premium WordPress music themes is certainly dedicated to anything related to music. From studios, label, bands, Djs, Singer and even event management, it comes with design variations for it all. And the best part is that each and every layout is unique in it's own way. Some feature amazing galleries, some feature the exclusive features for event management, and some has options to share music and promote your brand. Creative, versatile, and multipurpose, this template is responsive and retina-ready. The lighting fast page builder makes it effortlessly to customize the section according to your requirements.
It also has a range of tailored shortcodes for you to add in extra functionalities like static pages, blog posts. Another unique feature here is the child theme that is included with the package. So any changes you wish to make is not permanent unless you are happy with it. The shop pages are extremely well-crafted that can hold any of your albums and merchandises in a super appealing manner. It is translation ready, cross-browser compatible, comes with variation for headers, navigation, icons, fonts and more.
Musik
An elegant, minimal and simple WordPress music theme, Musik is another great option to ones looking to start a music site. If music sharing is what your main focus is, then this professional theme is the perfect start. It is fully customizable which means that you can add your own custom touch to it. The great thing here is that users are able to add in their audios and playlist through the jPlayer it features. It is a HTML5 jQuery audio player that effortlessly plays multiple audio types to your preference. The audio player also supports volume, repeat, shuffle and settings all in the browser. Color scheme is also highly customizable so that you can go as monochrome as you wish or as vibrant as you want.
This is the perfect template to start sites such as spotify or similar niches. The great thing is that the gallery/playlist also has ample amount of space for you to add in the album images, details and more. Featuring the easy digital download framework, this template offers a user-friendly method to share and promote music. Choose from 4 page template designs and customize the logo, header, aside as well as the pmusic player background to your preference. Cross-browser compatible, responsive and fast loading, this template pretty much all the grounds.
Noizzy
Designed with musicians, bands, singers and Djs in mind, any creative individuals and groups are likely to love Noizzy. A premium WordPress music theme, this comes with unique and stunning design that is appealing to the users. Completely responsive, and modern in all ways, the design and style is perfect to leave a positive impact. It features the easy-to-use yet powerful Admin Panel that makes it easier to customize the theme to their preference. And the best part is there are 9 different Home Page variations one can choose to use. In addition to this, you get 3 album layout, beautiful and practical inner pages as well as a large list of variations.
One can even connect to their users through various music shop platforms like App Store, Google Play, Bandcamp, Spotify, Amazon, MP3 and Deezer. The list of shortcods for event list, album list, album plater, album disc and more makes it even more efficient. The background can be modified to show images, patterns, videos as well as sliders. More creative elements like sliders, carousels, creative typographies and custom logos can be added. All in all, a perfect example to get started with a music site, this template is an awesome choice.
Lucille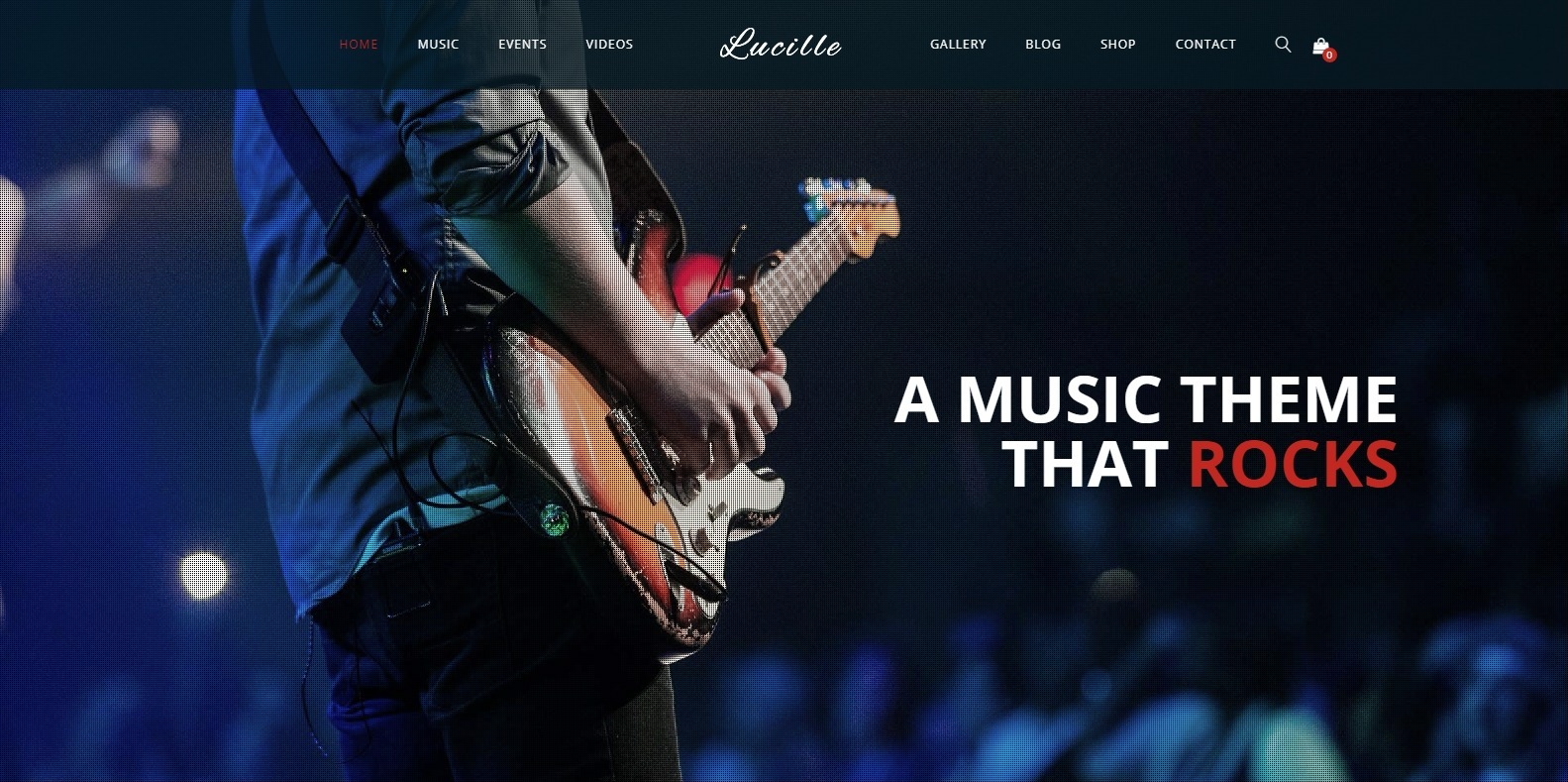 An extremely intuitive, modern, powerful and robust music website template package, Lucille is another great addition to our list. It is a complete package fit for the music industry with options for artists, bands, recording studios, creative individuals and more. The powerful Visual Composer is an efficient way to personalize the theme to their preference. And this implies to every little details including fonts, typographies, icons, custom logo, headers, and so much more. Even the color scheme is pretty versatile. The premium plugins like Slider Revolution is also included with the package to save any extra expenses.
Getting more into the versatality, there are different types of blog, gallery and album post types to choose from. It is WPML, WooCommerce as well as cross-browser compatible. Get complete theme documentation that will help you along the way to set up the site. Not only this, but users get access to stunning and useful Inner Pages like Coming Soon, Error, About, Contact and more. And of course no music based site is complete without a music player and this theme features the flexible Wave Player. So promote your music with class, style and efficiency.
MixTape
One dedicated more towards events and event management combined with music and artists, MixTape is surely one of a kind. It is creative, vibrant, modern and robust with all the powerful features. Not to mention that each and every little detail included is responsive, retina-ready and absolutely gorgeous. Getting more into the visual aspect, there are tons of Home Pages dedicated to a different purpose. The powerful Admin Panel makes it effortless to add in the extra custom touch. It also features an array of pre-built Inner Pages that is perfectly suited for promotional sites and online music stores.
You can also connect with a variety of music platforms including iTunes, Google Play, BandCamp, Spotify, Amazong MP3 as well as the Deezer. Premium plugin Slider Revolution, allows you to add in an unlimited number of unique slides. For sliders, you can also opt for simple ones, vertical split,  and more styles. Not only this, but the amount of selection for the layouts, font and design aspect is astounding. Easily connect with your users through the social media elements. Event management options also includes tour date layouts, counter, count-down, calendar and more. The range of shortcodes available to add in the extra features also makes it super efficient.
Vibra
Vibra is another stunning addition to our list of the best music website template. Specifically designed with the genre in mind, this WordPress theme is the epitome of creativity and modern. With the user-friendly interface, it is extremely easy to come up with the perfect website from scratch. Users get a fine assortment of practical and stunning music layout variations, customizing options and demo files. Talking about it in detail, there are 9 responsive and carefully crafted layout design. In addition to this, it even features the One-Click demo import features which makes it easy to install the pre-built demo pages within a matter of minute. Another great thing is the large array of shortcodes available at the users disposal. This includes variation for pricing tables, social share, portfolios, banner, countdown, calendar, albums, call to actions and more.
It is best suited for music based websites whether it is for music promotion, for sites dedicated to recording studios, artists, bands, DJs and more. Just like with other music website template, it also offers connections with multiple music platforms. There are plenty of variations for menu styles, header and footer design and even for searches and various Inner Pages. Vibra is also cross-browser compatible, responsive, WPML and WooCommerce friendly. Overall, this template offers everything one might need to get started with a professional music site.
Slide
Slide is a robust music website template package that comes in a form of a stunning range of useful features and amazing visuals. Following all of the latest design trends and stylish appearance, there are tons of elements that suits the niche perfectly. Slide also comes bundled with 2 premium plugins WPBakery Page Builder as well as Slider Revolution that saves in extra investments. Not only this, because this WordPress theme is readily repsonsive, it loads fast and easy on all device screens. It is also a full content and event management system making it a fast and powerful solution for the music industry. The unique feature here is the option to add in individual background image/color for each page.
And one can even add in the creative animations, page transitions and effects on various elements to overall add the appeal. Users get integration to various different platforms whether it is social sites or other useful affiliations like Google Map, MailChimp, FontAwesome, and more. Once installed and activated, users get access to free updates and premium support for lifetime. In addition to this, there are different custom post type for album, event, playlist, photo albums and more. As it supports multiple file type, one can even add in various YouTube & Vimeo videos to entertain your audience as well.
JamSession
Quality, careful detailing and a stunning amount of useful features packed into one, Jam Session is a stunning WordPress music theme. With a design that is modern, stylish and executes a unique sense of style, this theme is perfect for any musical sites. Whether you wish to start online sites to represent your music playlist, recording studio, bands, or anything related to music production, this theme is the ideal first step. Of course, it is not complete without the stunning Visual Composer that that is included with the theme package to help you customize the theme to your preference. Not to mention all of the elements that go hand in hand with the page builder.
This theme is built with business in mind so it is fully compatible with WooCommerce, and other useful plugins like MailChimp, Contact Form7 and more. Furthermore, there are plenty of ready-to-use demo files you can install with just a click. Layout variation for pages, menu, headers and more are available. And of course, as a music website, it comes with full soundcloud support and a flexible audio player. Taking care of the smaller details, this theme even includes a functional Maintainance Page Template. It is translation ready, cross-browser compatible and in all sense awesome to get a site started with.
Muzak
Another premium addition here is Muzak, a music website template that is carefully crafted with great addition to the details. The highlight here is the neon and vibrant color pallete which goes with the musical aesthetic. Perfect for bands, artists and singers and more, this template is responsive, retina-ready and instantly catches the attention of anyone. Visually, all of the aspect including the creative typography, icons, CTA buttons, and even the layout is unique. And the best part here is that you can use this theme both as an event management or content management system. Everything is taken care of here. With multiple variations for custom post types, page styles, layout variations as well as various templates to work with.
Choose from 4 different Home Pages, including ones for artists, discography, albums, videos and galleries. As it is based on the powerful Bootstrap framework, Muzak is developer friendly as well. Custom widgets are also available for Upcoming events, latest albums, artists widget, photo galleries, videos, flickr videos and about me. Not only this, but for easy management, you get an array of professional tools like calendar, booking options, CTAs, banners, count-down timer and more. As it is WooCommerce compatible, any transaction whether you want to sell off your music, allow booking of tickets and sell your merchnadise is as easy as a breeze. All in all, a pretty great way to start your musical journey online, we definitely recommend this WordPress theme.
Musier
Starting off our list of HTML music website template is Musier, a professional, clean and elegant way to begin your online experience. It is highly dedicated to the musical genre and is perfectly designated to rock bands, artists and anyone involved with music. The great thing here is that this template offers a super user-friendly interface which makes it super easy to personalize it. Not only this, but all of the amazing range of options and features that exaggerates the efficiency makes it even more awesome. It covers all of the basics including cross-browser compatibility, super responsive, SEO friendly and translation ready design. Certainly ticking all of the requirements, this template also offers 9 different Home Page variations to work with.
Poison
A complete list of amazing features packed into a single template package, Poison is one that is perfect for our list today. If standing out from the crowd with the design, style and overall approach to the audience is your goal, then look no further. It is a design-forward music website template complete with a playlist enabled audio player. And the highlight here is that it even supports radio stations and you can entertain your users 24/7. Based on the powerful Bootstrap framework, the versatililty is not compromised to the least. And to keep things interesting for your users, there are plenty of other options for video streaming, awesome gallery pop-ups and so much more.
Diving in more into the details, it relies on the HTML and CSS code structure which is pretty valid. There are 8 pre-made color skins to opt for alongside other variation for personalizing. 5 unique looking demos are also available for installation if you want a head start. And the best part here is, the parallax or video background that is sure to engage your users in the right way. Talking about creative contents, the gallery sections are simply outstanding and even the audio player can be set as a sticky element. All of the files are well-organized and the UI is as great as it gets.
Stereo Square
Stereo Square is an elevated option for music based websites and leans more towards promotional and branding of any music artists, labels or events. The Home Page is a content focused layout which also serves as a blog page. It is pretty responsive and one can add in several different variations of contents for the users to enjoy. Rather than focusing just on the audio and videos, this template is versatile in a sense that is serves both as a CMS and Event Management system. It is pretty professional and features all of the effective tools one might need to get a functional website ready. From full-width header sliders, to placeholders for blogs, videos, audios and even upcoming events all in one, this music website template is an awesome choice.
But that is just the Home Page, and there are tons of options included for several other Inner Pages. Not only this but there are 6 different color palette one can choose to go with. And the creators of this theme understands the need of enticing and staying in touch with your audience. Thus, it encorporates several popular social media platforms like Flickr, Instagra, Twitter and more. Not only this, the PSD files you see on the demos are also included with the theme package ensuring that your template is exactly as it is showcased on the live preview.
Mousiqua
Now getting more into the options specifically designated with musical bands and individuals in mind, Mousiqa is a perfect start. Responsive, retina-ready and executing and flawless imagery, everything about this template radiates style. The monochromatic feel with the use of simple color palette and the matching design style seamlessly compliments the niche. Not to mention the unique simple scrollable One Page structure it uses. However, just because it is One Page, it is not limited to a few sections, because it pretty much covers everything one requires. From Home, Playlist, Band Members, Event Countdown, Upcoming Tours, To Newsletter subscription, you will get it all. Each font, gallery sections, CTA buttons, and even the navigation icons are stands out. The theme is cross-browser compatible, responsive, retina-ready and features the block design structure.
Melody
Designated more for the music institutions, it is a stunning music website template. It is well suited for any type of musicians providing music lessons, Visual Arts, Music school and similar niche of courses. The clean and elegant design is sure to leave a lasting impression on anyone who visits your site. It follows a more corporate based design and includes features to fit the niche. Responsive, retina-ready and cross-browser compatible, this theme also user-friendly. Promote your lessons, courses and manage each and every aspect of it with ease. You also get tons of pre-made pages to get started with. This includes sections like courses, teachers, time-tables, about and more.
The CSS and HTML code structures is powerful, reliable and secure. And with the animations, effects and transitions on various different elements, this template is visually pleasing. The theme is also SEO ready and always aims to rank higher on all major SERPs. The full-width Image Header is an awesome way to advertise, and the use of CTAs at the appropriate section can increase your engagement rate. Other mentionable features include creative musical icons, countdown timers, testimonials, Google font variations, and cards.
Miraculous Online Music Store
Another variation for music website template is Miraculous Online Music Store which is designated to be an online store. With over 25 valid HTML files, you can assume this template is highly flexible. It even has light and dark theme variation. 100% responsive, the design is flawless with HD imagery. Users can use this template as a online music and video streaming site and is a perfect way to start any kind of entertaining sites. A professional music store is just a few clicks away. And because it allows payment gateway as well, any transaction is easy as a pie. The unique and creative design is built on the Bootstrap framework.
Another highlight here is the dynamic music player which can also be customized. Unique feature here is the New Release Timeline which allows the users to enjoy the music whilst lookig at the release timeframe. While the theme itself is multilingual, the tracklist can also be listed in multiple languages. Optimized for speed, the theme assures the users of a blazing fast performance. And that's just a few of the amazing features. To list out more, this theme features user management, upload tracks option, plans and pricing tables, SEO friendly design and even Live Radio station streaming.
Meloo
If you wish to create a continous music playing site, then Meloo is surely the one that will help you get started. Fully responsive, single page and visually amazing, this template is ideal for musicians and DJs, the ones who wish to make their music available 24/7. It features a built-in premium music player which copes with multiple music platforms. You can upload your custom tracks or share your soundcloud playlist, whichever you prefer. And the best part is that this theme relies on the AJAX technique which makes it awesome to play music with.
With a five star rated support at all times, and back-up documentation, you will get all the help you require. The design itself is quite stunning. And with the addition of the CSS animations, effects and transitions, it is elevated to the next level. Each and every line of codes are well-commented and clean. Another unique feature here is the option to use multiple pages while playing the music in the background which acts as a footer. No need to reload the page, it is that simple. Efficient, purpose-oriented and user-friendly, every need of yours is taken care of.
Musix
A full package of music website template complete with awesome visuals, efficient elements and futuristic appeal, Musix is the definition of a complete package. Robust, powerful and easily customizable, this template is filled to the brim with all of the necessities. Whether you are band, solo artist, record label, studio or one who wishes to sell music online, this is suitable for it all. And just to aid this, there are variation of Home Pages available. Backing this up, you also get 8 separate Inner pages each dedicated to it's purpose. It is powered with the Bootstrap framework which makes it quite reliable and secure. And there are also unlimited color scheme provided by LESS. The stylish audio player is another great addition to the website.
But that's not all, this theme is also a perfect event management system with tons of useful elements. This includes options for count-down timers, calendars, event listing, and more. All of the codes are well-commented, clean and secure. There are 9 different Home Pages you can choose from each for different basis of music. And as this template relies on the powerful Bootstrap framework, it is super easy for developers to make any additional changes. Another great thing here is the ease of sharing your contents on social media through the twitter card, facebook open graph and other social icons available.
Madass
Madass is a multipurpose website template that is designed for more than one niche of sites. It is a creatively designed site template which is ideal for music industry as web-developers, and other creative personnels. The stunning image header featuring a full-width is eye-catching. Responsive, retina-ready and featuring an HD imagery, this template executes everything with perfection. Just like everything on this list, this template also relies fully on the powerful Bootstrap framework. Not only this, but with the CSS and HTML code structure, it also accompanies smooth animations, effects and transitions. Other mentionable features to highlight the visuals here is the social icons, buttons, creative fonts, creative galleries and more.
Kraj
Last but enough to leave a lasting impression on anyone who lands on the site, Kraj is a one-of-a-kind music website template. With a design to engage users in all the right ways, the template features an extraordinary animated style. It is based on the Bootstrap framework, as well as HTML and CSS code structure. Responsive, retina-ready and the style is impeccably unique. What takes it to the next level is the animated structures that keeps users engaged. Even the page transition is equally mesmerizing. Instead of the traditional navigational bar on top, this template features a portfolio style nav bar on the bottom. And there are over 16 stunning Pages you can choose to add. The whole aspect of this is pretty clean, minimal and monotone.
However, the personalizing totally is upto the users. You also get a range of Pe7 and Ion Icons included with the package. And of course no music template complete without a funtional music player. It features a stunning custom music player which supports multiple file type. Cross-browser compatible, responsive, elegant and stunningly beautiful, this template is definitely one to consider.
Canvas
Canvas is a multi-purpose premium website template that is another great addition to our list here. Designed with all the niches in mind, it pretty much has access to variations to suit anyone and everyone. One of the best option out there, we have mentioned this particular template multiple times and yet we can't have enough. There are over 1000 premium templates to get a head start with. This includes the niche based demo for music and features to accommodate the niche. From a smooth running AJAX based music player, to calendars, WooCommerce support to pretty much all the features one requires to start a functional site, you get it all.
Not to mention the variation of customizing options you get to get that custom feel every time. Whether you wish to share your music, manage online events, sell the tickets, merchandise or more, this template is definitely a great start.
Denzel
Next on our list is the purpose oriented music website template Denzel. Excellent with the visuals, this template offers the users a One page website design that focuses on the the contents you add onto the site. It is great for portfolio, personal websites and is ideal for those creative minds who wish to leave a lasting impression. Featuring a creative and modern style, there are plenty of amazing elements like sliders, carousels, animated components and more that take it to the next level. This theme based off the advanced Bootstrap framework is as flexible as it gets. Mentionable feature here includes the sections dedicated to blog, experience, testimonials, contact forms, social icons, functional calendars, and animated infographics to mention a few. Apart from this, it is also completely cross-browser compatible, SEO ready as well as super fast loading.
Symphonius
Last but not the least, Symphonius is another great music website template that is organized clean and definitely a great end to our list today. Based off the advanced UIkit 3 framework, it makes for a impactful and powerful performance. It is ideal for all the music related sites whether it is for professional or promotional purpose. There are tons of unique elements here including vector based elements, audio and video player by MediaElement.js, stunning animations, effects and transitions and more. For easy social sharing, you also get easy social sharing icons, professional contact forms, and a Instagram feed option. Complete with pre-built sections dedicated to blog, previous works, testimonials, and more, it is pretty equipped. Not only this, but other additional features of this music website template includes Google Map integration, advanced event management tools, as well as full browser support.