With the advent of cheap printing costs and advertisements, authors from around the world have started to gain a higher number of chances for publishing books and content. The Internet provides users with various means of exposure and recognition as well. It's much easier to become an author in the current year of 2019 but what about becoming a popular one? This is where the use of personal and marketing websites come to use. Using a website as an author to help your works flourish is not only useful but almost crucial. These websites open up a lot of avenues to help you get your name out. This can be in the form of trial and demo sign-ups, e-marketing, additional blog content and much. And, for this sole purpose, UiCookies brings you this list of excellent Author website templates to help your task.
Each one of these author website templates is sure to help put the focus onto your written content and help you flourish using different mediums. Furthermore, these HTML bootstrap templates also provide you with maximum lead generation as well as provide you a platform to connect with your viewers more
So, go ahead and browse this entire catalog to find the website template fit for your needs? Moreover, if you have any recommendations to add to this list, feel free to comment about them as well.
Best Author Website Templates and Author WordPress themes
Odrin
Odrin is a WordPress author website theme like no other. You can make use of its beautiful craftsmanship and design to support your book sales and advertising. Its unique book preview element lets your readers read snippets and demos for your books in a beautiful manner. Moreover, it's shop friendly design and multi-author support means that you can either use it as an independent writer or a publisher.  Choose to demonstrate books in an astounding manner using Odrin's single products page that comes with complete customizability. Moreover, Odrin inherently supports WooCommerce which is a great thing for all WordPress based author website templates.
Similarly, Odrin is also very simple to set up and even comes with a one-click demo import function to instantly setup your website. The addition of over 10 pre-built page templates is a sweet offer too. As for the site itself, you can enable various different custom widgets such as Upcoming books, Events, About me and Social media widgets, Accordions, Book preview images and much more.
The Novelist
The novelist is an excellently build WordPress author website theme also doubles as a perfect portfolio template for writers and authors. It's responsive and lightweight design makes it compatible with any kind of WordPress website and guarantees perfect site loading speed and usability. Additionally, for site customization, you get features such as Unlimited link color options, Full-screen image backgrounds, advanced jQuery effects and animations, slideout widget panels and more. The novelist completely captures a comfortable, literature oriented feel on your website with its page structure and layout. Images, textual content and even book demos can be enabled without any hassle whatsoever.
Furthermore, the additional features for Ajax pagination also add in that completely book like vibe to your website itself. And lest we forget, The novelist is also completely mobile friendly and thus your users can view your content straight from the comfort of their phones.
Brown
Brown is a WordPress author theme that features all the elements author website templates should have and then some. Use a Page builder friendly theme that comes with robust theme options and customizability to help you set up your website the way you imagine it to. Manage everything on your website simply by clicking, dragging and dropping, the days of messing around with coding are now long gone. Furthermore, Brown also supports both one page and multi-page websites. So you can also create impressive landing pages using Brown as well. Choose between light and dark background for your website and customize tons of layout options. Ensure that your website and its content as comfortable to read as possible using brown.
Moreover, Brown is also designed to be an advertisement and commercialization friendly theme. To make your website as accessible as possible, Brown is built to be completely Translation friendly, Cross browser compatible and mobile friendly with a hint of SEO optimization added for that perfect cherry on top.
Booklovers
Booklovers is a WordPress author and writer theme designed primarly for book publishers and book store owners. This means that the theme is completely marketing friendly and comes with features specifically with eCommerce in mind. This of couse includes complete WooCommerce compatibility. As for the theme itself, you can use 4 different beautifully made Bookstore demos/templates. You can also make use of a wide range of custom shortcodes built for Bookstores. This includes testimonials, accordions, columns, pricing tables, team sections and more. For highlighting authors and their creations, you can also make use of a dedicated Author detail module as well as a team blog and gallery.
Booklovers also comes with tons of other fancy features such as tons of slider options, menu customization and menu sliders, fully Layout customization, one-click demo install, additional 3rd party plugins and a wide range of custom widgets. Moreover,  Each element is designed to be perfectly retina-ready as well as mobile-friendly to boot too.
Novela
Novela is more than just a simple WordPress author theme. The theme is designed to not only market your books but also preview them in the most fashionable manner possible. Use a dedicated book reader that comes with complete animation and reading effects for additional impression. You can even set up Online downloads and eCommerce straight from your website and sell of your eBooks that way as well. Website customizability is also a breeze with Novela. The theme comes with a clean and minimalistic design that is supported by a wide range of theme options. The addition of Font awesome icons, Google fonts, and Advanced custom fields only sweeten up that deal.
Furthermore, the use of Advanced custom field lets you add new content easily by simply filling up some fields. Editing and managing site content has never been easier. Additionally, to support your website's responsiveness Novela is also built using Bootstrap. This not only guarantees smooth functionality but also complete smartphone support and ensures that your website faces the least number of issues as possible.
Akea
If you are looking for something simple, minimal and clean, then this author website template or blog template; Akea is perfect. Professional and modern with the styling, this template offers a distraction free surface for one to promote their writing and content. Ideal for creative individuals and companies who want to start informative or creative author site, blog, or magazine based site, you get everything you require right at your disposal. There are more than 30 stunning HTML pages for you to get a head start with starting a site. And these pages are all unique with the features and the elements it features. All of these are also designed to be fully responsive, retina-ready and pixel perfect. Great for anyone who wishes to impress the audience right off the first glance, get started with Akea right away.
There are plenty of personalizing features to accommodate your preferences as well. From the use of color palettes to the elegant and chic fonts and typographies, every little detail perfectly compliment the niche. The base is the advanced Bootstrap framework which makes way for a flexible interface. Furthermore, it also makes use of the CSS and HTML code structure that is pretty up to par with all the latest web-standards. It also features powerful features for blogging like tons of post format support, working contact form, smooth scrolling, and various animations and effects to add to the appeal. Furthermore, it is also SEO friendly as well as amazingly fast loading and cross-browser compatible. Pretty much all of your needs packed into one awesome author website template! 
Jimydo
Another stylish and modern author website template perfect to get a magazine, blog or any sort of editorial site started is Jimydo. A creatively rich, responsive as well as an interface HD imagery, this template is sure to make your site stand out. Tons of amazing features along with useful components and a clean and sturdy base are all included here. There are 5 awesome Homepages all designed with a unique sense of style and creative flair you can choose from. Not to mention the pre-built Inner Pages you can get a head start with as well. All of these are also based on the professional Bootstrap framework making it as versatile as it gets.
In addition to this, you can pretty much personalize each line of code or the design as this template is highly customizable. To add to the efficiency, there are tons of Sliders, animations and banner integrated at your disposal as well. Jimydo is also SEO ready, RTL friendly as well as cross-browser compatible. It supports the huge mega menu that makes it easier to scroll through the site contents as well. Great to work with, all of these are also designed to be perfect for beginners and novices. 
Le Mars
Another one designed with the minimal and clean aesthetic is mind is Le Mars. This is a premium author website template that is ideal for any creative personnels who wishes to share their contents out to the world in an out-of-the-box manner. Visually amazing, each section of the template is ultra-responsive, as well as retina-ready. This ensures that your site looks flawless throughout all of the device screens. Storytelling and presenting the contents in the most creative manner has never been easier. And as it is based on the professional CSS and HTML codes, there are plenty of creative components that makes things more compelling. From sliders, carousels, animations, effects and more, everything you need is right at your disposal.
In addition to this, you also get a set of special icons and Google Fonts you can implement. Not only this, but there are multiple elegant color palette you can switch to. User-friendly and detailed with the documentation, everything about this is designed to suit even the beginners and novices. It is cross-browser compatible, RTL friendly as well as SEO friendly. Not to mention all of the other awesome elements you can get add additional features with.Click the link below to get the full details and view the live preview. 
Book landing page
Book landing page is an HTML template that is designed for the same purpose as its name. It's clean, minimal and fully functioning landing page design makes it one of the best author website templates to use. The template itself comes with all the elements that you'll need for your author landing page. For example, you can use a featured section for your upcoming books, call to action popup overlays, cool hover effect enabled text icon boxes, about us sections and more. You can even place additional information regarding yourself, the businesses you're affiliated with as well list down your other books. As far as a marketing tool goes, Book landing page is as good as it gets.
Bookstore & Library
Bookstore works great if you're looking for author website templates that can double as an e-library. This author and book website template come with two different header variations as well as a large set of tuned elements and items all explicitly built for author website purposes. Moreover, this template also comes with tons of theme options made to help you easily personalize your website to suit your creative ability.
Create a unique header carousel with three different variations as well as tons of Google fonts and cool custom icons. Moreover, Bookstore is also a completely eCommerce ready template. This means you can easily commercialize your books independently.  The easily customizable Mega menu also serves your website quite well and helps your viewers browse through your entire product listing and website content effortless. Moreover, Bookstore is also mobile friendly, and users can directly purchase your books through their smartphones with zero hassle.
Bestbook
Bestbook serves you as a writer and as a marketer its landing page design. It's unique landing page layout and design makes it one of the best author website templates for both authors as well as publishers. Choose from 5 different unique home page layouts each designed to give a distinct feel to your website. Each layout is designed to put you and your books on the spotlight with its clean and sleek design.
Furthermore, Bestbook also comes with tons of Free google fonts, Font based icons, easily customizable HTML files, and elements as well as full flexibility with its theme settings. It's no exaggeration when we insist that Bestbook lets you personalize your website as much as you desire to. Moreover, this personalizaiton is represented quite well on both pc and mobile platforms as bestbook is completely mobile and cross-browser compatible and requires no changes to suit each platform perfectly.
Smartbooks
Smartbooks likes in the eCommerce enabled category of Author website templates. Take control of your online sales into your own hands with this creatively designed eBook store template. You can customize your Home page using 4+ different variations as well as tons of easy to enable HTML files. It's premade header styles, and the mega menu offers a lot in terms of site attraction and navigation. As for your book store, you can make use of a dedicated Product slider for featured items as well as Category tabs and various product list layouts. To top it off, Smartbooks also comes with a mini Shopping cart overlay to help your customers keep in track with all of their purchases.
Moreover, Smartbooks is also completely blogging friendly with its 12+ blog pages, and Google fonts ane media ready design. Blog in addition to help your website sell more products, highlight upcoming sales events and new additions to your catalog.
Boighor
Boighor is an author website template that is made to be fully customized and personalized as your wish. Powered by Bootstrap4, Boighor is completely cross-browser as well as mobile compatible. Furthermore, each HTML file is built to be completely retina-ready and can resize perfectly to fit any screen size. Choose from 3 different unique homepage choices with completely configurable layout options. Moreover, The addition of nifty features like Mobile menus, Mega menus, Owl carousel sliders, three blog pages, and tons of custom HTML pages makes Boighor one of the best author website templates available on the market.
Kevin Smith Writer/Author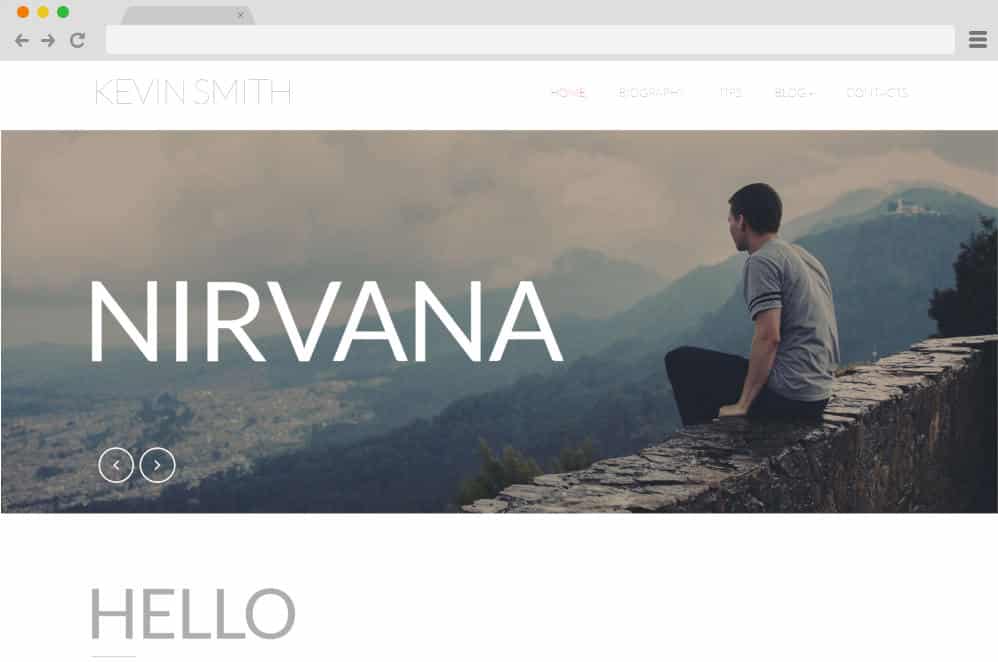 Kevin Smith is a perfect personal website template for authors and writers to help them define themselves and their career on their internet. Use a fully enabled Portfolio display to showcase your written contents. The project listing comes with hover effect enabled images as well as additional text. The fullscreen slider makes your home page look massively creative as well as quite attractive. You can also make use of the Sticky Header menu as well as dedicated blog posts which come with tons of font settings, typography options and more. Kevin Smith is also very lightweight and is designed to be SEO optimized.
Reach the top of Google charts and market yourself even better using this highly efficient bootstrap template. Also, don't forget that Kevin smith also comes with dedicated documentation to help you out with all its features at any point and experts can use its included PSD files for even more personalization.
Deus
This list containing Author website templates is definitely limited to just marketing and eCommerce templates. For a fresh start, why don't you check out Deus? This multipurpose HTML template comes with all the features to enrich your textual and written content. Choose from 6 different theme styles and tons of personalizable Ui elements. You can even enable a wide range of custom widgets, and media enabled elements on your website. Moreover, for your logging and written content, Deus provides you with six unique post styles and tons of Google fonts. As for the website's coding itself, you can be damn sure that Deus provides with you maximum responsiveness on all screen resolutions as well as the best loading speeds. Moreover, if you ever find yourself having any issue, feel free to consult with Deus' 5-star customer support to help your cause.
Conversion
Conversion is a premium landing page that is built for the same purpose as its name, Product conversion. Generate interest and leads for your upcoming books using Conversion and it's professional page design. Choose from 5 different landing page each with a unique catch. You can choose to enable call to action buttons on each layout with Trial boxes, Trial forms, Product tabs, Video sections and Buy options. Moreover, it's full customizability, and infinite color variations make it an easy to personalize template so that your landing page fits the style of content you're publishing too.
Unilearn
Unilearn is an author website template for writers that make online courses and ebook content. Its flexible design makes great use of the template's clean and flat aesthetics. Moreover, Unilearn is coded to be perfectly retina-ready and function perfectly on both pc and mobile platforms. Use Unilearn's theme options and color management panel to personalize your website to your heart's content. The theme also comes with over 40 different unique HTMl files to use as well as Font awesome icons, slider features, Google fonts, and working contact form and Twitter feed widget. Additionally, for your written content you can use a huge variation of typography options as well as custom shortcodes all designed for author website templates.
Flatbook
Flatbook is a fully realized ebook selling website template with an extreme focus on usability and versatility. Use over 20+ predefined sections, tons of custom HTML pages, 9+ default color skins, and an unlimited color configuration feature. With the addition of 500+ Vector icons and tons of typography options, you can easily market your books in any way you imagine. Moreover, the template also comes with nifty additional features such as Scrolling effects, preloader effects, customizable Google map embed, Testimonial sections, and Pricing tables and more.  Furthermore, each element and page is designed to be lightweight as well as completely responsive on any browser.
Universh
Universh is a complete material education website template that is very user-friendly and easy to set up. You can choose from over 20 different home page variations to easily setup your home page. Moreover, as for your website elements, you can use ten differted unlimted headers, seven footers, five unique page headers, tons of customizable grid layouts and page layouts, and over 30 different ready-to-use widgets. As for showing off your books and projects, you can use a fully customizable Portfolio page that comes bundled with grid and masonry galleries, video backgrounds, parallax backgrounds, hover effects and more.
Book reviews 
Book reviews is more than just a marketing template built for authors and book stores. It's multipurpose design and easy to understand page layout makes it a great template to use to attract both readers and writers. Publishing companies can make great use of its excellent Service listing section as well as the About us page. Moreover, you can also use a dedicated Pricing table page to list out all the pricing options alongside their peculiar advantages. Furthermore, Book reviews is built specifically for lead generation and helping your publish company reach the authors in need and even comes with a custom contact page complete with a Custom contact form and a Google map embed.
E-Marketing
The name might give it away, but E-marketing lies in the peculiar category of author website templates built to garner interest in your author name and works. This responsive landing page collection comes with over 19 different landing page designs. Each has been handcrafted perfectly to represent your writing style well and can be personalized even more. Use cool call to action buttons as well as Trial forms and Sign up forms for attracting the leads that you require. Furthermore, each landing page comes with its unique style of feature and item listing as well as a dedicated gallery built to help you preview your books in an awesome way.
Koparion
Koparion is a book shop HTML template. Well that description doesn't do justice to this giant of a responsive template now, does it? This completely eCommerce enabled Author website template comes with six unique home page designs; each equipped with a cool Owl carousel slider and a Shop grid. The shop grid posses a design that helps in selling books online and is customizable an insane degree as well. Use over 18 different HTML pages, each carefully crafted to provide you the perfect template to start your eBook store. The addition of 2 unique blog pages only sweetens the deal as this means you can blog about the latest addition of books, a book recommendation and much more using the same eBook website too.
Booker
Another great eBook website template to add to our Author website templates, Booker lets you empower your website as an individual author using its clean and professional design. The large call to action enabled header suits the minimal header menu perfectly while the footer exists to contrast perfectly with the template's header. Moreover, the website is HiDpi ready and resizes perfectly on all resolutions, so mobile users don't feel uncomfortable using your site. Additionally, Booker also comes with a dedicated HTML page for a landing page as well as a Home page. The use of the Reviews sections seems almost perfect and works perfectly to help you sell your books and garner more interest in them.
Book
It almost seems insane for any author website templates to have this many features. Book at a simple glance might seem like a simple marketing template/landing page built for authors, but it's so much more. This MailChimp integrated responsive template helps you convert your leads and target your demographic as perfectly as possible. You can use two distinct header designs using Book; an Image background and a Solid background. Both the backgrounds have parallax effects and can contain background videos instead for a more creative feel. Furthermore, the template also comes with cool features such as a Twitter feed widget, Font awesome icons, Custom Google maps, and SEO optimization.
Sparks
As a celebrated writer or an upcoming newbie, it's important to put your new book's name out there. You can't just take marketing lightly in the current context of the market. Therefore, Sparks becomes a great choice for Author website templates due to its perfect landing page layout and an immense number of additional features. Choose from 2 different page designs; Flat and Parallax and market your products using Testimonial carousels, Video embeds, dedicated Bootstrap gallery and more. Sparks even comes with a MailChimp integration to help you create signup forms and newsletter forms to help you market your product in an efficient way.
Additionally, Sparks' coding exclusively uses HTML5 and CSS3, so it is extremely lightweight and mobile friendly. Market your products on all platforms with worry regarding compatibility issues using this excellent author website template.
Devita
Devita is as fancy as it gets for author website templates with its lead generation focused design and elements. This multipurpose website template comes with over 25 different pre-built demos, many of which suit book websites perfectly. Market your books perfectly with this SEO optimized template that comes with multiple different premade header styles as well as a dedicated blog section. You can also enable an Ebook store on your website using Devita with its product listing pages. Product listing on your website is supported by multiple elements too. This includes dedicated Product sliders, single product listing, product grids, and quick view features on each individual item. The addition of a Mini mart option also works perfectly to its advantage.
As for marketing tools, Devita also comes with an Upcoming timer for new books/products and dedicated Testimonial sections for positive user reviews. You can add in tons of elements to sweeten up your page design such as Awesome font icons, banner sliders, php contact forms, and smooth animation. Moreover, it's Multi-layout structure, and easy customizability opens a lot of areas for creativity and personalization.
Essay writing
Essay writing is an author website template perfect for publishing companies and writing agencies. The template lets you easily market to your demographic of upcoming and talented authors. It's light, and blue colored flair extends to the entire website and adds a more easy-on-the-eyes feel. This includes call to action buttons, headers, logos and more. Additionally, it's flat professional design, and use of scrolling effects makes browsing through the entire website seem smooth and effortless. Essay writing comes with all the advantage a marketing website could possibly need. This includes cool featured listing sections with Font icons, Live search features, a fully functional contact form as well as Google fonts.
The addition of the Google map embed lets you easily highlight your physical address. Similarly, the custom Contact page lets authors contact you directly without any difficulty. Moreover, Essay writing is as perfectly Responsive, and SEO optimized as possible and even has the unfair advantage of being completely multi-browser friendly. Smartphones or PC, any platform is sure to demonstrate your publishing company's features quite well-using Essay writing.
Tri-O
Tri-O is a multipurpose personal website template that helps you easily setup a website that fully represents your creative endeavors and capability. Choose from over 30 different Niche demo styles for your author website using Tri-O. The addition of over 22 different Portfolio styles and eight singles portfolio makes marketing your books and projects quite easy. Moreover, Tri-O is also a perfect blogging platform for you as well. Use over seven different blog templates and 23 different blog options that complement a huge list of typography options and element list.
Moreover, Tri-O doesn't lag behind when it comes to personalization and customizability. Add your own touch to your website using six different header styles, unlimited color variations, custom designed widgets, parallax effects, CSS3 animations, and Google fonts. You can choose from over 29 different pre-made home pages and use 140+ HTML pages to set up your website in no time whatsoever. What's more, Tri-O is also perfectly lightweight, SEO optimized as well as mobile friendly.
The good book
The Good book works perfectly if you are looking for a platform to help market your upcoming books. Use a fully responsive page design that is adapts perfectly to any device or screen size with no visual issues whatsoever. It's clean, clutter-free layout suits any author perfectly and gives your website a very professional look to it. Add in tons of lead generation and lead conversation elements onto your website using customized Sign up forms, call to action elements, milestone trackers, video embeds, advertisement banners, and more.
Both the About section and Book description section let you describe both about yourself and book in a way that fits you perfectly. Each section also uses a wide range of typography options and Google fonts. Furthermore, Good book also enables User testimonials sliders that fully represent what your readers think of your content. Marketing your books straight from your website is also easy using a dedicated Pricing table and an additional book recommendation section that also lists out your various other contents.
Evan Roberston
Evan Robertson is a personal website template built specifically in mind for authors. Are you looking for a template to help you reach publishing companies? Maybe a template to create a CV that fully represents you and your works? Evan roberston's the perfect pick for you. This author website template comes with a huge set of UI elements and CSS3 animation effects to make the simple task of browsing through your website enjoyable in itself. Make use of dedicated Portfolio pages to highlight your works and projects using three different gallery layouts.
Moreover, the portfolio page is also accompanied by cool hover effects and a responsive fullscreen light viewer too. As for marketing yourself, you can use a fully enabled Home-page that contains tons of sections such as Book listings, user testimonials, social media icons and more. And lest we forget, Evan Roberston is also completely blogging friendly and provides you with three different blog layouts and tons of text options and features to help you write blogs that perfectly demonstrates your capability as an author.
Escritor
Author website templates aren't all just about marketing too. Why don't we discuss some really cool website template that you as an author can use for your online textual content? Escritor's a perfect blogging template with over 4-page variations and defined HTML pages built specifically for authors. This includes an Author profile page, review pages and more. Use this SASS powered template that comes with Fully responsive pages that feature a Modern and professional design that suit your needs as an author perfectly.
Escritor also contains tons of custom icons, Google fonts, and features support for a wide range of blogging content. Moreover, you can also enable Owl carousels on your pages and decorate it to your heart's content. Lest we forget, Escritor is also completely cross-browser friendly, and each one of its elements is perfectly retina-ready as well.
Ak.1
Ak.1 is a creative portfolio template with features that make it a perfect personal template for authors. It features a premium adaptive minimalistic design that gives an air of uniqueness to your content. Use two different unique color themes; Light and Dark with a wide range of customization options to personalize your website. Ak.1's UI design is definitely something to applaud with its unique sticky footer and header design and menu overlay. It's creative structure, and use of UI elements makes it a perfect choice for authors as well as a publishing companies.
Moreover, Ak.1 also features a Blog page as well as Portfolio page to help you market yourself as well. The portfolio's masonry layout is sure to suit the template's overall layout itself. Its hover effects and a fullscreen image viewer also support the gallery quite well and add more functionality to it. Moreover, the blog page's design makes reading through your content easy and effortless. It also enables you to use a wide range of media elements, sliders, social media sharing and more.