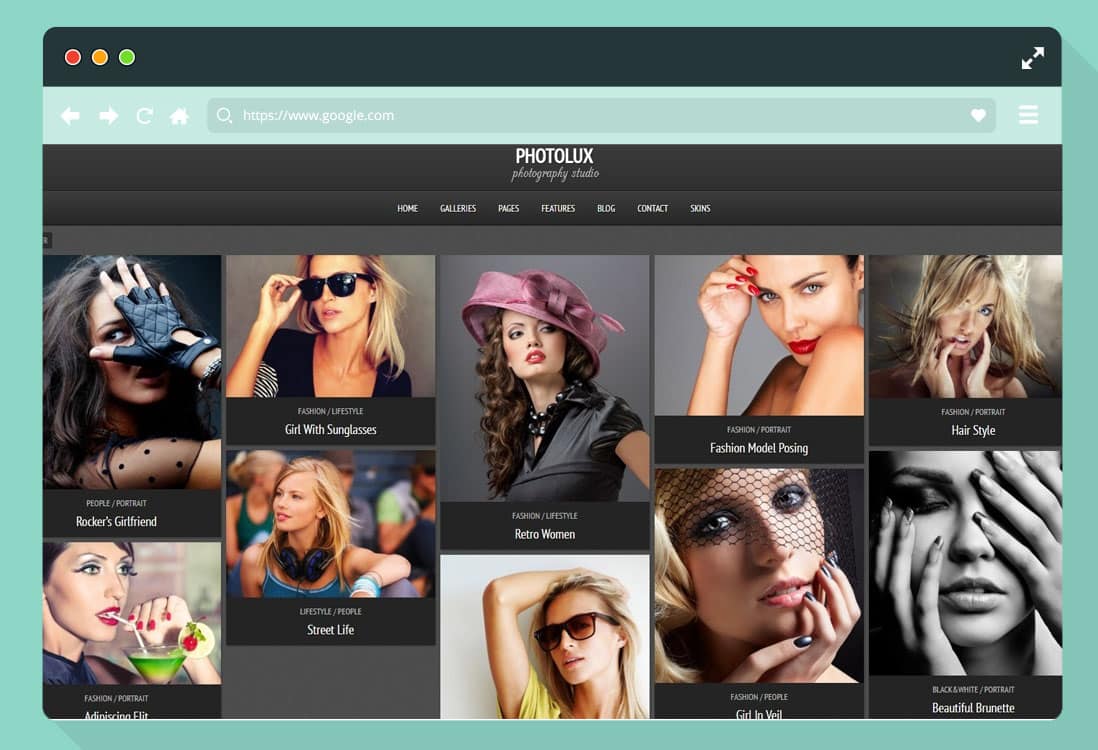 Galleries are a great way to showcase your work to your preferred audiences. Whether it be your art, paintings, jewellery pieces, fashion line or pretty much anything. And now that everything is turning digital, why waste tons of time and effort to organize a gallery event just to showcase your hard work? Take it a notch further with an online gallery website template, a perfect way to appeal to a larger range of audiences. Today here at uiCookies, we have made a list of the best possible options for WordPress themes and HTML templates you can get a head start with.
The highlight feature here is surely the amazingly designed Gallery sections. And we have also made sure that alongside this, there are tons of useful features accompanying it. Making sure of both the visuals and efficiency aspect of these, we are sure that these options will elevate your work of art to the next level.While the list below are all premium options, we have also covered the free templates on our other listing right here.
So without further ado, let's get onto the list right away!
20+ Amazingly Designed Gallery Website Templates & WordPress Themes For You
Muzze
On the top of our list today, we have the amazing gallery website template Muzze. With a minimal, clean and simple outlook to the design, this theme is ideal for focusing on the major contents you wish to showcase. Whether you are an artist, visual creator or even a photographer, this theme is pretty flexible. Featuring plenty of awesome customizing options to start with, this theme is a great way to unleash your creativity. There are 10 pre-defined demo pages you can get a head start with. Each of these are completely responsive and well-designed. There are also complete set of fonts and color schemes to work with. In addition to this, there are various pages dedicated to blogs, attractive galleries, event management and more. All of these go hand in hand with the contents you wish to provide and uplifts the whole thing to the next level.
Another great thing about this theme is the flexible header and footers with variations to choose from as well. In addition to this, there are a list of shortcodes you can use to add in additional features when required. There are also a range of useful widgets you can place throughout the widget-friendly area on the site. This theme is also WooCommerce compatible which means that you can even start an online store. It also features plenty of premium plugins like Contact Form 7, Master Slider, Visual Composer, and more. Not only this, but this theme is SEO optimized, includes a child theme as well as being cross-browser compatible. The possibilities are endless and you can unleash your creative side with the access to sliders, galleries, animations, effects and more.
Visual Art
Visual Art is something that is dedicated more towards the niche of every creative visual artists out there. Whether you are a designers, photographer, illustrator, artist, or anyone related to the creative field, this theme is the ideal choice. It is complete with vibrant and stylish interface designs all fully responsive. In addition to this, each section is carefully crafted in a way that it stands out in a unique manner. And there are plenty of amazing looking home pages all ready-to-use. Not only this, but you also get access to a huge variety of inner pages for blog, gallery, artists, about, shop and more. This makes for a flexible and versatile interface one can work with. And that too with extreme ease, thanks to the integration of Visual Composer. This comes with it's own set of creative components as well as over 150 shortcodes all catering to your needs.
Furthermore, the theme package includes premium range plugins like Revolution Slider, MailChimp, Events Calendar, Contact Form 7 and more for additional features. This saves on both your time, and money making this a great deal. As it is WooCommerce compatible, this theme is also great for starting a online store as well. Talking about engaging components, it features over 15 awesome hover styles you can implement. Not only this, but you can even choose the custom hover cursor style. Apart from this, there are tons of variations for portfolios and gallery styles. Great for SEO, this theme also ensures that it always ranks higher on all the major SERPs as well. It is highly compatible with all the browsers as well.
Pinhole
Next on our list with the immaculate and visually impressive WordPress gallery theme Pinhole. The design here is pretty straightforward and starts right off with displaying the gorgeous images. And as it relies on the boxed and wide layout design with masonry based structure, one can fit tons of images into one page without hassle. The template is responsive, retina-ready and effortlessly fits all device screen. Overall approach with the styling and design is also pretty minimal so that your audience are captivated more with your showcased work. The navigation menu up on top is small and distraction free.
In addition to this, the irregular shaped image holders perfectly compliments the niche. And the best part is there are over 30 gallery designs you can choose from. It is ideal for photographers, designers, fashionistas, artists and more. The native WordPress functionality lets you easily manage the galleries and overall site. It even offers a private gallery option where you can allow only specific users to access it. Everything about the images can also be edited from the shutter speed, focal length, camera aperture and the informations for each image. And the best part is that it is compatible with all the major plugins like YOAST, Jetpack, WooCommerce, Contact Form, MailChimp and more.
Arte
A premium gallery WordPress theme, Arte is another exceptional option for those artistic minds. Ideal for creative individuals with a flair of of uniqueness in them, everything about this template is visually appealing. It is best suited for individuals related to the art, digital art, photographers, painters and more. The whole structure is responsive, retina-ready and pixel perfect. With a vibrant color palette and creative elements placed throughout the site, users will be extremely impressed. The great thing about this template is that apart from being used as an online gallery, can also be used for event management.
Plenty of pages dedicated to exhibitions, blogs, events, contact, and about us pages are also included. The Visual Composer alongside the WordPress customizer is a stunner here which makes it super easy to personalize the template. It is also integrated with social sharing that enables the users to share their work of art throughout all social platforms. In addition to the stunning galleries, it is also integrated with Revolution Slider which allows you to add in unlimited sliders. The galleries is further elevated with the use of lightbox and CSS3 animations and effects.
Galleria
A sophicsticated and modern designed gallery website template, Galleria Metropolia is another premium WordPress theme we have for you. While it is aimed at exhibitions and gallery, this template is more suitable for museums, event management businesses and more. The visuals are pretty amazing considering all the unique elements implemented. It is super-stylish and the wide portfolio or gallery section is the highlight here. There are tons of custom project and profile post type you can opt for as well. Talking about the personalizing options, you also get unlimited menu style and color, custom Page backgrounds and more.
Not only this, but there are tons of custom Google fonts and icons you can use. The custom Form Builder plugin is yet another great addition. Add in awesome contact or survey forms to make your website more efficient. One can also choose whether to go for either One Page or Multi-Page design. Galleria Metropolia also features outstanding compatibility of useful plugins to add extra features. It is SEO friendly, cross-browser compatible as well as translation ready. All in all a pretty awesome option for someone to create the perfect gallery website, it definitely is worth a mention on our list.
Core
As you can see from the image itself, Core is a premium WordPress theme that is pretty awesome. Unique and super engaging, this template is designed to create the perfect platform to showcase your gallery. With a mirroring refelction of your artwork for your users to enjoy, the minimal and simple aspect of the design elevates it to the next level. Apart from the fabulous Home Page, there are also 6 different gallery templates you can choose from. In addition to this, it also features video portfolio support which enables users to keep things interesting. Furthermore, users also get access to choose whether they want to go for the light or the dark version.
With over 300 Google Web Fonts, it comes with an array of variations you can choose to display. Core also features the exclusive password protected gallery so you can only enable the view to selected people. The full-screen slideshow also adds to the visual appeal. Another great thing about this template is that it offers social media integration on all popular social sites. Sharing your work with the world has never been easier. All in all a pretty awesome way to showcase your gallery online, Core is ideal for photographers, artists, and any creative individuals.
Photography
Photography as the name pretty much sums up is a stunning gallery WordPress theme that is ideal for the niche. With a highlighting feature of an awesome gallery section, this template is visually appealing. It is responsive, retina-ready and features an excellent graphics. Not to mention the range of personalizing features that adds that custom touch you are looking for. Getting into personalizing get over 70 pre-designed templates for photo gallery and portfolio at your disposal. In addition to this,, to help you get a head start, you also get to use any of the 24 pre-defined ready to use demo files. Furthermore, users also get access to 10 brilliantly designed blog pages as well as 8 different menu layouts.
Present any of your clients profile with appeal with photo proofing, client archive page as well as customer protection. Another great thing here is the amazing builder with the easy to use keynote like interface. Even amazing background options like color, patterns, parallax, image and more are available. Get unlimited color schemes, font options as well as input and text area personalizing features. This template relies the powerful Bootstrap framework and is secure, reliable and versatile. Phototgraphy is also accompanied by a variety of custom widgets that makes your life so muuch easier.
Photolux
If stylish, modern and absolutely stunning gallery website is what you are after, then Photolux is definitely your answer. It features a flexible and unique flair of design idealo for photographers, artists and anyone related to the creative individuals. Photolux is powered with the advanced Paxeto Panmel which provides the users tons of easy to use options to modify the aspect of the overall theme. The gallery uses the AJAX and jQuery. And in addition to the crafty structure, it takes the template to another level with the smooth animations, transition between pages and effects. Add in unlimited gallery pages where you can add in all the content you possibly want.
Photolux also enables the user to use the black and white filter on any image you choose. The effect is automatically generated by the theme itself so users dont need to separate the images they want. There is also an amazing fullscreen image slideshow included. With a unique set of buttons that allows you to directly insert the styled content into your editor, personalizing has never been easier. When it comes to the SEO and credibility, the design is created to always target higher ranking. A bonus widget Portfolio Post Loader that displays the latest item in the sidebar with lightbox preview.
Fluxus
Trusted by over 6k happy customers, this Fluxus is one that is definitely worth a mention here. Beautiful design accompanied by a simple set up that is ideal for even beginners and novices. It is responsive, retina-ready and effortlessly loads throughout all the hand-held devices. The design is inspired by print featuring a horizontal poerfolio layout. This allows you to showcase the all of your work side by side along with an awesome looking font style. In addition to this, the full-screen slider is ideal to fill the visitors screen for great first impression. Personalizing options for custom content position, lazy image loading as well as the swipe and keyboard navigation are available. To take it to the next level, it also features exceptional animations.
You can opt for either a horizontal or vertical portfolio/gallery section whichever you prefer to use. Users have the full access to customize the number of count of columns and rows and increase or decrease the view of the images. Fluxus also supports creative page backgrounds and you can enable either patterns, images or sliders. Apart from the awesome looking gallery, it also has minimal yet efficient blog pages and other useful Inner Pages. It also featyres alternative skin relying on the dark palette which adds a few changes to the layout for a unique approach each time. Lightweight yet packed with all these awesome features and more, why not try it out for yourself?
Photo Me
Ideal for photographers, artists, painters, gallery owners, digital creators, designers, and more, Photo Me is a perfect way to layout your work of art for the world to see. It is quite flexible and can be personalized and customized according to specific niche and reauirements. What's more is that there are tons of pre-defined files and demo pages you can get a head start with as well. A simple click and install is all you need to get started right away. Poised, elegant and super appealing is just the word to describe this work of art. It is accompanied with the exclusive Drag & Drop Page Builder which is super user-friendly as well. With over 50 pre-designed awesome templates, you get all the variations you can possibly need.
The design is also optimized for Google and is sure to rank higher on all major SERPs. Get to add unlimited sliders, galleries and slideshows. What's more is that you get access to parallax sections, stunning animations and effects, as well as support for video from Vimeo, YouTube, and self-hosted videos. Talking about the structure, it is pretty reliable and features the gorgeous split-screen page layout to display the contents. The template is furthermore cross-browser compatible, translation ready, as well as light-weight and fast loading. But that's not all, ensuring an optimal performance, it sure comes with a hefty amount of useful widgets and elements.
DK
DK is an absolutely amazing looking slideshow based gallery WordPress theme that is definitely eye-catching. A premium option for those who are looking to stand out from the crowd, everything about this template is brilliantly designed. It is pretty responsive and readily loads throughout all the device screens. Choose from 4 different Home Page designs that all go hand in hand with the purpose. It also features the exclusive full screen slideshow for photo gallery that takes the whole site to the next level. You also get 10 page template variations that you can opt for. In addition to this, the password protected gallery support makes your display even more secure and reliable.
Furthermore, this template is also cross-browser compatible which means that it will have no trouble loading no matter which browser you prefer to use. 7 useful custom widgets for recent and popular posyts, twitter feed, contact form, YouTube video, Vimeo video as well as Flickr photostream is availble. In addition to this, users can add in unlimited sidebars and create one for every page. Another great thing about this template is that it offers custom post type support for all the portfolios. 6 different gallery page templates is also there for you to use. All in all, a pretty awesome theme to get a photography website started, DK is definitely one you can use.
Skylab
Skylab is a minimal, elegant and beautiful gallery WordPress theme ideal for the niche of photography, artistry and other creative ideas. There are tons of variations and amazing personalizing options you can use to add that custom detail. Perfect for designers, artists, photographers, or those with a flair of creativity in them, this template is more than enough for you to begin with. It is designed to be responsive, retina-ready and amazingly efficient. Not to mention the elegant and clean design providing an ample amount of space for the users to display their content. 12 awesome demo files is also included with the template package so that you get all the choices you want. Accomodate all of the needs and requirements of one who wishes to enjoy your work easily.
Skylab is unique with the looks as well as the features is provides. That being said, this flexible theme provides a fast loading performance. In addition to this, the premium page builder plugin makes it extra user-friendly for even beginners to get started with a professional site. It is even SEO optimized which means that your site will always rank higher than it's competitor site. Another advantage here is the premium slider plugin that allows you to add in multiple or unlimited number of sliders. The gallery blocks with variation for presentation styles adds to the visual impression. And the best part here is that the creators here have also made sure to give attention to the blog, contact, and other usefull inner pages.
Red Art
Getting on to the list of the premium gallery website template, first in line we have Red Art. Professional looking and unique with the overall outlook, it features a stunning full-width image slider. Fully-responsive, retina-ready and pixel perfect with an HD resolution makes sure that everything you add in looks flawless. As for the design element itself, the creators have gone with the minimal aspect. This ensures that your work of art is the attention-grabber element here. This template is ideal for everyone related to the photography, gallery, art and similar niche in particular. It also comes with the light and dark version of the template whichever you prefer to use. Not only this, but you can also change the layout to full-width or boxed if you want.
Talking about personalizing, one can choose from 20 different color skins in addition to the 20 different patterns and background images. Getting into the highlight portofolio, it provides the masonry or Isotope based designs. Each images also execute the stunning lightbix display to add that extra appeal. But that's not the only focused section here. In fact, this theme has tons of useful pages or sections dedicated to Services, About, Contact, Blog, and more with AJAX loader for prev and next. Apart from this, being WooCommerce compatible, it sure includes shop and detail page from where you can directly sell off your artworks. The template is also animation friendly and includes its own range of shortcodes for various creative elements.
Photography PhotoBooth
Delivering maximum efficiency with a clean and minimal design, Photography Booth is a stunner. Visuals contributed with elegant fonts, simple navigation bar and a full width image slider, this template is as gorgeous as it can get. It is ideal for all the creative personnels related to photography, galleries, designers, illustrators and more. It is a perfect choice being based on HTML and CSS structure that is both powerful and advanced. In addition to this, it is completely responsive, retina-ready and pixel perfect. This gallery website template is also extremely customizable which means that you can personalize each element of this theme with ease. Apart from the visual aspect, it also features a range of awesome options that aids to the purpose.
The custom CSS and JS also includes a variation of animations, effects and page transitions. Out of the box maintainance mode page as well as the 404 error page are also included for emergencies so that you never leave your users hanging. Each line of codes are well-commented, organized and well-commented. It is a full-width and standard layout that comes with a handful of useful pages for blog, albums, galleries and more. The template is completely cross-browser compatible, translation ready and optimized for speed. Furthermore, with support from Google Maps, you can easily add in the location for your users to view your artworks.
Snow
Modern, creative and intuitive, Snow is a simple, clean and minimal gallery website template. While the ones we have listed previous are designed for showcasing photographies and arts, this leans more towards the portfolio and eCommerce sites. With a black and grey color palette, the minimalism aspect takes the whole gallery website template to the next level. In addition to it being completely responsive, pixel perfect and visually outstanding, it comes with tons of amazing personalizing elements. From beautiful typography and fonts to an array of creative icons, everything is just stunning.The Home Pages are stunningly built to provide the users with an ample amount of space to display their work.
Not only this, but it is accompanied with awesome looking portfolio and project pages you can use.The template is furthermore packed with demo files you can installl and download within a matter of seconds. Apart from this, it also comes with efficient blog pages where you can add in your contents. Executing smooth animations, effects and page transitions, it perfectly elevates the minimalism. The AJAX Contact form is another great addition here. As it is WooCommerce compatible selling off your work and designs is also a breeze. All in all a pretty great option for those looking to start a simple yet effective site, try out Snow today.
Waldo
Getting into more simpler and minimal variations, Waldo is a stylish and unique alternative to gallery website templates. Focused more on appealing to your users with a unique sense of style, the whole layout is pretty engaging. In addition to the grid based portfolio/gallery structure, it relies on the powerful Bootstrap framework. The codes used for each line is clean, well-commented and neat. There are 30 HTML files included with the package. In addition to the amazing Home Page, there are sections dedicated to shop, gallery, blog, and so much more. And not only that, but it comes with variations you can choose from. This gallery website template is super-responsive which means that it fits every device screen size with ease.
Thanks to the Google Fonts as well as Font Awesome it comes with an array of choices for creative typographies. Easily customizable, you can add in or remove any elements you want. The great thing here is that this template also supports video backgrounds. With magnific pop-up the UI is very accessible for your users. Cross-browser compatible, it loads effortlessly no matter which browsers you prefer to use. Not to mention the 5 star support system and regular updates the team provides. This template is also compatible with WooCommerce which means any transactions is accessible through site as well.
Agatha
Relying on the powerful Bootstrap framework, Agatha is a premium gallery website template that is just the perfect addition here. Featuring a design that is beautifully designed and carefully crafted, anyone who lands on the site is sure to get a lasting impression. WIth over 100 HTML files, it comes with variations that makes this template one of a kind. Just as with other options here, this too is an ideal choice for the creative individuals who wish to share their work to the world. The template is designed especially for photographers, designers, and ones with creative streak in their mind. It is also accompanied with the CSS and HTML based design elements that adds that creative touch.
It also comes with choices for both light and dark version of the theme. With the integration of Google Maps, it also has options to add in custom location. Agatha also supports video background that makes it more interesting for your users. In addition to this, it comes with elements like lightbox gallery, content carousel, and more. The template is cross-browser compatible as well as translation ready. Whether it is animations, effects or page transitions this template has an abundance of variations.
Joker
Joker is a fully responsive and masonry grid based gallery website template that is the perfect addition on our list today. It is a professionally designed gallery website template that is impressive with the visuals. With every element designed with perfection, anyone who lands on the site is sure to be engaged in all the right ways. The template includes stunning animations, effects and animations that provides a top-notch graphics. In addition to the ultra-responsiveness, it also executes a flawless adjustment to every browsers out there. And the best part is that you can personalizethe template as per your requirement whatever it is.
Talking about the variations you get to choose from 13 different HomePages. From ones with fullscreen slider, revolution slider, ribbon slider, masonry albums, grid albums and even kenburns you can choose anything. In addition to this, you also get access to variations of portfolio and gallery layouts. Furthermore, thanks to the CSS animations and effects, users can add in creative hover effects, animations and page transitions. Taking the focus away from the galleries, it also offers creative pages for blogs, home, services, contacts, shop and even 404 error and coming soon. The template is also fully RTL ready and is easily translatable. Not only this, but the template is elevated further with the lightbox, zoom in pop-up with full access to the control.
Photographer
Getting more into the niche of minimalism with a beautiful aspect to it, Photographer is one that fits the niche. Designed with the specialty in mind, the creator of this gallery website template has made sure to take care of all the smallest of details. The full width image directory is one of a kind and comes with all of necessary features to make it stand out. With a distraction free design, it provides the users with an optimal image viewing experience. The gallery also provides the zoomable image option with flexible image and video support. Furthermore, this responsive gallery website template also comes with 2 different blog layouts with or without the sidebar.
In addition to this, the exclusive blog layout is a great way to expand your purpose. It supports all post formats so that even the blog section is as efficient as it can get. Another useful element here is the AJAX Contact form that comes with validation keeping it reliable and spam-free. For even more social interaction, there are over 30 stunning social media icons that you can add throughout the site. Here you can link your social media platforms for your audiences to follow. Cross-browser compatible, SEO optimized and all in all a pretty great way to get started, this template is one that is definitely worth a try.
Portolex
Portolex is a trendy looking stylish gallery website template that we have next in line for you. It features the One-Page design that is content-centered and makes sure that everything you wish to display on the site is the focus. Attention grabbing, responsive and absolutely professional looking, it is ideal for our list. It comes with 6 demo versions you can get a head start with and all of these are highly customizable. In addition to this, it also features an awesome range of awesome personalizing options that helps you get that custon touch you are looking for. For the background,, you can either go for the particle background layer, video background or simple color or patterns.
In addition to the One Page design, there are also 2 additional pages included. To help you stay in touch with your users, this template also features AJAX subscription and Contact forms. Another unique feature here is that slideshow that you can also use as the background. Keeping things visually engaging, there are creative elements like icons, typography, unique galleries and more you can use. This gallery website template is also translation ready, great with the speed and ensures a pretty great performance. And if that is not enough, the theme team is always on stand-by that making sure you get the premium support any time you need.
The Dive
The Dive, a brilliant gallery website template perfect for creative and unique minds. This too is a One-Page template that is focused solely to present all of your works artisticly. Whether you are looking to start a portfolio, gallery site or are someone related to the niche, this template is the perfect choice. Of course, this template is responsive, retina-ready and pixel perfect ensuring a stunning visual. It relies on the powerful Bootstrap framework, which offers a clean and semantic structure.
The Dive is also highly customizable and comes with Light and Dark version of it to choose from. There are 15 different styles and 6 content pages variations you can opt for. Apart from this, thanks to the jQuery and CSS, users also get access to stunning animated elements. Premium plugins like MailChimp, and Contact Form makes it pretty easy to stay in touch and maintain the client email lists. In addition to this, the full-screen scrolling sections takes the whole gallery a notch further. And because this template covers pretty much all the requirements in line, this surely deserves a try.